Muriel's Wedding is an iconic 1994 film. If you're ever in Australia and hear, "You're terrible, Muriel," this movie is where it comes from.
Mix of Genres
Comedy, drama, romance.
There's a romance subgenre called 'fake relationship'. These are romantic stories in which two people are forced into emotional closeness via proximity or circumstance. Muriel's Wedding doesn't quite fit this category of romance because it transcends these stories and becomes a story about female friendship instead. There is no girl-meets-boy happy ending, which brings it out of the romance genre.
Written and directed by Paul Hogan (no, not the Crocodile Dundee guy, and no, not everyone in Australia is called Paul Hogan). This one goes by P.J. Hogan, probably because of that Crocodile Dundee guy. This was Hogan's breakout success, and was also the start of two stellar careers for Rachel Griffiths and Toni Collette. That said, we're here to talk about writing, for a change.
The Plot Structure Of Pretty Much Every Comedy
While some story experts say that there are 7 or 8 different structures for comedies, others say that this is the arch structure of pretty much every successful comedy recently:
Discontent: the hero is unhappy about something
Transgression with a 'mask': peculiar to comedy and noir thrillers (the mask is metaphorical — the hero is trying to pass themselves off as something they're not)
Transgression without a mask: midpoint disaster when the mask is ripped off — the hero is 'found out'
Dealing with consequences
Howard Suber writes: "What will the hero do when he discovers his armour doesn't protect him, that he can be violated — now and in the future? There is only one satisfactory answer: he can pick himself up, dust himself off, and start all over again."
Spiritual Crisis: happens in almost every story
Growth Without a Mask 
Suber writes on this point: Some people might find it astonishing how many memorable popular films end in violence and death, but the history of drama is filled with them, and it is difficult to find any period that is not filled with them. If death is the ultimate separation, the next worst is the separation of people who love one another…The story that resolves itself in unification is most often a comedy.
The Plot Structure Of Muriel's Wedding
Muriel's Wedding is worth a rewatch not just because it's funny in a bittersweet kind of way, but because it's a great example of a comedy that follows exactly the structure described above.
Discontent
Muriel is unhappy with her life in general — she's been unemployed for the last two years and spends a lot of time alone listening to ABBA.
Transgression with a mask
Muriel lies to Rhonda that her life is going great, that she's going to marry a guy called Tim Simms and she has a successful career selling make up.
Transgression without a mask
The mask is ripped off when Rhonda finds her wedding album under the bed and realises she spends a lot of time going around to bridal stores having her pictures taken. There is a confrontation in a wedding store when Rhonda finds her and Muriel is forced to tell her she just wants to change her life and that there was no Tim Simms.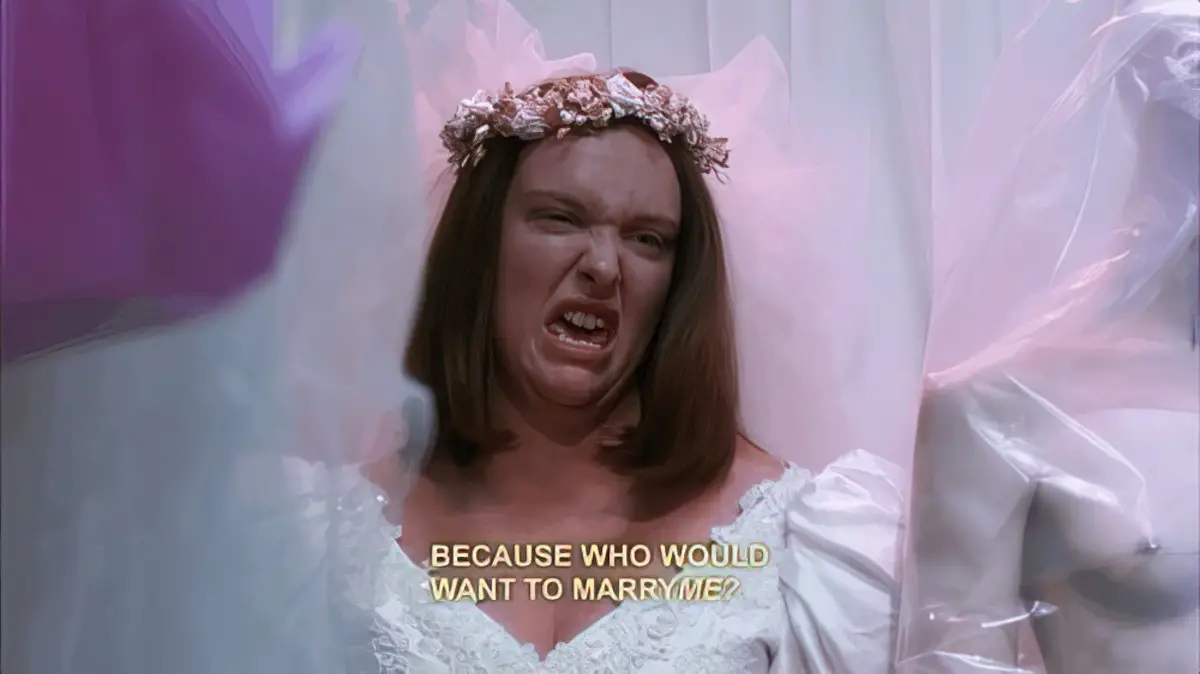 Dealing with consequences
Still chasing the popular crowd, she basically ditches Rhonda for those other three bitches who are interested in being her bridesmaids now that she's a bit famous. So she loses her best friend for a while and ends up completely alone when her husband also rejects her.
Spiritual Crisis
Muriel has a revelation at her mother's funeral when she realises her father is more interested in the fact that Bob Hawke sent condolences than about the fact his own wife is dead. Having herself chased after celebrity by marrying the South African swimmer, she confesses to her fake husband afterwards that she's just the same.
Growth Without a Mask
The good-looking husband rewards this growth with a proper kiss. Muriel realises that what she wants in life is to live in Sydney with her best friend and make her own life so she pays her father back some of the money she stole and takes off.
The other thing Muriel's Wedding has going for it are two catch phrases: "You're terrible Muriel" really took off in Australia and NZ in the late nineties and everyone knew where it was from. It is said three times during the film by Muriel's hopeless sister.
Relying on the magic storytelling number of three, the sister says this three times over the course of the film.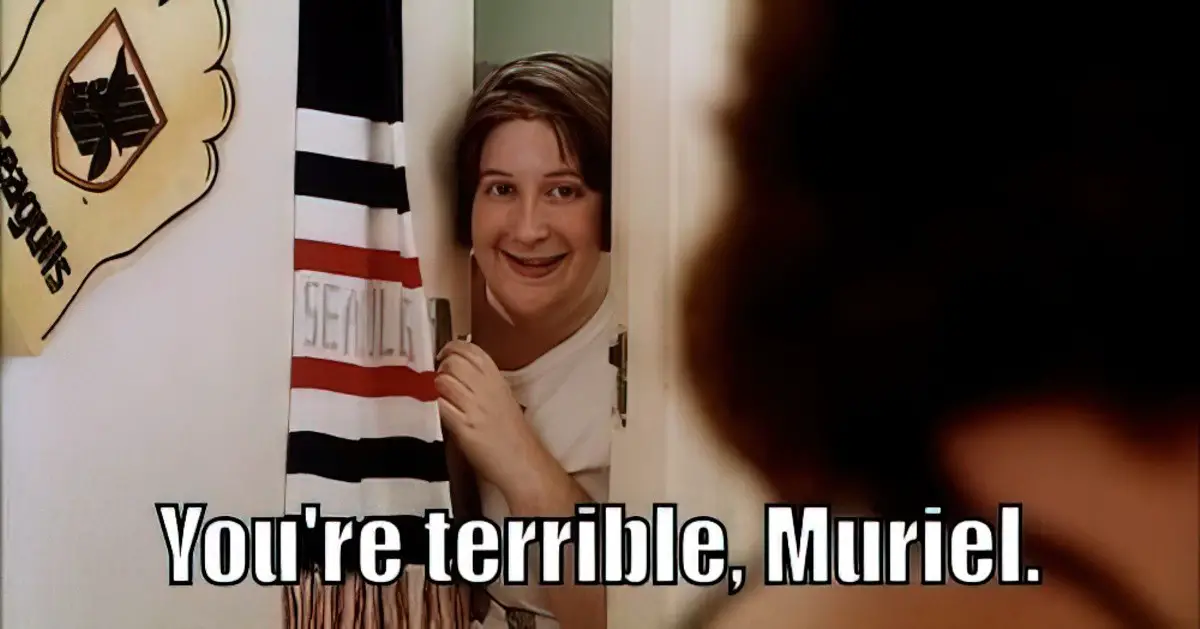 The other is, "What a coincidence!" which is funny because the audience realises immediately that the father is having an affair, and so their meeting at the Chinese restaurant is no coincidence at all, but also comedies like this tend to be full of coincidences, so it's a bit meta. (E.g. Rhonda finding the album exactly when Muriel is trying on the dresses, and so she confronts her inside the bridal store.)
SETTING
The story begins, appropriately, in a small town on the Gold Coast, which is glittery and touristy and offers regular people a week or two of rich lifestyle once per year — the illusion of greatness for the average Joe. Muriel has to escape this setting and go to the big, anonymous city in order to really confront her genuine self. Hence, the setting is connected to the theme.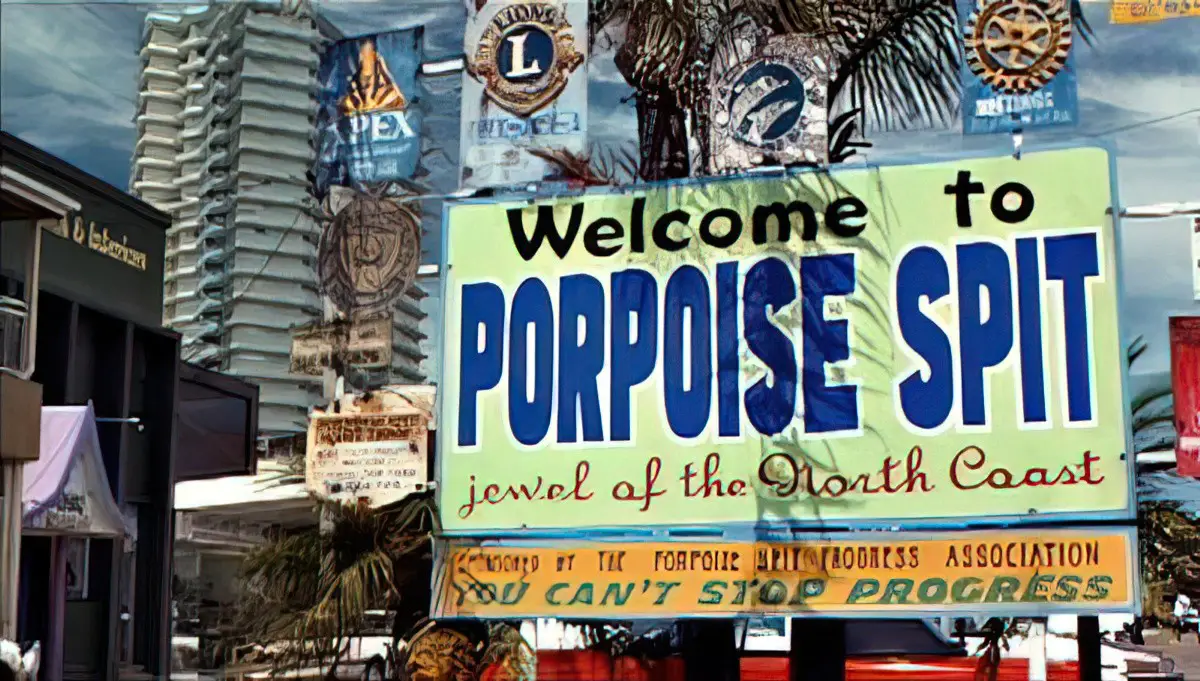 Sydney contrasts with Porpoise Spit — Sydney is the 'New York of Australia', the place aspirational young people from small NSW/QLD towns hope to go to make their own way and discover who they are as part of an anonymous crowd.
OTHER POINTS
Muriel's Wedding is also successful for other reasons:
The main character, Muriel Heslop, is full of  plans and scams. Though we don't like such characters in real life, we do love watching them on screen — shoplifting, lying, stealing money from her own parents… Muriel has it all.
Muriel is morally as well as psychologically weak, as noted above. The lying and cheating constitute the moral shortcoming; psychologically she has no confidence and is shy. She mistakes the shallow, pretty, high-school-popular girls for good people and tries to be like them even though they're awful.
The story ends happily ever after, not as a typical romantic comedy would (with the man of her dreams), but with a good female friend, thereby still fulfilling the expectation of unification. (This sort of happy ending has been replicated in rom-coms numerous times since, with another example of female unification being Waitress (2007). In Juno we have a re-unification with a man, though without her baby, which subverts norms for the genre.
There are several set pieces which are memorable: If you watched this when it came out you probably still remember the first boyfriend unzipping the beanbag instead of Muriel's clothing.
The film is spliced together with juxtapositions. That beanbag scene is swiftly followed by Rhonda's collapse due to cancer. Hilarious scenes are immediately followed by serious ones. Within scenes, we have the juxtaposition of Muriel's overjoyed face against her husband's disgusted expression as she walks down the aisle. This leads to the bittersweet vibe. Muriel's family is basically a tragic story.
Juxtapositions can be seen in the scenery, too: The bright, kitsch colours of the holiday destination against the griminess of Sydney, where bad things can happen (and do).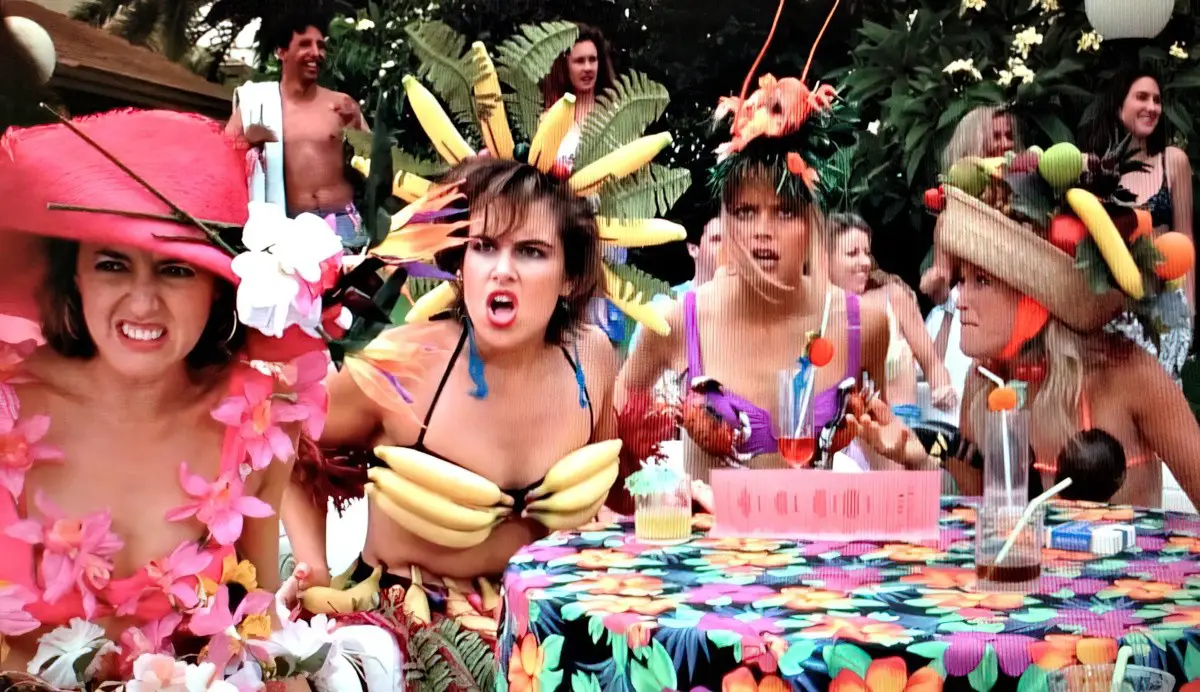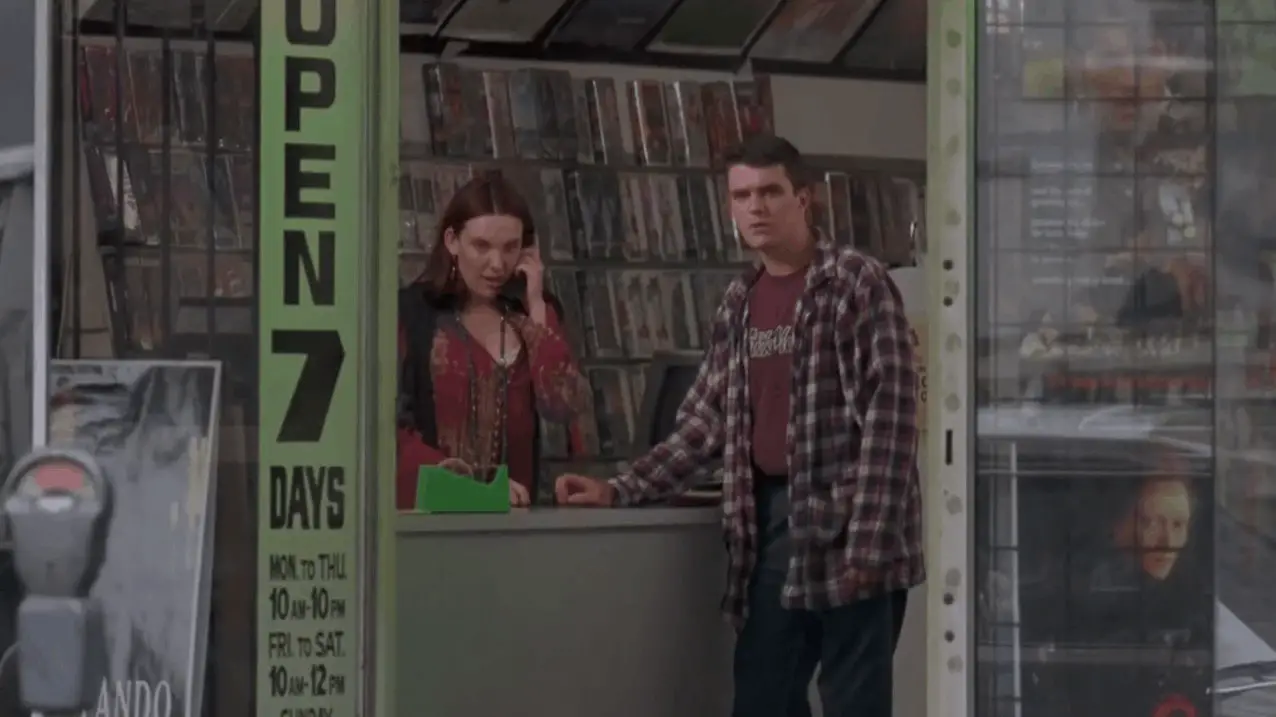 Since Muriel starts off as such a morally and psychologically weak person, her scope of change is large. The audience is given plenty of opportunity to see exactly how she has changed. She's come full circle when she starts to pay her father back the money she stole and makes the moral decision to look after her friend (a good person) who is now in a wheelchair.
Comedies usually begin with someone who is out of a job, poor, broke, unemployable — a 'loser'. By the end of the story, more often than not, they're a 'success'. The course of comedy is thus always an ascent to power.

Howard Suber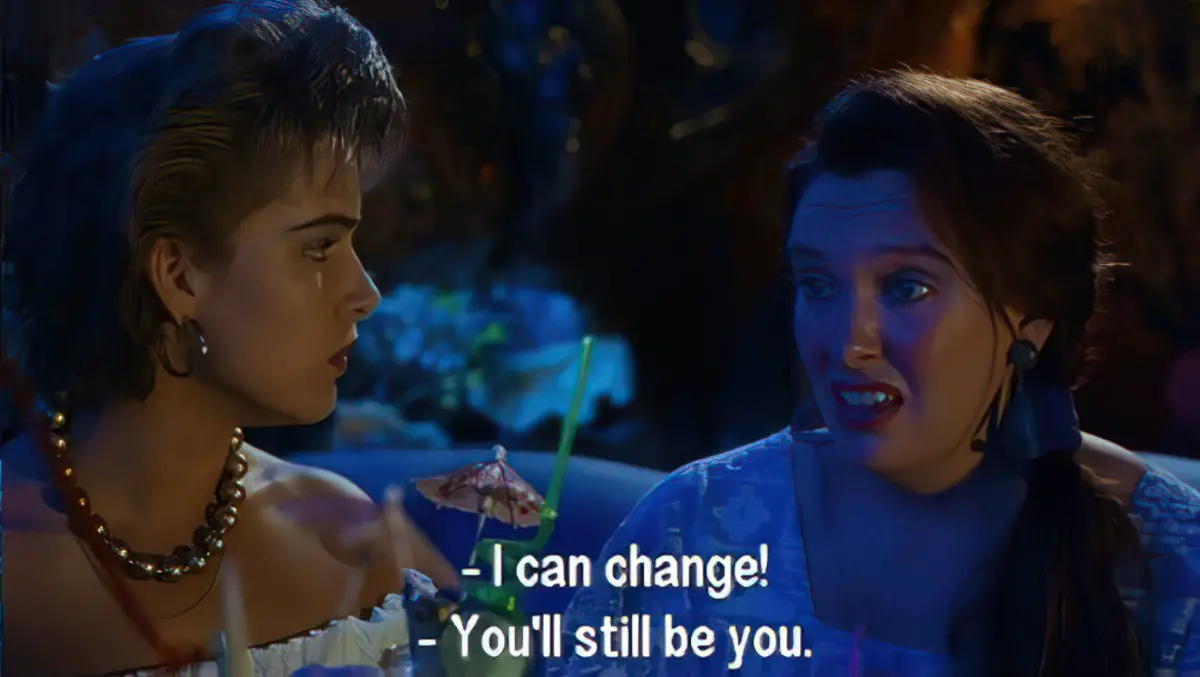 Muriel's duplicitous nature — common to all comedies of this kind, of course — is visually portrayed in numerous ways, not least by the rendition of the ABBA song, in which we see a 'Betty and Veronica' sort of difference between two female faces. Two different Muriels.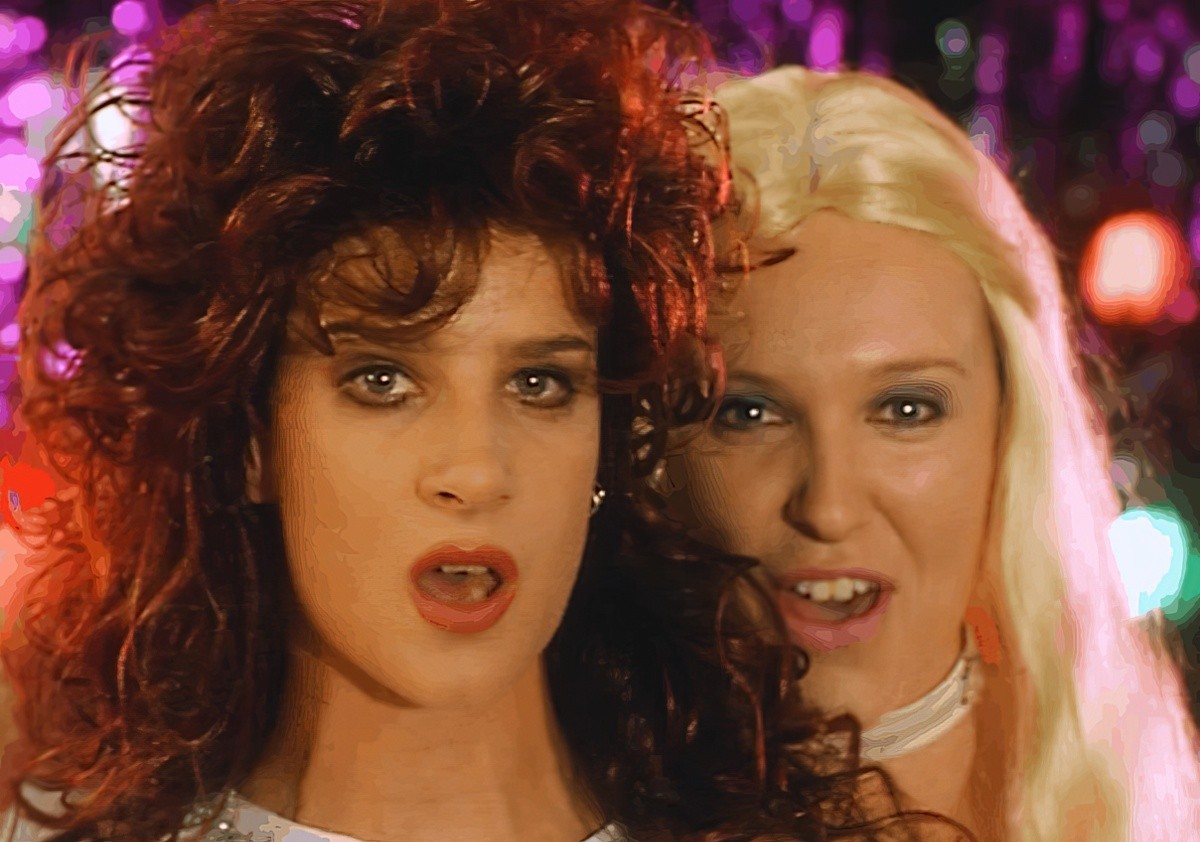 Mirrors are often used to convey the same thing, and sure enough…