I love art equipment. I love researching art equipment. My kid has expressed appreciation that their parent is an artist. Although I'm mostly digital these days, our kid receives awesome traditional art equipment as gifts.
LYRA WATERSOLUBLE GRAPHITE CRAYONS
These are big. Sharpen with a craft knife. Good for laying lots of colour down on large paper.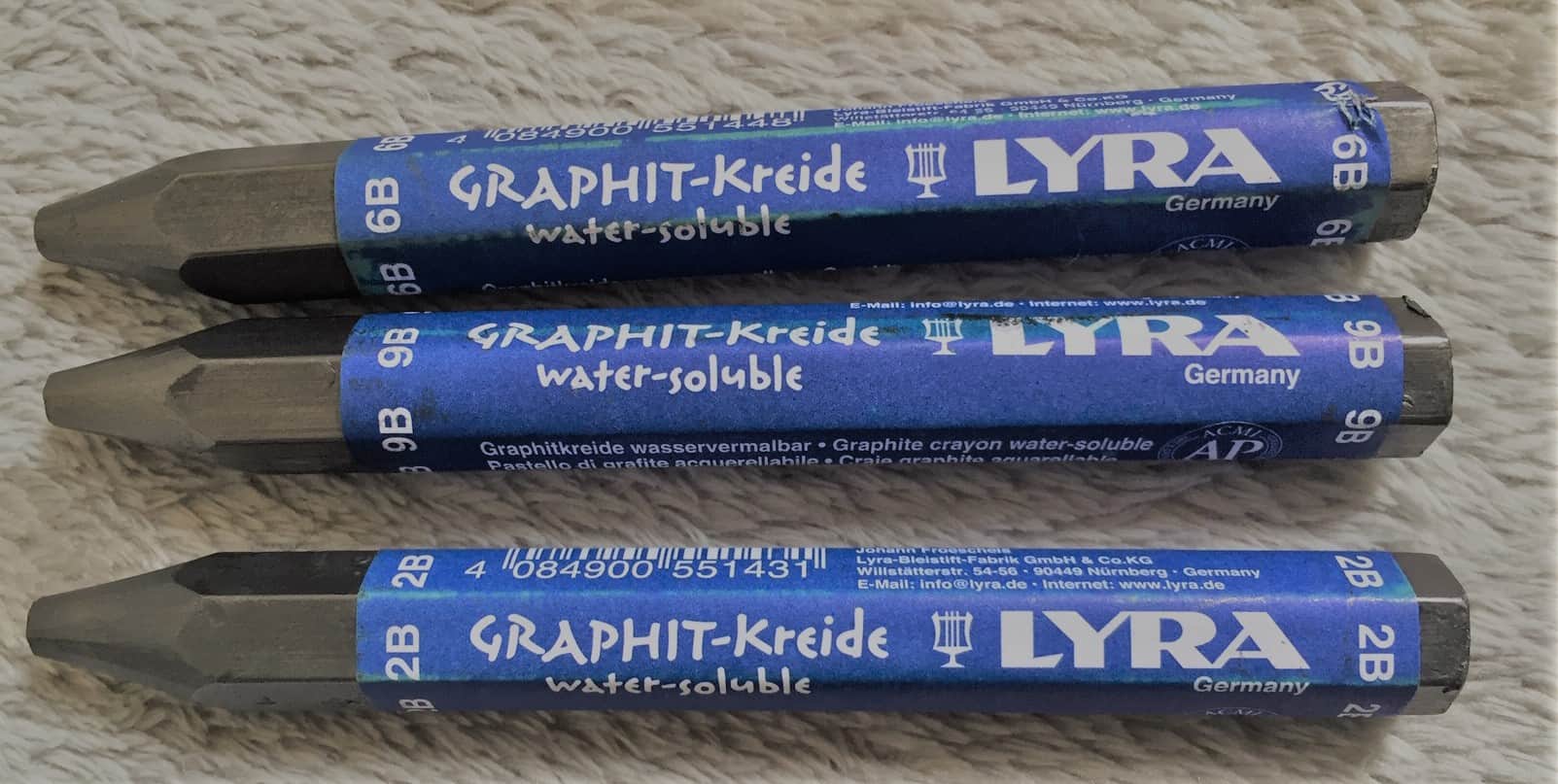 WATERCOLOUR BRUSH PENS
I was a teenager when water soluble coloured pencils hit the mainstream market. Tins came with their own little paintbrushes. Since then, watersoluble pencilwork has become a bit easier. Now you can buy 'squeezy' pens with brushes at the end. You fill them with water and gently squeeze out however much water you wish to apply to a surface.
The Lyra graphite sticks are water soluable, so I bought a "Set of 6 Watercolor Painting Brushes" via eBay, where they are less than $10 AU for the set. Aquaflo are the brandname most people talk about.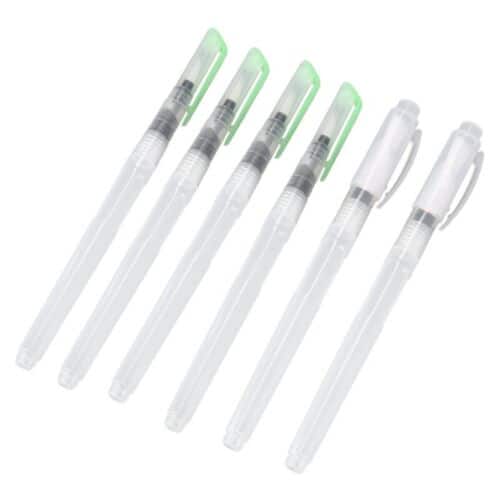 Speaking from experience, younger kids are inclined to experiment by filling these water pens up with paints, not just water. Depending on the paint, this can ruin them. (They're not easy to clean, because they're only designed for water.)
GRAPHITE SKETCHING PENCILS AND PENCIL ACCESSORIES
In senior high school art class we were required to purchase a 2B and a 6B for sketching. Honestly, that's all the high schooler needs. The others are nice to have. I've never been interested in using the H (hard) pencils, possibly because my high school art teacher didn't like 'wishy washy' work. (He didn't encourage use of hard lead and also discouraged watercolour.) The B (black) end of the graphite pencil selection produces the sort of work high school art assessors seem to appreciate.
Pictured below:
Under the charcoal pencils are a range of graphite sketching pencils. Faber-Castell Creative Studio Mixed Media Graphite Sketch Set 8 pcs comes with a sharpener and eraser. You can find this set in chain stores (e.g. Target).
Below that is a Tombow Mono Zero eraser (looks like a short, black pen) with a couple of refills (round, 2.3mm). The refils come in a transparent plastic cartridge. If you learn to erase your graphite as part of the process, it changes your work completely. These Tombow erasers can be sliced carefully with a craft knife to keep a very fine edge, allowing the artist to create graphite detail such as close-up hairs.
Pencil extenders. When your pencil gets really short and you can no longer hold it comfortably, shove it into these and use it until it's really gone. Extenders aren't really necessary until you're using more expensive brands of pencils. Even pencil extenders can be expensive but these are no name brands, came in a pack of five and cost $4 AU including postage. The cheap extenders really only hold pencils this size, which is fine.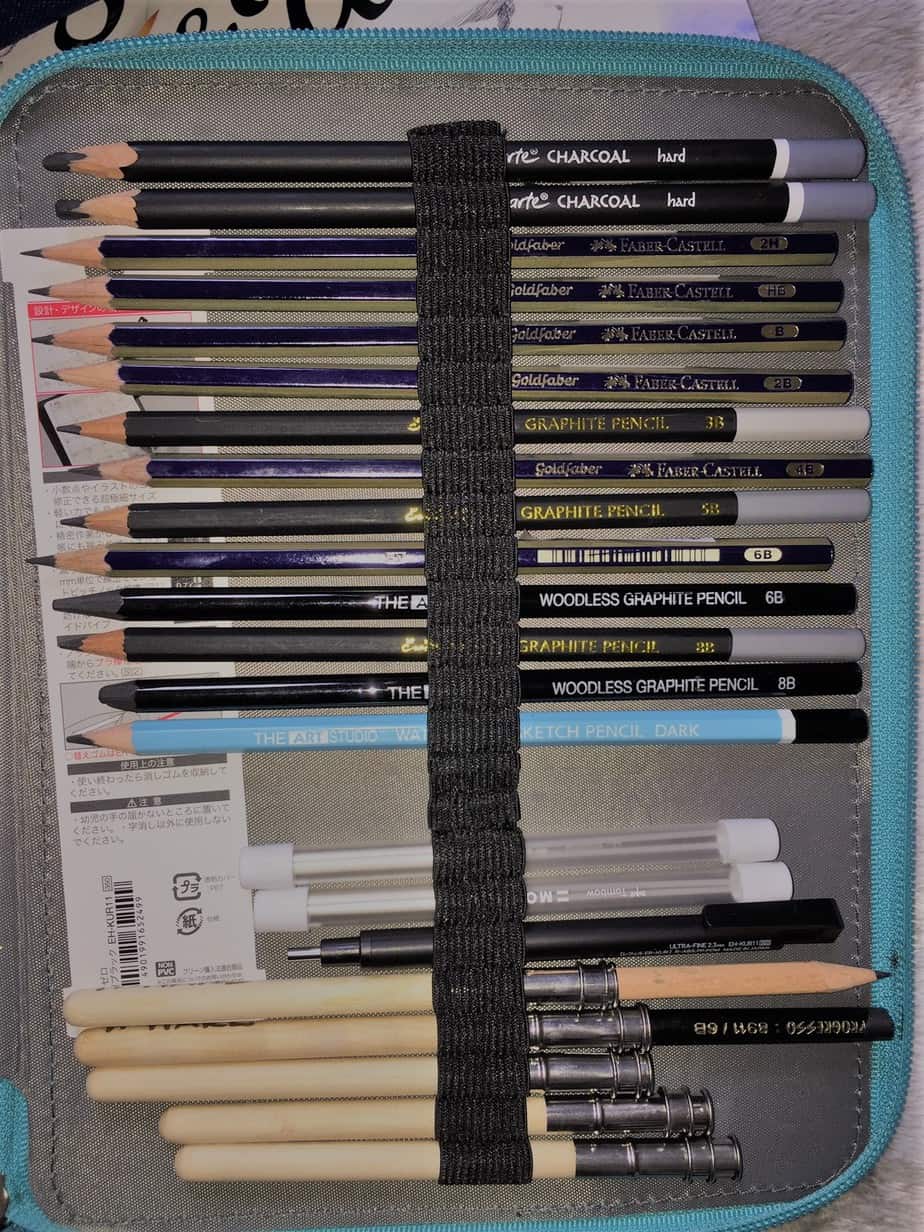 A CLEAR PLACEMAT
Artists working with graphite, charcoal and coloured pencil have trouble with hand smudge. Young artists are especially likely to forget about hands smudging work on the page. There are various tricks for avoiding this. Some artists work from one side of the page to the other. This requires next level organisational skills. Others use double-sided tape to stick a clean bit of paper to their hand, and so on.
I like a clear wipeable vinyl placemat placed between paper and hand. Clear is the best because you can see the work you've already done. Pick up a pack of four wipeable placemats for less than ten bucks on eBay.
BLU-TACK FOR A KNEADABLE 'ERASER'
Some artists use Blu-tack (or other brands) instead of (or as well as) kneadable erasers. Blu-tack is more tacky than kneadable erasers, so can be shaped more easily and to more of a point.
HOW TO USE BLU-TACK ERASERS
Click through to Mike Sibley's page for more tips on using art erasers in general. Kids need to be taught not rub.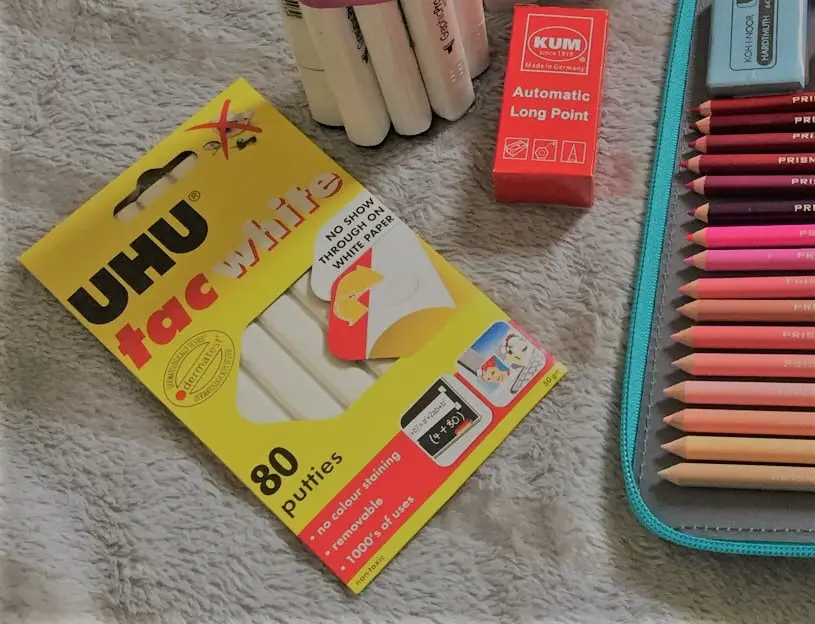 KUM AUTOMATIC LONG POINT PENCIL SHARPENER
Expensive pencils require a decent pencil sharpener. Oftentimes, the best sharpener for any given pencil is the same brand of sharpener. That's why I bought a Derwent sharpener for my Derwent pencils.)
This Kum Long Point pencil sharpener is German made. These are great if you are someone who likes sharp pencils. Not all pencil work requires such fine tips, in which case you may want to use a different sharpener.
Buying from Australia, I found the cheapest Kum Automatic Long Point sharpener on Etsy, which is the first time I've bought anything from Etsy. The Blackwing sharpener is produced by the same brand. In case you didn't know, Blackwing pencils are the Mercedes of pencils, so if you buy the same sharpener but with Blackwing branding it costs you more.
This Kum long point sharpener gets consistently good reviews because:
It won't keep breaking the lead on your expensive pencils (even on brands with soft leads, apparently)
Is one of the best portable long point sharpeners. (The best need clamping to a desk.)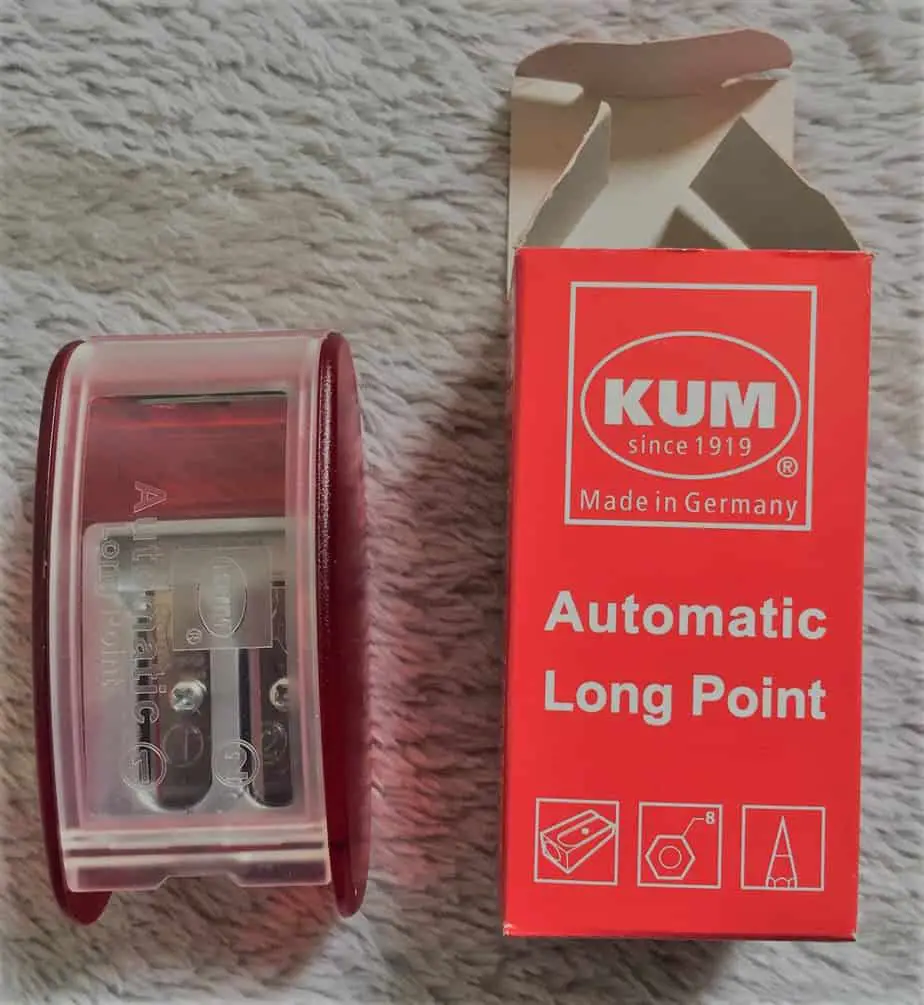 HOW TO USE THE KUM LONG POINT SHARPENER
Most sharpeners with two holes are designed for two different sized pencils. It's easy to make the mistake of thinking the two holes are for that purpose. But no!
Sharpening a pencil to a long point is not a one step process. First you sharpen in Hole One, then in Hole Two. Sharpening a pencil with a Kum Long Point sharpener is like using an automatic knife sharpener to sharpen a kitchen knife.
I guess that's why these sharpeners are called 'automatic'. They're not electricial or battery powered, which is what I generally think when I read 'automatic'.
It comes with two replacement blades but, like a Wacom pen, you may not know the blades are in there unless you know where to look! This reviewer shows you how to use these sharpeners and where to find the blades. Some models even come with the ability to sharpen mechanical pencils.
PRISMACOLOR COLOURED PENCILS
Which brand of coloured pencil should you buy? Every top brand has its pluses and minuses. Some go on smooth but are not lightfast. Others are lightfast but come in a small range. Others have crumbly leads and are unsuitable for fine detail etc.
What's the biggest coloured pencil set available in the world? That would be the Felissimo set of 500, made in Japan. However, those are super expensive.
Less expensive but also plenty big? Prismacolor sets of 150. Faber Castell sells a similar set of 120 for around the same price. Both Faber Castell and Prismacolor are solid brands. Prismacolor are known for their smoothness. Prismacolor sets are 30 pencils bigger. So I went with Prismacolor. That said, consumers have been complaining about wood quality lately. Quality is especially noticeable when you go to sharpen a pencil and it catches on the blade.
The Prismacolor packaging is schmick. At least, the outside box is impressive. The pencils inside sit on four trays, and you could keep using them like this, propping the box open to use as a tray. The box has been designed for it. However, the six plastic trays holding the pencils are flimsy compared to the sturdy impressiveness of the outer packaging. I threw all this packaging away.
Instead I bought a pencil case on eBay: 184 Slots Big Capacity Pencil Case Pen Bag Organizer Foldable Colored Storage. This is a sturdy product. I think the zips will last. I'm pleased with the quality. It's big enough to hold a complete set of Prismacolors plus a selection of graphite pencils. It's also more portable than the big black box.
The downside of slotting pencils into elastic: It's more of a nuisance to pull them out and put them back in. The advantage: You're less likely to mess up the order and lose some.
Buying the 150 pack gets you these Prismacolor pencils at the lowest cost per unit, but if you lose a few, or use some more than others, you can buy them individually.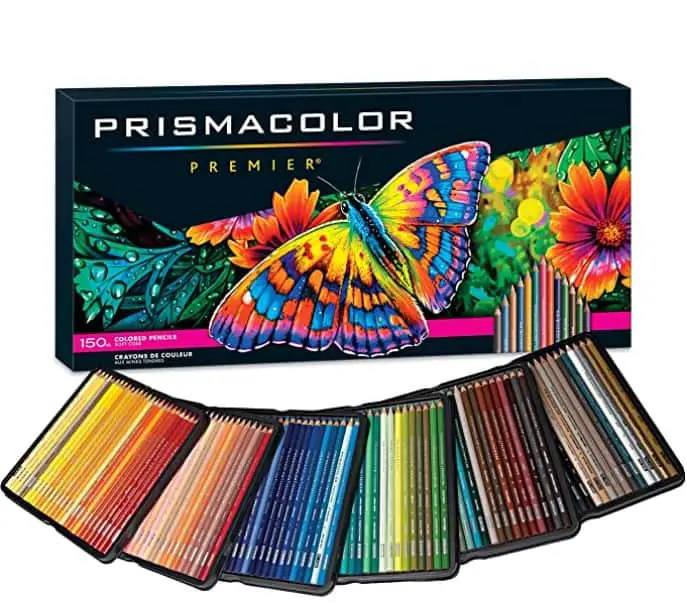 Thick, robust leads resist cracking and chipping making them perfect for adult coloring books.

MARKETING COPY ON PRISMACOLOR PENCILS
If you like to generate your colour palettes scientifically, using a computer, one of the most convenient things about the Prismacolor brand is this: You can generate palettes for free online using the excellent free Coolor website.
Click on the HEX value of a color to open the Color Inspector. You can then input your color in several different values like RGB, CMYK, LAB, HSB and even popular color libraries like Pantone® and Copic®. 

Coolors help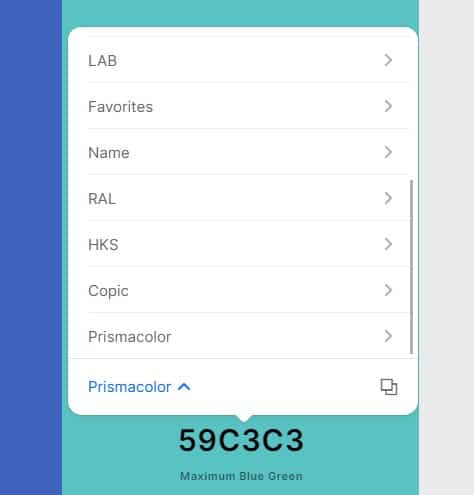 Unfortunately Prismacolors are not lightfast. Professional pencil artists don't use them, instead opting for something like Inktense (which has a much smaller range of colours.)
Prismacolor know their market. We're talking about the hobby artist here, which includes the resident 13-year-old. For our kid, part of the enjoyment of coloured pencils is having access to a wide variety of colours, lining them up, admiring the rainbow.
Sure, an artist doesn't need such a wide variety of colours. Good artists can produce something magnificent using a single pencil. But a single pencil isn't a work of art in its own right.
FINELINERS
The fineliners below were 10c a piece from Riot Art & Craft (on sale). I don't think this is the full set (because I was buying remainders). However, the kid doesn't need to know that.
HOW TO USE FINELINERS
Tell the recipient to keep the lids on. Fineliners are one piece of equipment which need lids, otherwise they dry out and can't be saved. You also can't press super hard without bending the nib.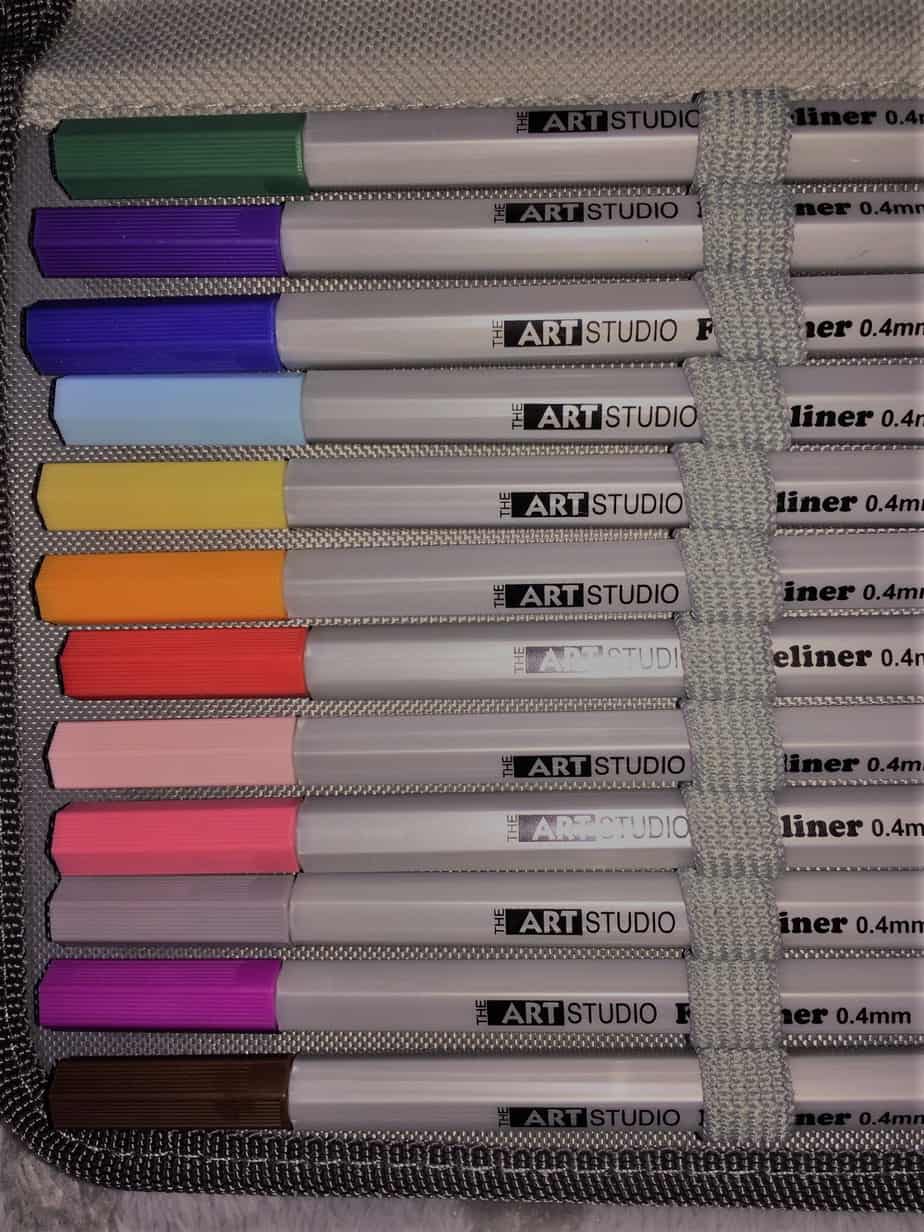 GEL PENS
Not all gel pens are equal. Bad gel pens are terrible. The roller doesn't roll, the ink gums up.
Uniball Signo gel pens are the ones to get. The colours are intense, the ink goes on smooth, they feel good in your hand.
Pictured below: Uniball Signo Angelic Colours Pen 0.7mm 8-Pack Wallet.
Also pictured: Black Uni-ball Signo RT1 UMN-155 Gel Pens in 0.28 mm.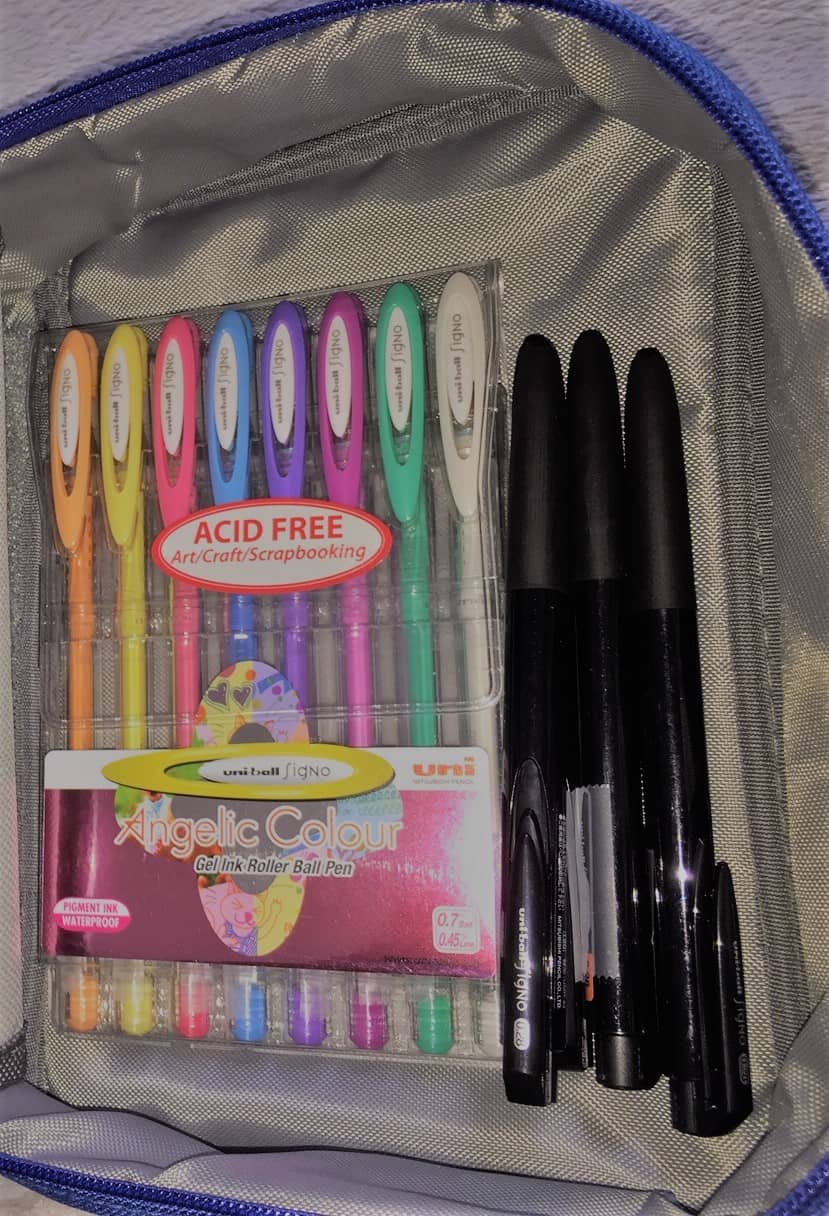 Sakura Gelly rolls are also very nice, though I don't think they feel as good in the hand. The barrle is straight up and down. Below is a pack of three basic white gelly rolls, which look great on coloured paper (especially black).
Another use: add finishing touches over top of other media, including over coloured pencil.
Sakura white gelly rolls come in a wallet of three as well as individually.

CHAMALEON FINELINERS
You may have seen Chamaleon products advertised on social media. They've only been around a few years.
HOW THEY WORK
Put a different coloured lid on a pen for a few seconds and achieve a multicoloured line.
The problem with buying expensive alcohol markers (Copic, Chamaleon) for kids: They're designed to be refillable, but the refills cost a lot as well. If you're going to buy these markers as a present for a teenager, you're really setting yourself up to buying refills as well.
This is why I gifted the pens. They're cheaper, they're disposable, and this gives me a chance to see the quality of the Chamaleon brand.
These water based pens are very fun to use, that is true. The downside in gifting them to a kid: if the caps get left on the wrong pen, that'll pretty much ruin them. And this is easy to do, because they're designed for switching lids.
If you give these pens as a gift, make sure the recipient watches a YouTube video on how to use and take care of them.
When I was a kid the closest we had to Chamaleon pens were these pencils. You had to keep turning them in your hand if you wanted an interesting line.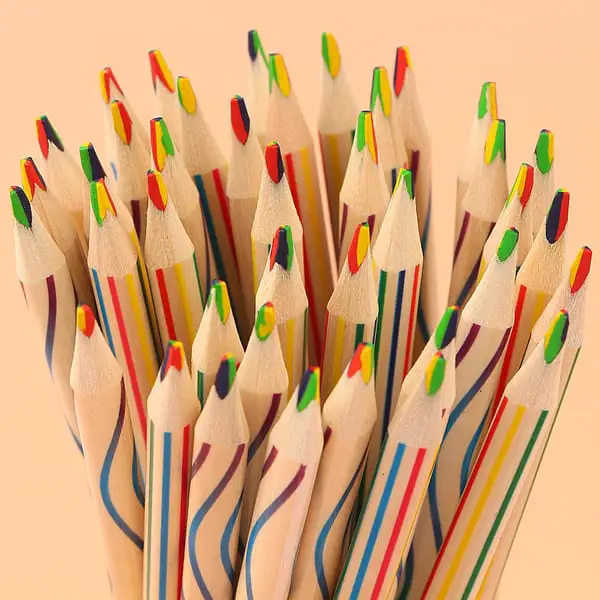 Like massive sets of coloured pencils, I class the Chamaleon pens as 'fun to use' and 'fun to own' rather than essential additions to the artist's toolbox. They are fun for creating patterned linework.
Chamaleon also sell markers. In fact, their markers seem to be the main product. The markers are refillable. The fineliner pens are not.
Now, the serious artist might well invest in the markers, except reviews from professionals tell me you're constantly switching lids on Chamaleons and waiting for ink to transfer. To achieve smooth gradations of colour, you're working slowly, meditatively. Overall, the workflow is slower when compared to regular alcohol markers. (Copic markers are what professionals tend to use, reflected in the price.) This sugests to me the Chameleon products are for the colouring-in book crowd because they are a beautifully sensory relaxing experience and require just the right amount of concentration.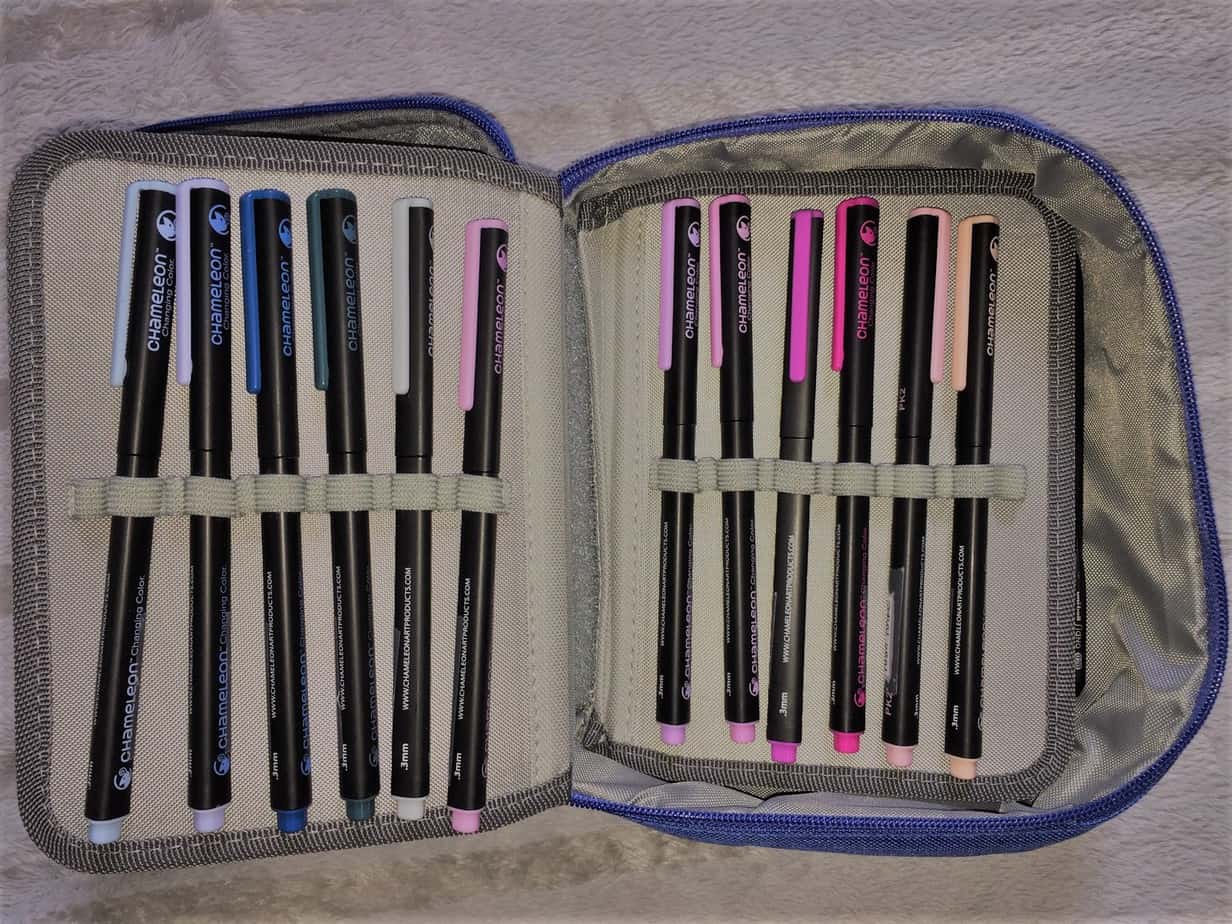 In Australia, the cheapest place to buy Chameleon Fineliners was on Chamaleon's own website. I bought a discount bundle. There was a flat $10 cost for shipping. As additions to the school pencil case, these are prestige items.
ALCOHOL MARKERS
Speaking of alcohol markers, the kid already got a big set of no-brand alcohol markers for Christmas and has been using the heck out of them. I wasn't expecting them to last long, but they're doing better than I thought. The kid's only complaint is that alcohol markers stink.
Why are alcohol markers better than regular felt tips? They're much better for blending.
They also bleed right through regular paper, so artists need to remember to use extra paper between the leaves in a pad or notebook, or they'll ruin several pages underneath.
The alcohol markers below are from Riot Art & Craft. I wouldn't buy anything full price from them. They're always having sales and the prices are reasonable if you take advantage of the promo codes they regularly give out everywhere. With a discount, these double-ended alcohol markers cost just over $2 AU each.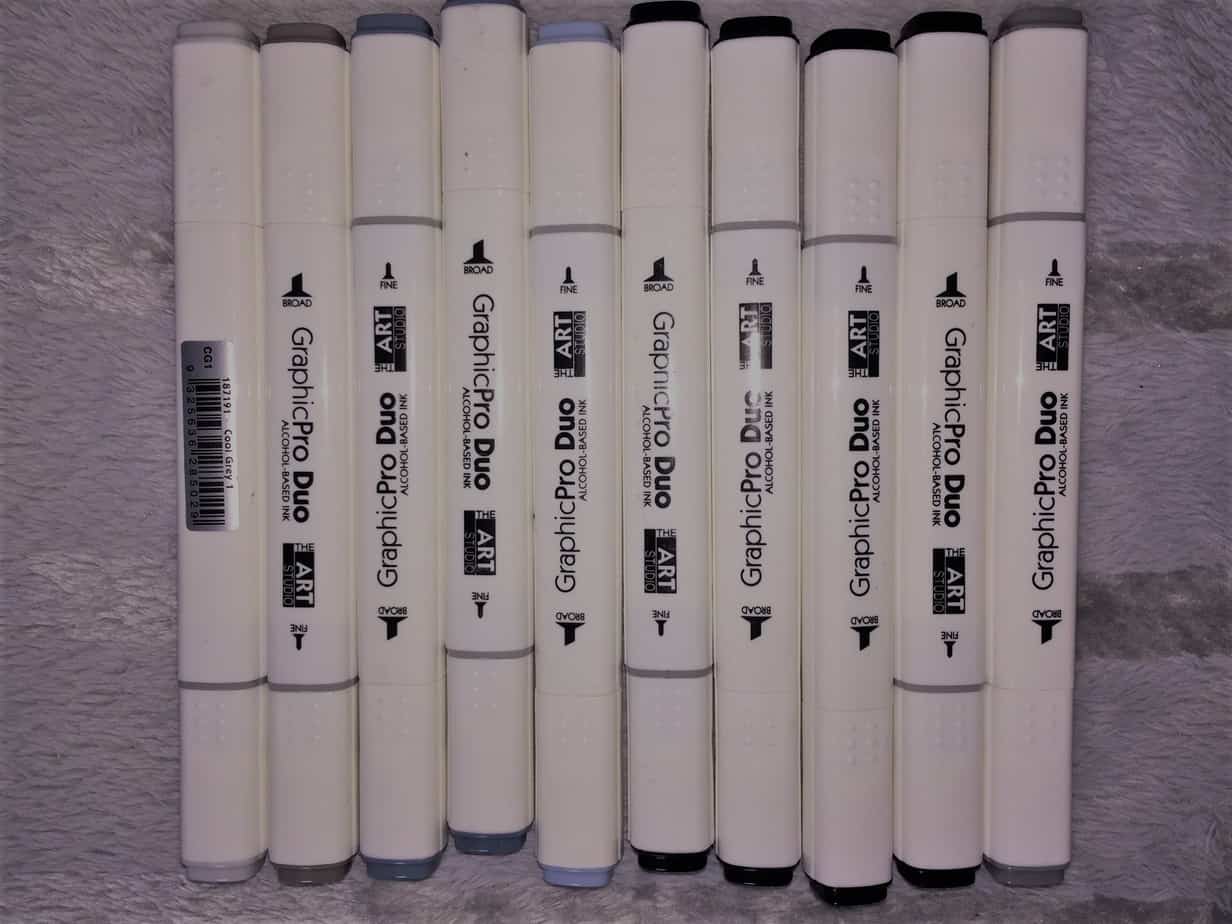 The markers pictured below come in a full range of colours, but I only purchased the grey scales, plus a few extra blacks because the kid runs out of black the quickest. They do cartoon style art and manga, with all the black outlines. Since alcohol markers are good for blending, they're also good for teaching young artists tone, without getting sidetracked with hue.
If you're buying markers for a young artist, you probably want to gift them a few extra blacks. (And white, if it's paint.)
THE LARGE PACK OF FABER CASTELL CONNECTOR PENS
I have never understood the reason behind connector pens. The shape of the lids is just annoying to me. However, the Faber Castell brand is huge here in Australia (replacing the Texta of previous generations). You find them in supermarkets and in chain stores.
However, you won't find the larger pack in the chain stores. You'll find the 48 pack in department stores for about $20 and sometimes online for as low as $12. That's a great price. No wonder Faber Castell rules with kids. Don't be fooled by the pack, though. It's mostly air. The pens line the outside.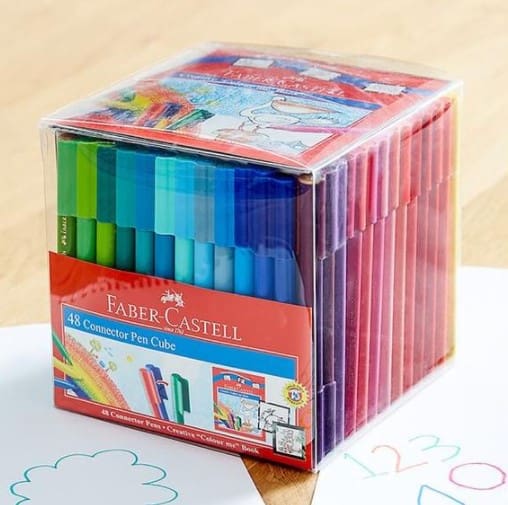 However, there is also an 80 pack available. The larger pack comes with a plastic carry case. Most magnificently, it also comes with a cardboard colour wheel which teaches colour theory. Such a small thing, but I'm sure this is the thing that got my kid interested in how colour works.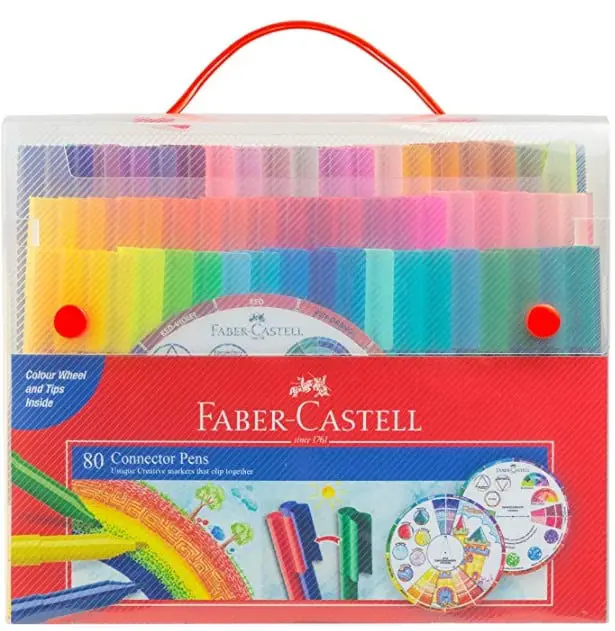 CMY CUBE
For kids who really love colour and think a lot about it (as mine does), here's some beautiful jewellery for their desk.
This cube is a beautiful ornament, inspired of course by the CMYK colour model. It comes wrapped in tissue paper inside a fabric drawstring bag inside a cardboard box. (The cardboard box was a little beat up but this isn't something that would easily break.)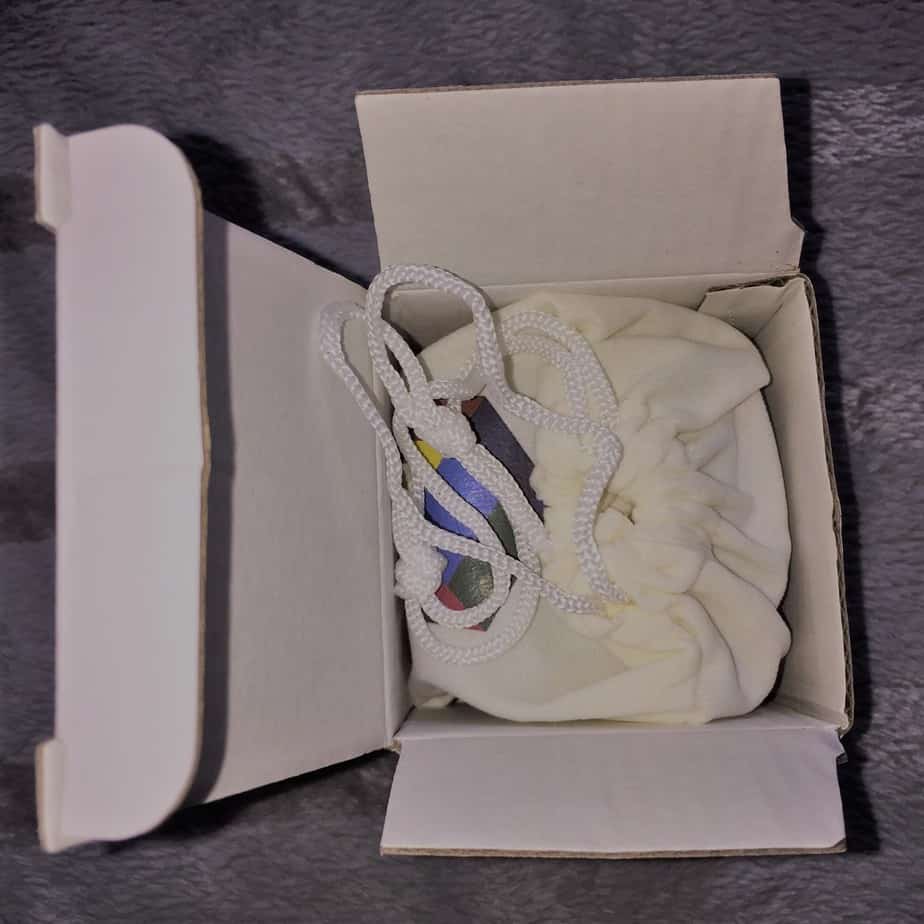 I bought this one on sale from CMY Cubes. I signed up for their newsletter to know it was on sale (for $28.80 USD).
To completely appreciate and experience these cubes, hold the cube before light or dip it into a sunbeam to bathe the room in a shifting spectrum of colour.

This magical cube appears to create an ever-changing spectrum of colour, providing you with endless enjoyment. Each face of the translucent cube is coated in electromagnetically subtractive materials which at first, appear as cyan, magenta, or yellow. Twisting and turning the geometry creates new combinations, resulting in the appearance of new colours.

MARKETING COPY
DON'T FORGET THE PAPER
Paper can cost an absolute fortune but you can't go past good old cartridge. For alcohol markers especially, the weightier the better. A ream of A4 paper is fine for quick sketches will cost about five bucks from the supermarket and should last a long time.