Stable Diffusion is improving every week, but as of January 2023 there are a few things AI art generators can't yet do: hands, vehicles, chairs, horses, architectural detail… You get the idea. Every now and then you will get a decent hand, or a decent house or a decent horse (without using a sketch to kick off with) but mostly you're doing a lot of inpainting and photobashing and otherwise fixing by hand.
HOW TO USE STABLE DIFFUSION FOR FREE
You can try the following experiments yourself for free.
There is a one-click installer for Windows and Linux. No tech know-how required. Just a decent graphics card. There are other advantages to installing it on your own computer e.g. you can save your own keyword combos.
Automatic1111 is also available on Hugging Face, which means online. You don't have to install anything on your own computer, but if you want to avoid a queue and do big batches, see above.
WHAT IS STABLE DIFFUSION BEST AT?
It's early days for Stable Diffusion, but AI art is already good at doing a few things, and despite what the dudebros are training their models on (ahem) here's what I think it does best: beautiful painterly landscapes.
I've been experimenting for an artist combo which would return the perfect amount of detail. I've finally found my guys.
Here's what I type into the text to image field:
(by artist Richard Eurich, David Bomberg, Charles Reiffel:1.2), (snowy mountains at dusk:1.2), award-winning
RICHARD EURICH
Richard Ernst Eurich, OBE, RA (1903 – 1992) was an English painter who worked as a war artist to the Admiralty in the Second World War and was also known for his panoramic seascapes and narrative paintings.
Eurich studied at the Slade School London, where one of his reports said: 'This student is being influenced by painters who have not been long enough dead to be respectable.'
DAVID BOMBERG
David Garshen Bomberg (1890 – 1957) was a British painter.
Art movements: Vorticism, Cubism, Futurism
If you're getting more ochres than you want, try removing this artist.
CHARLES REIFFEL
Charles Reiffel (1862 – 1942) was a self-taught American lithographer and painter who became "one of California's best-known painters."
Art movements: post-Impressionism
RESULTS
I'm using Euler A with Automatic1111, CFG of 5 (on the low side, I know) and 40 steps. I leave highres.fix and restore faces checked because I can't see the benefit of unchecking them. (There must be some reason, I don't know.) 840×608 pixels, which on my graphics card can only be done one at a time.
I'm not always getting what I ask for, but always getting something pretty.
I've used the keyword purple a lot, but that's just because I like purple. I may also be getting slightly more interesting colour schemes with the addition of purple. (Notice the difference as you scroll.)
The keyword screencap or screenshot may return better composition, since cinematographers are responsible for those, and people tend to capture the interesting scenes in a film.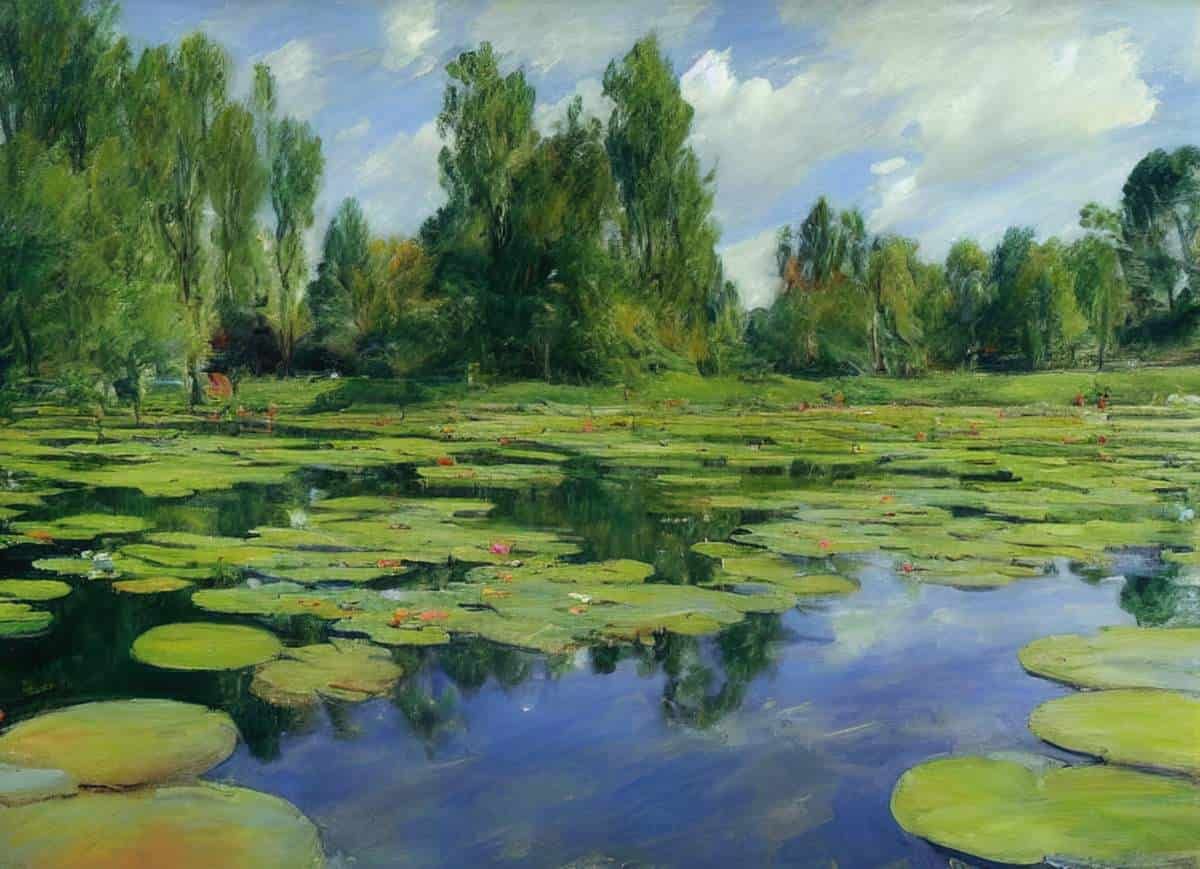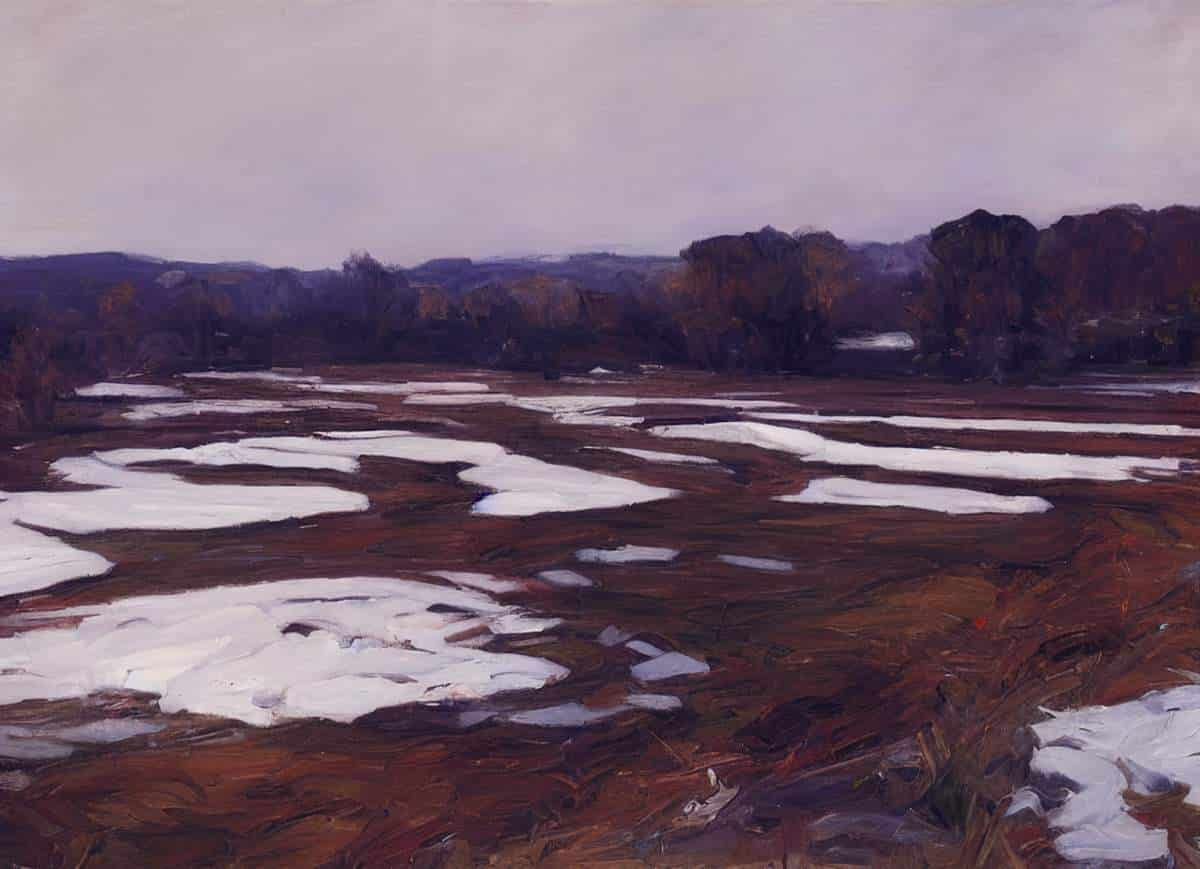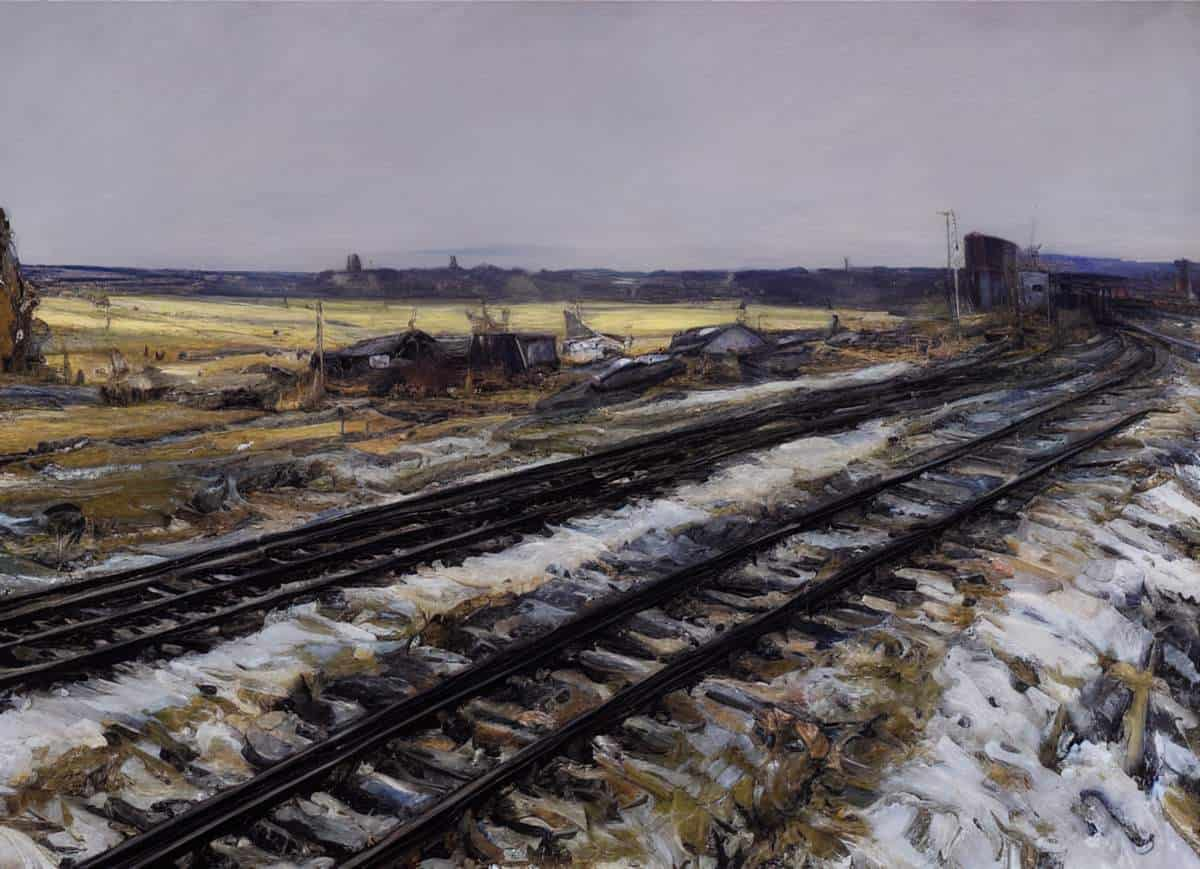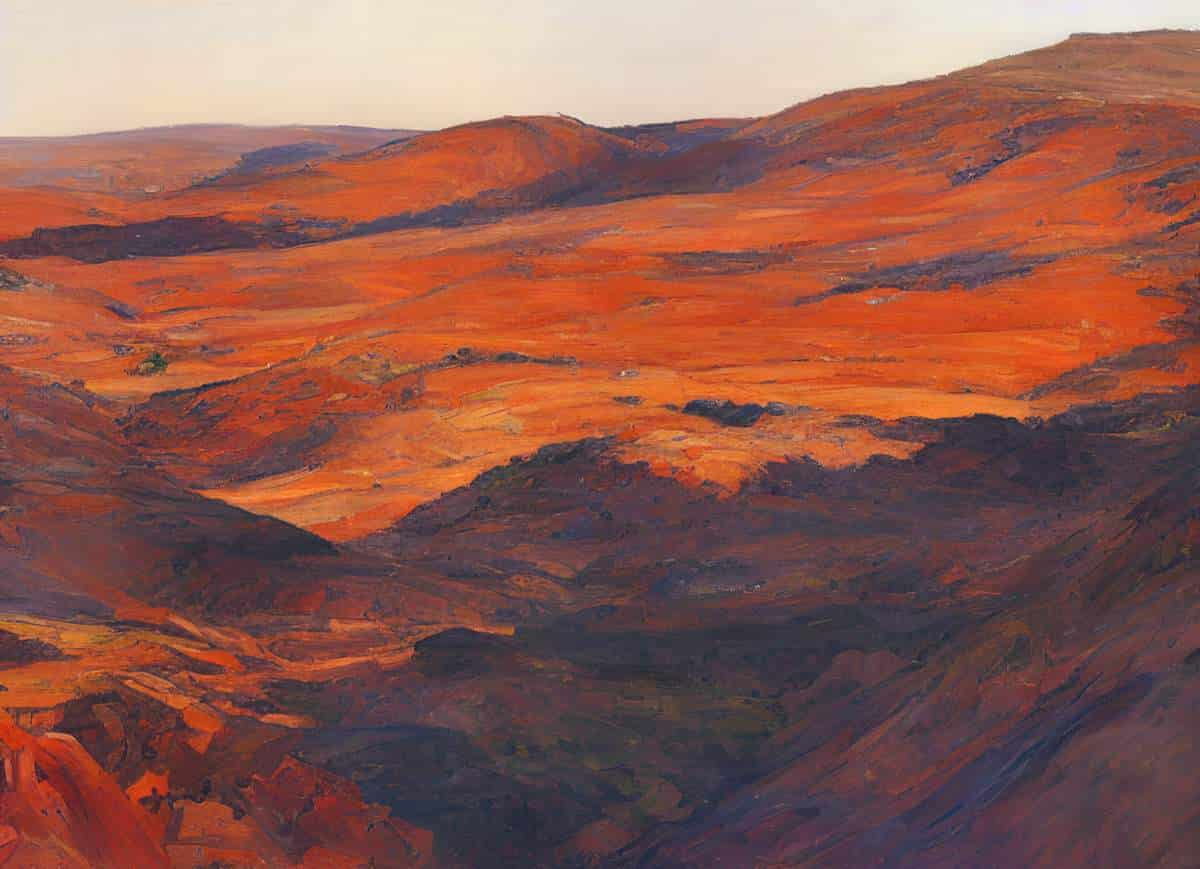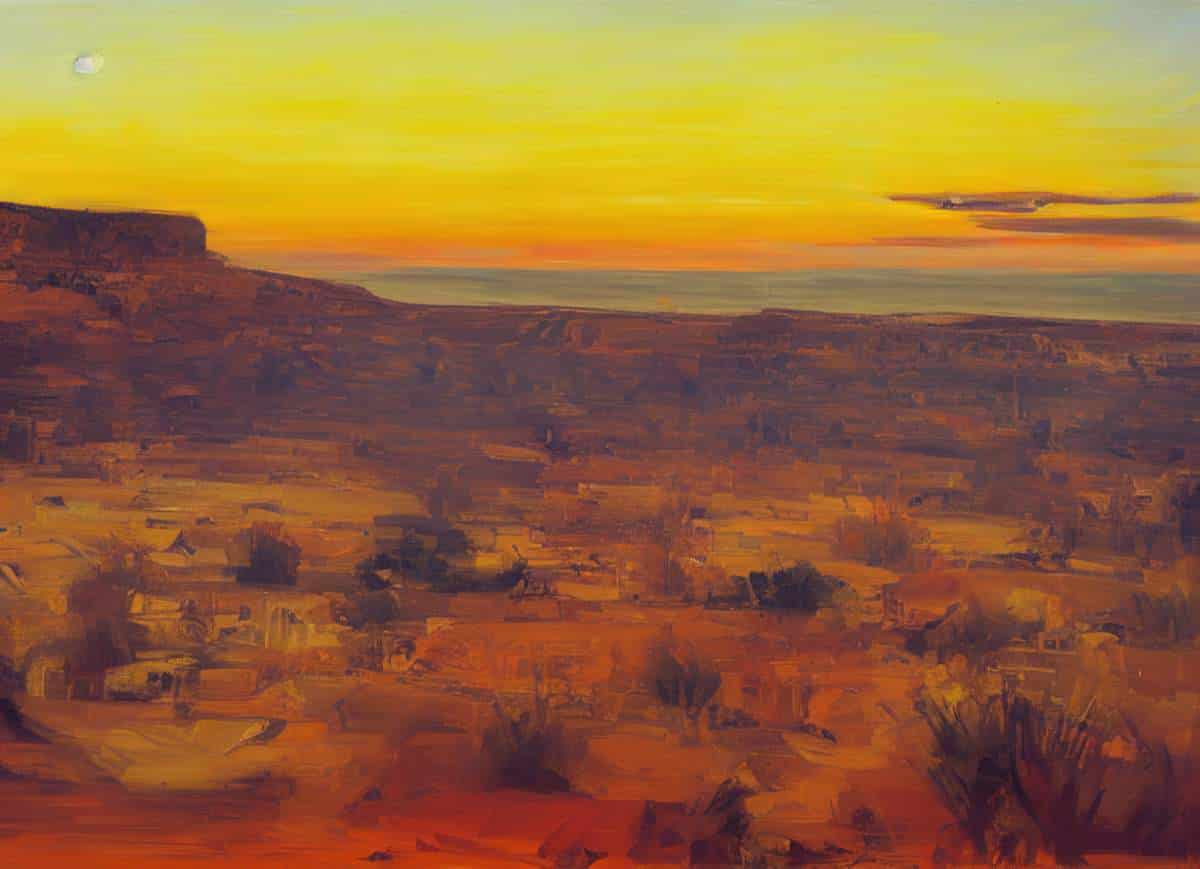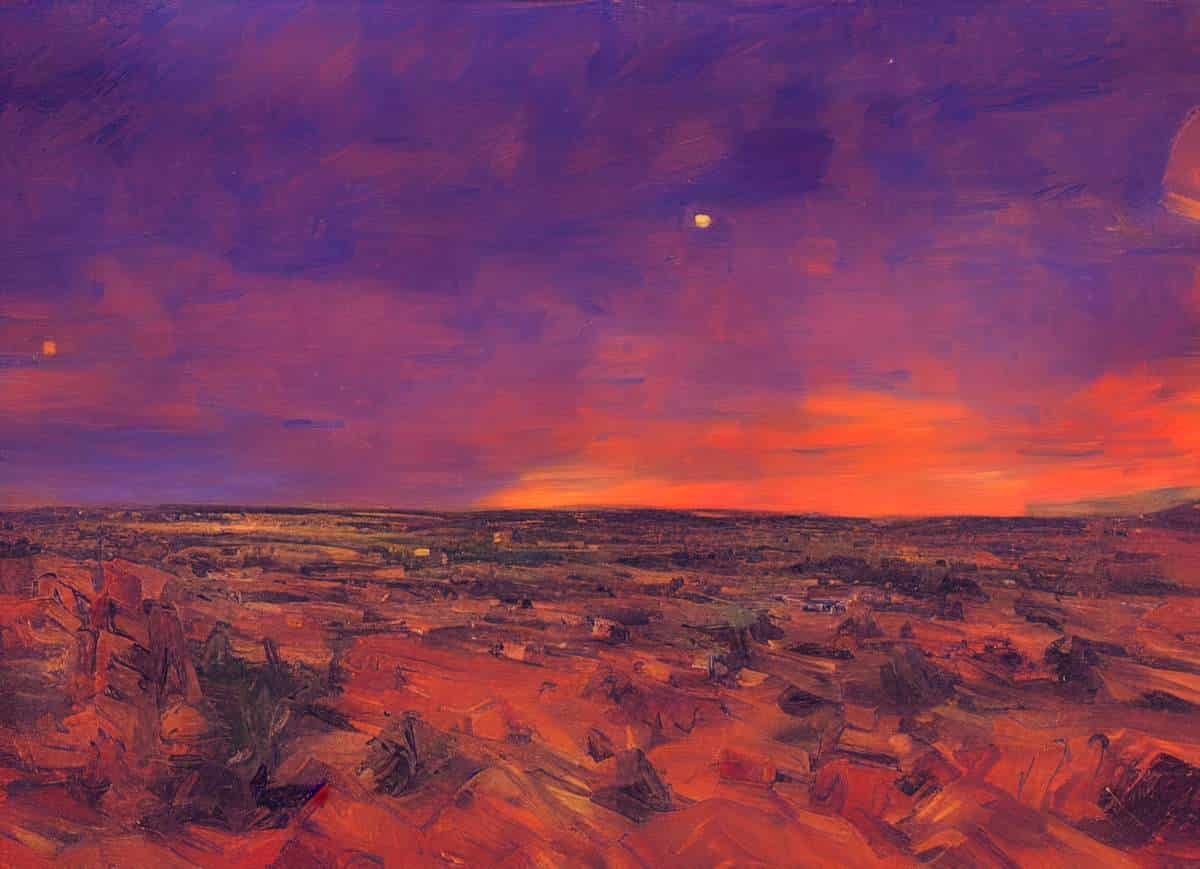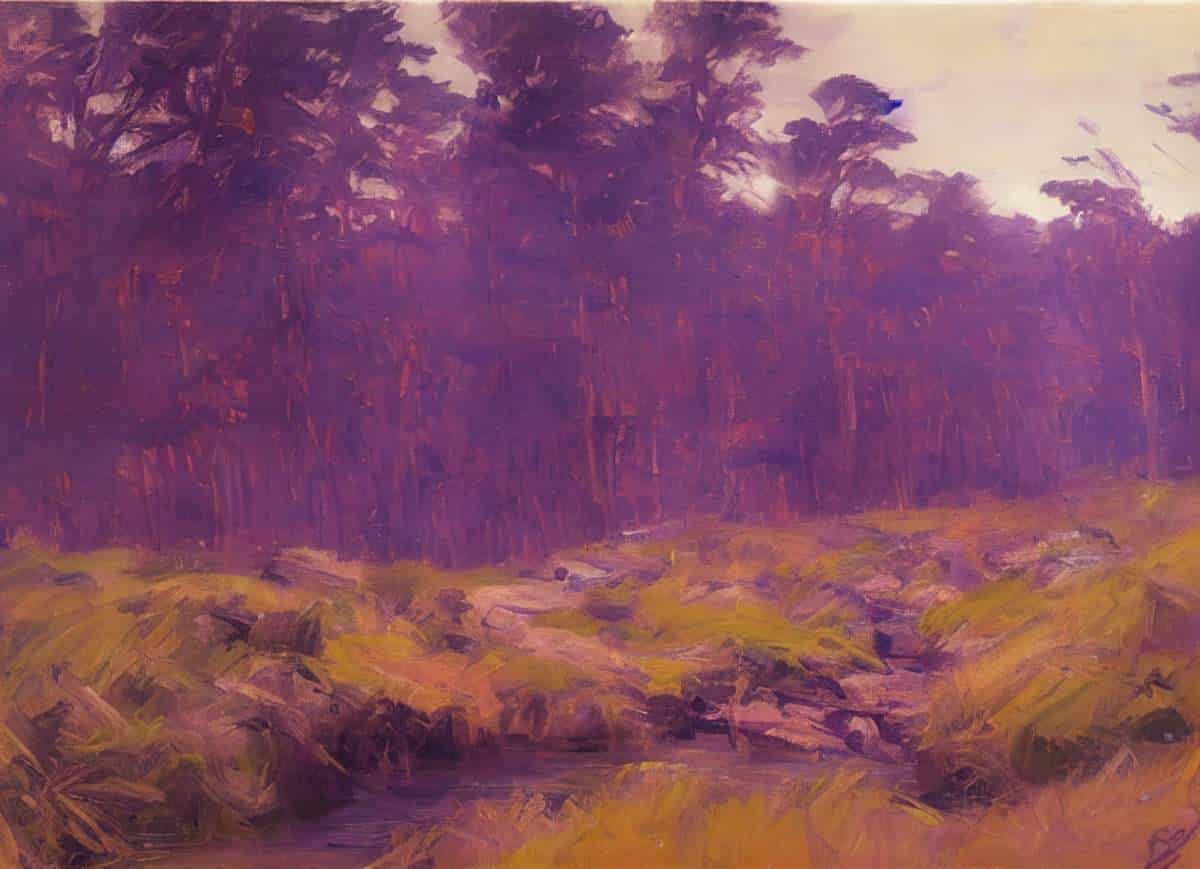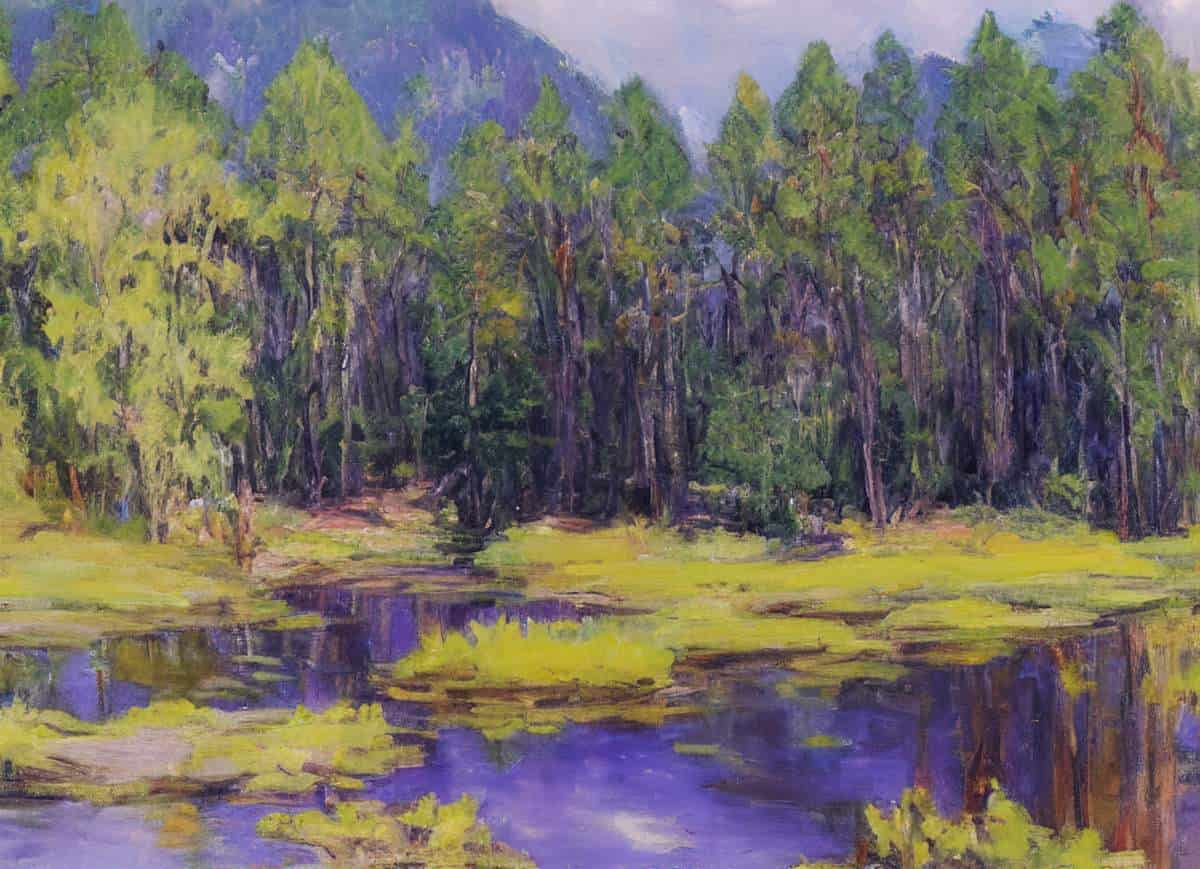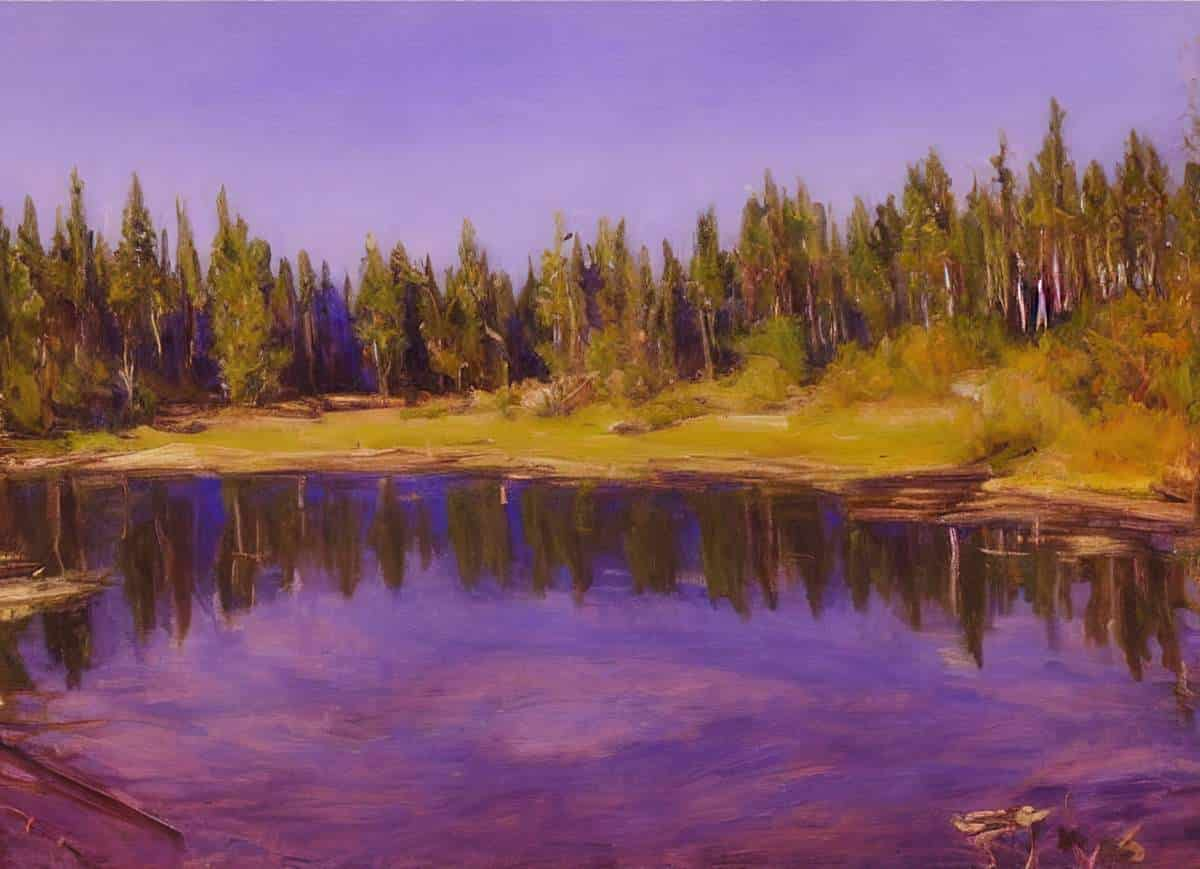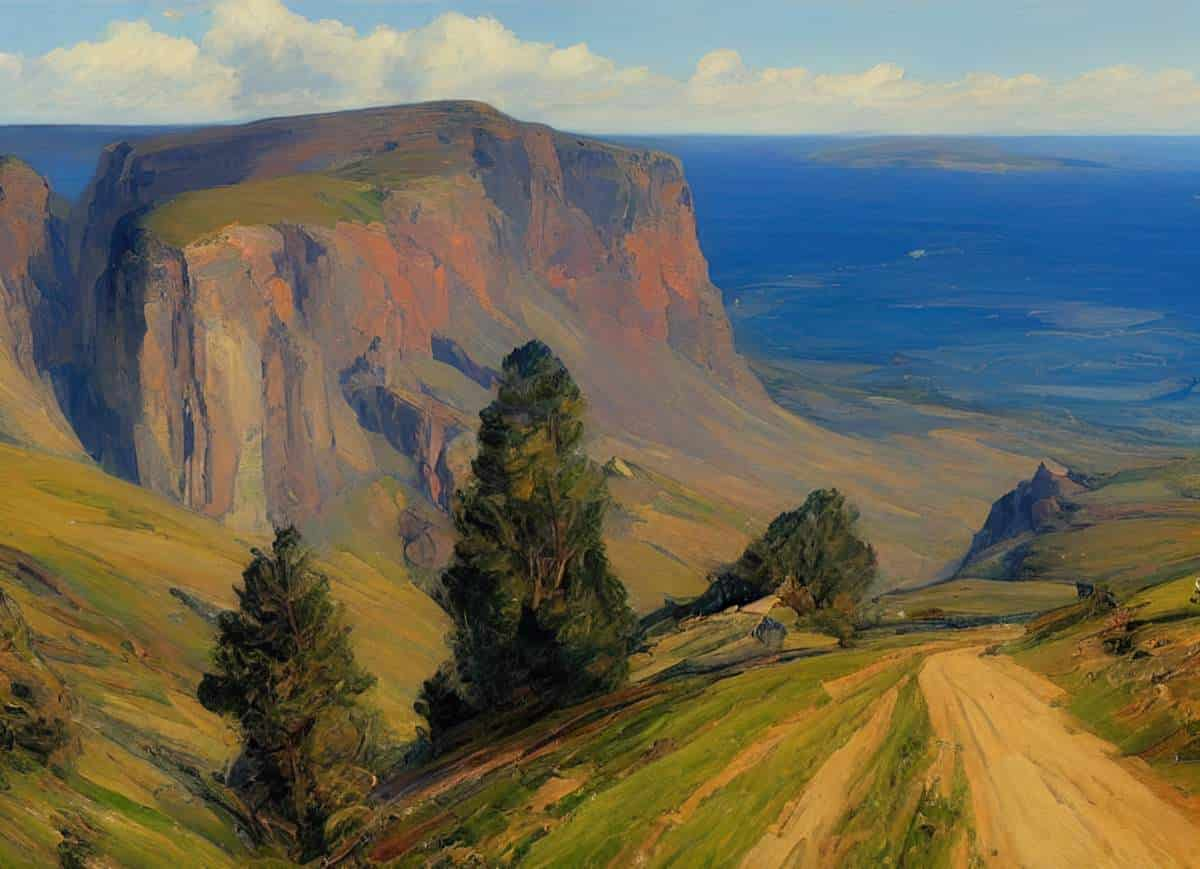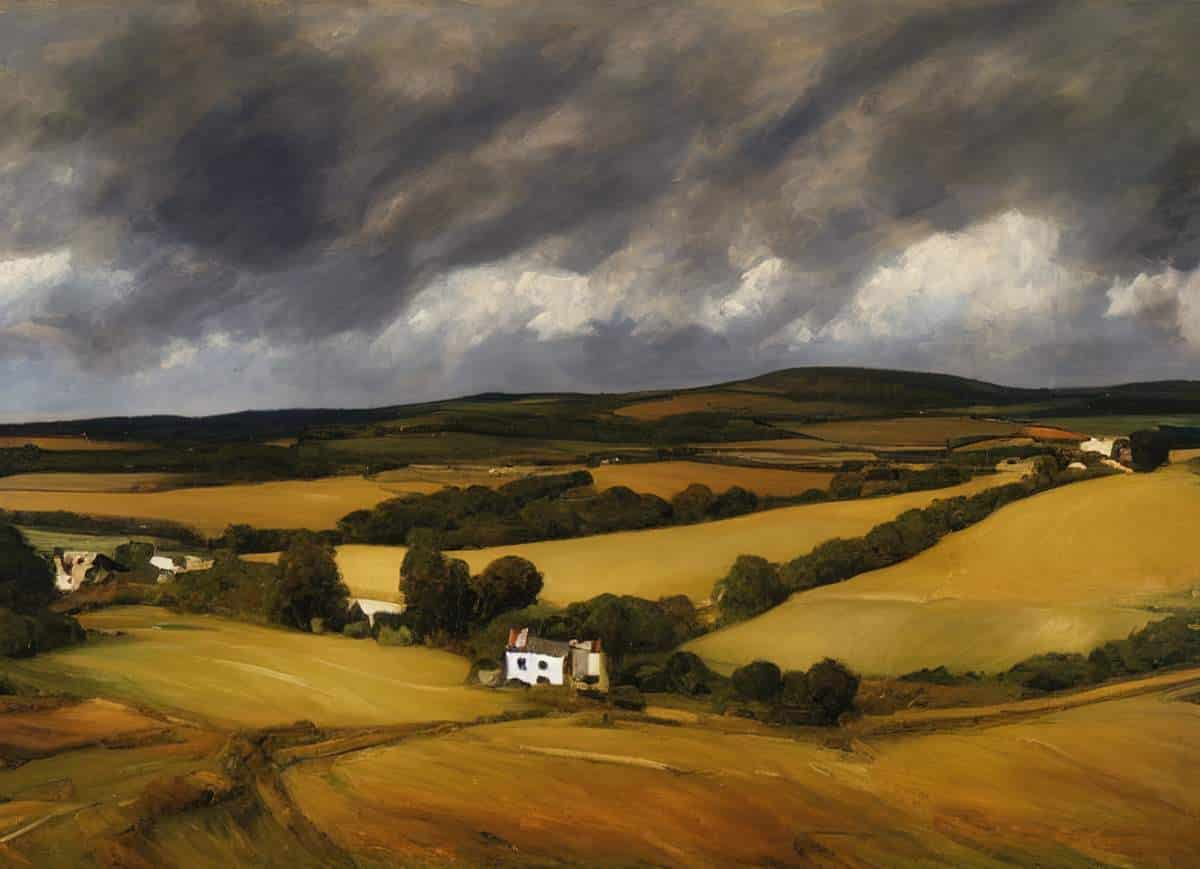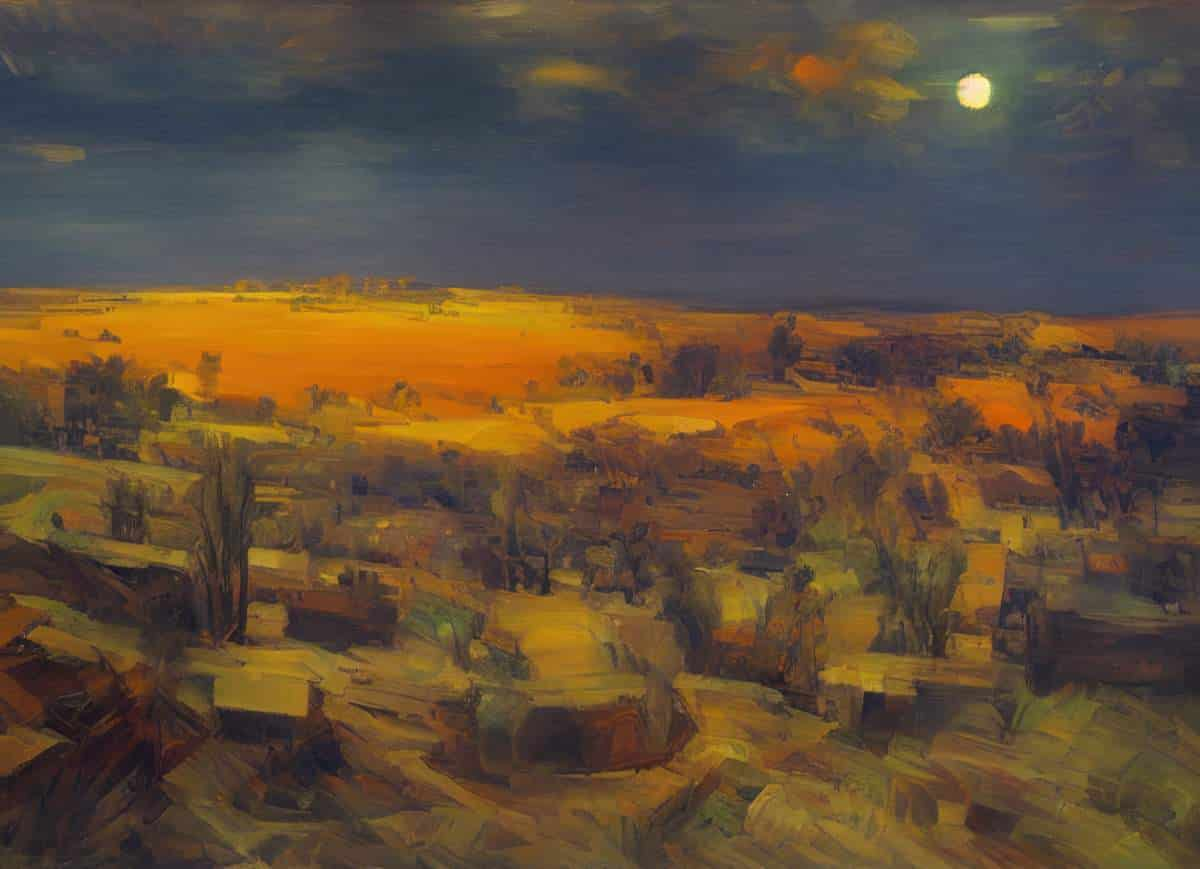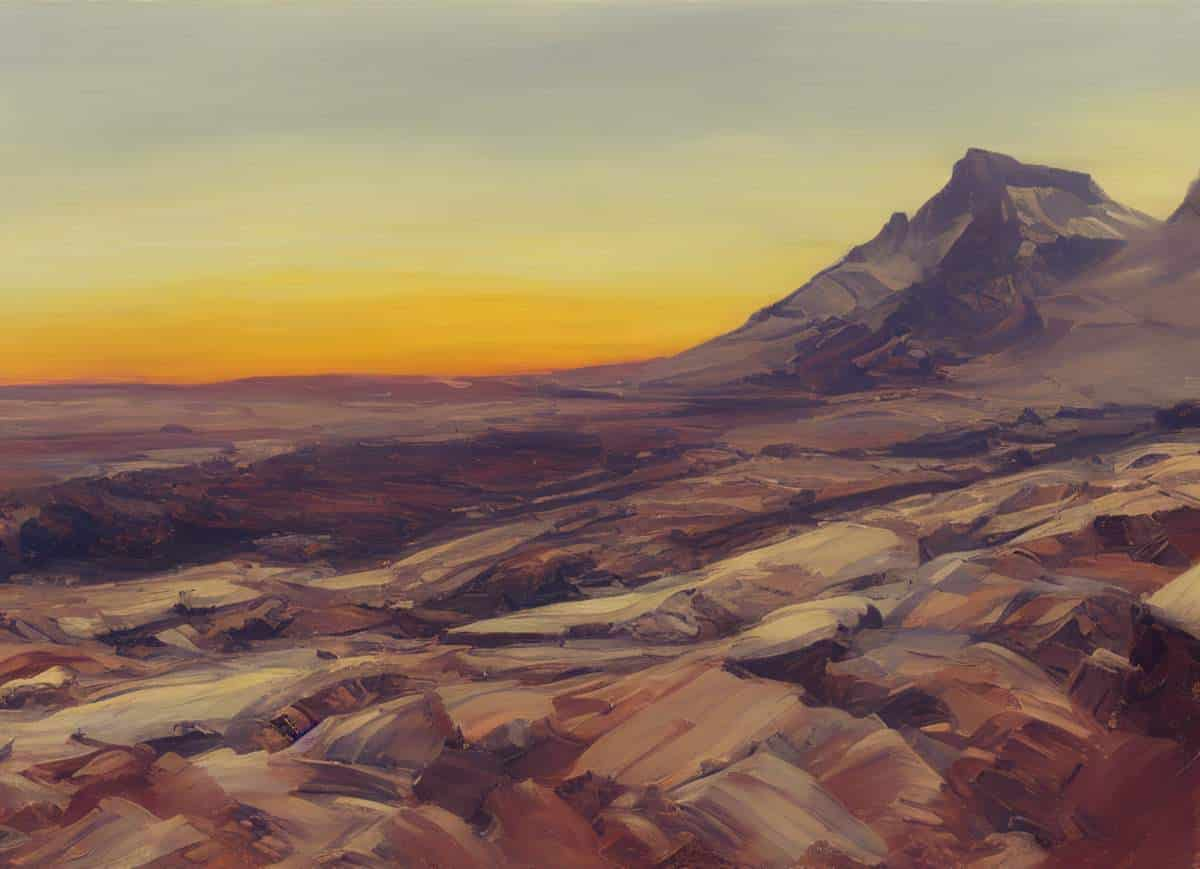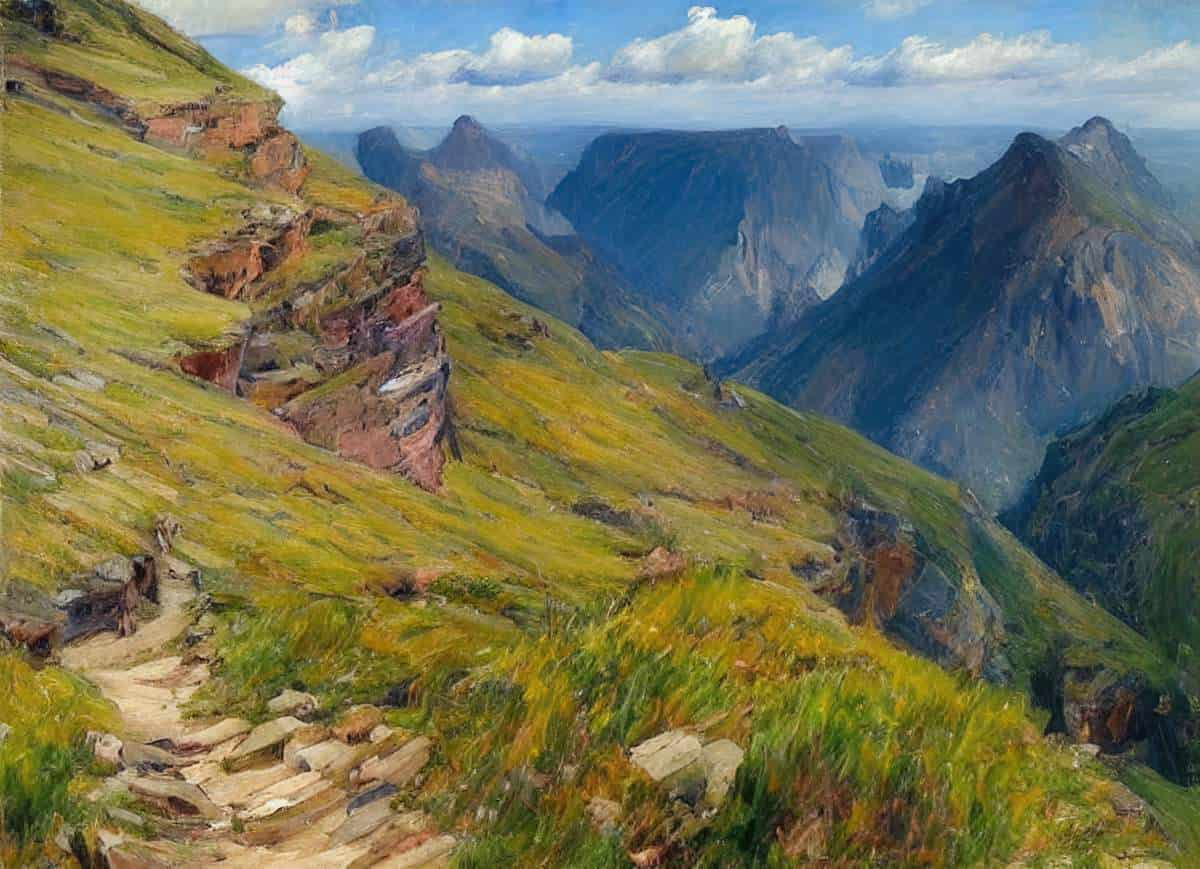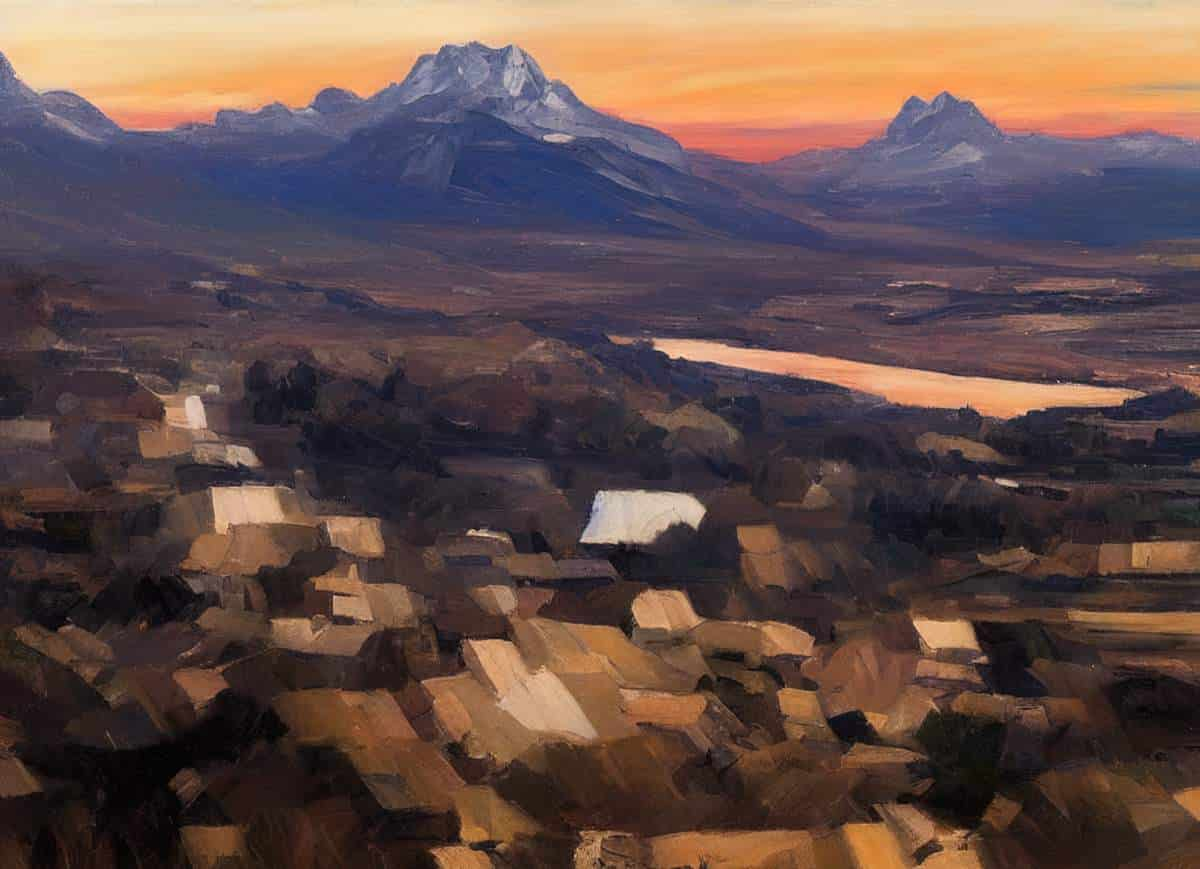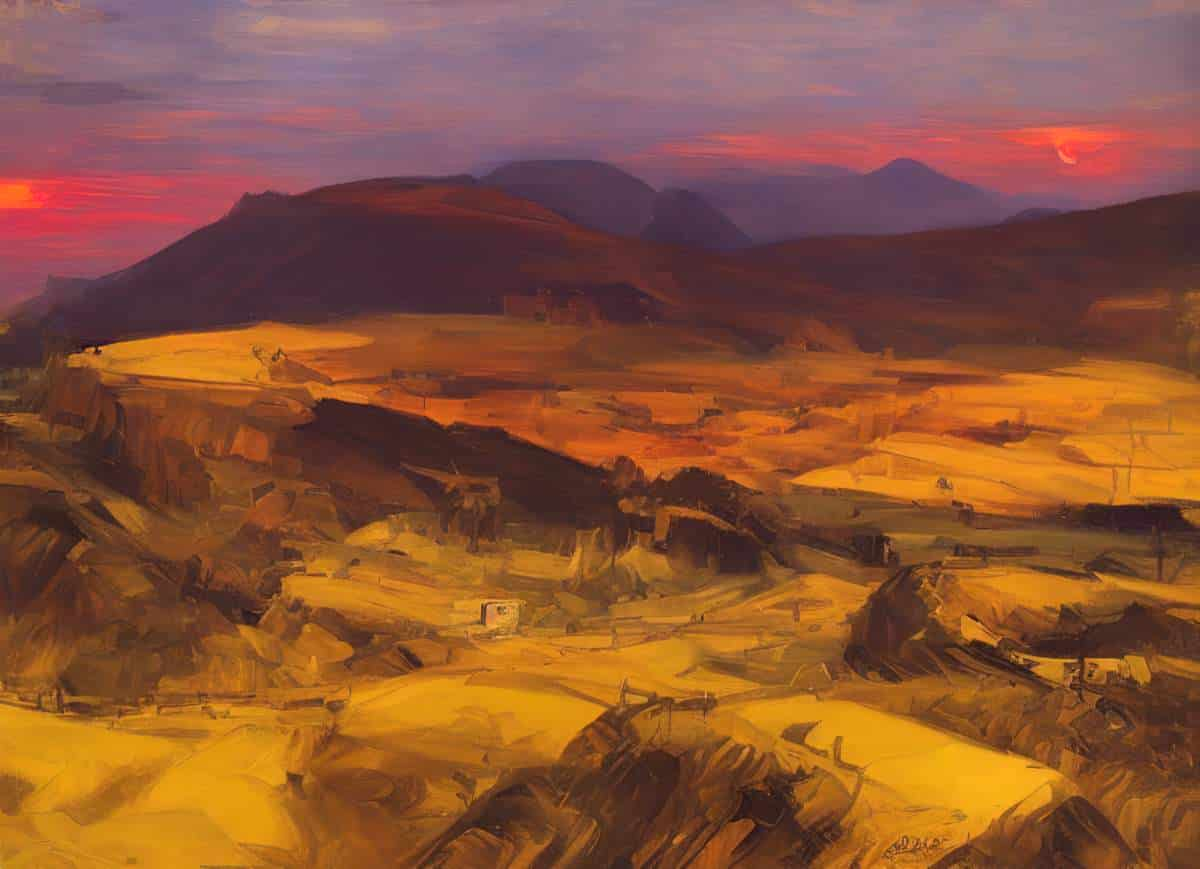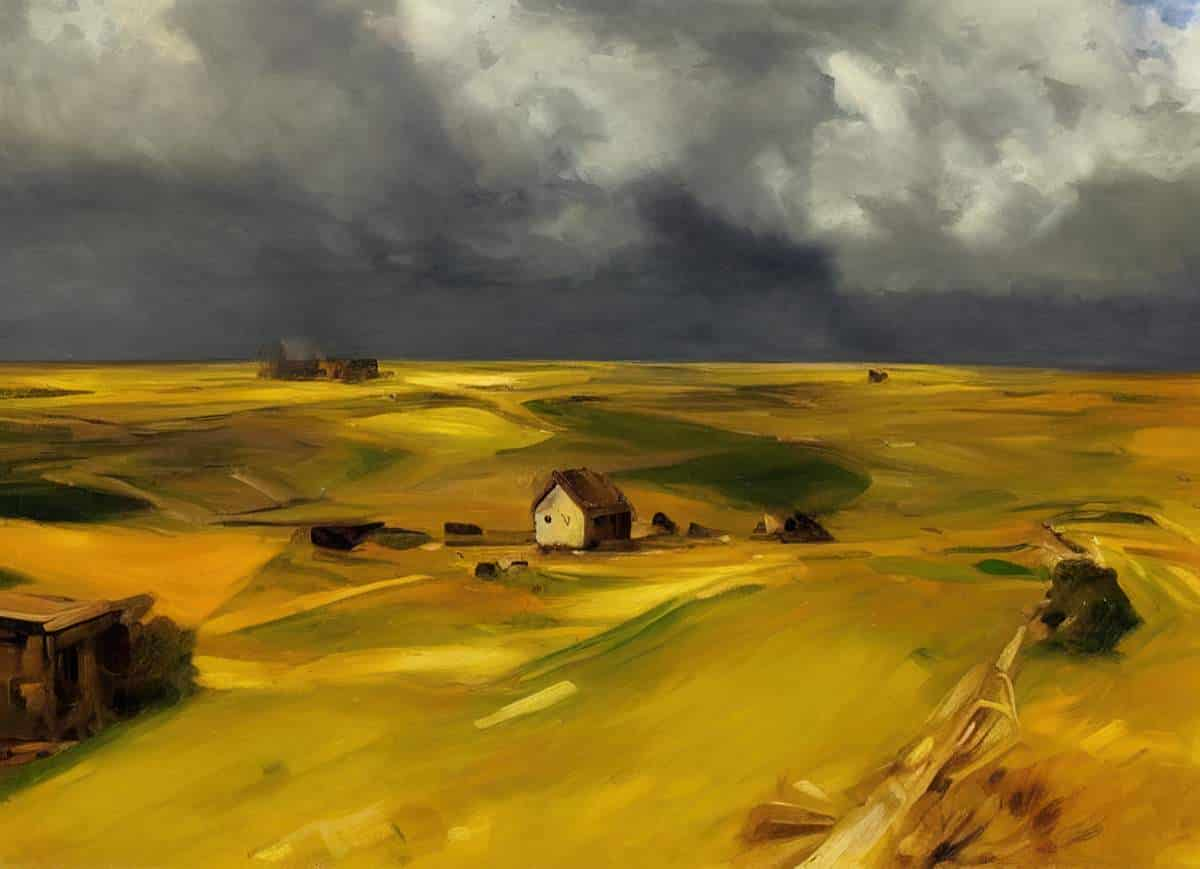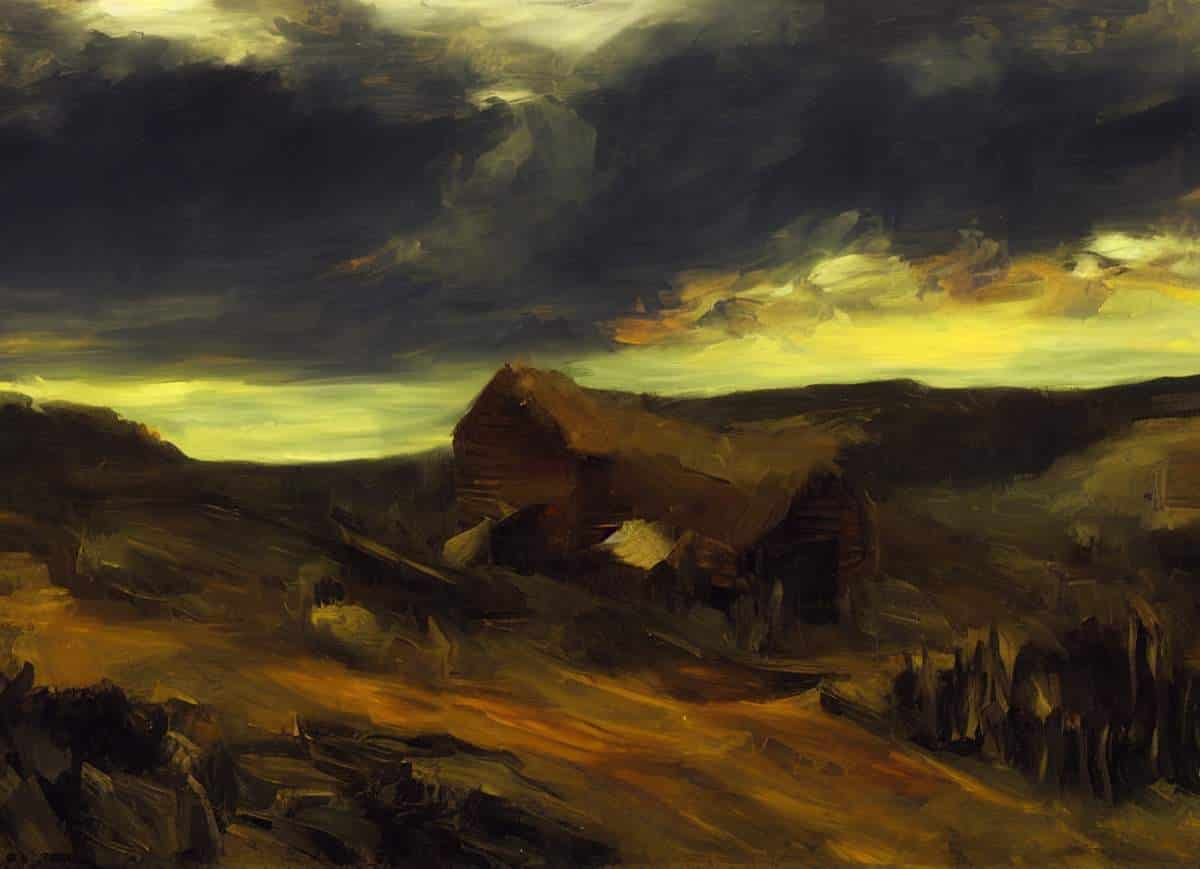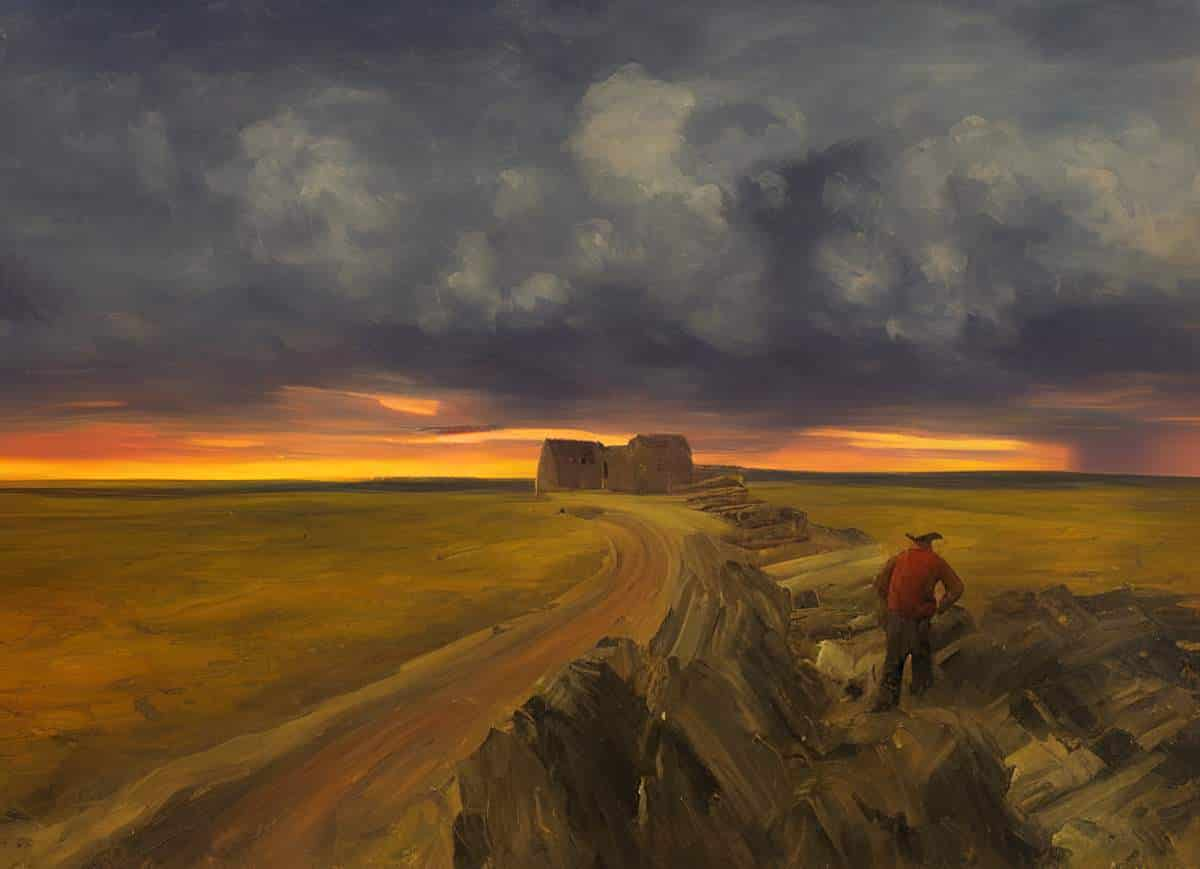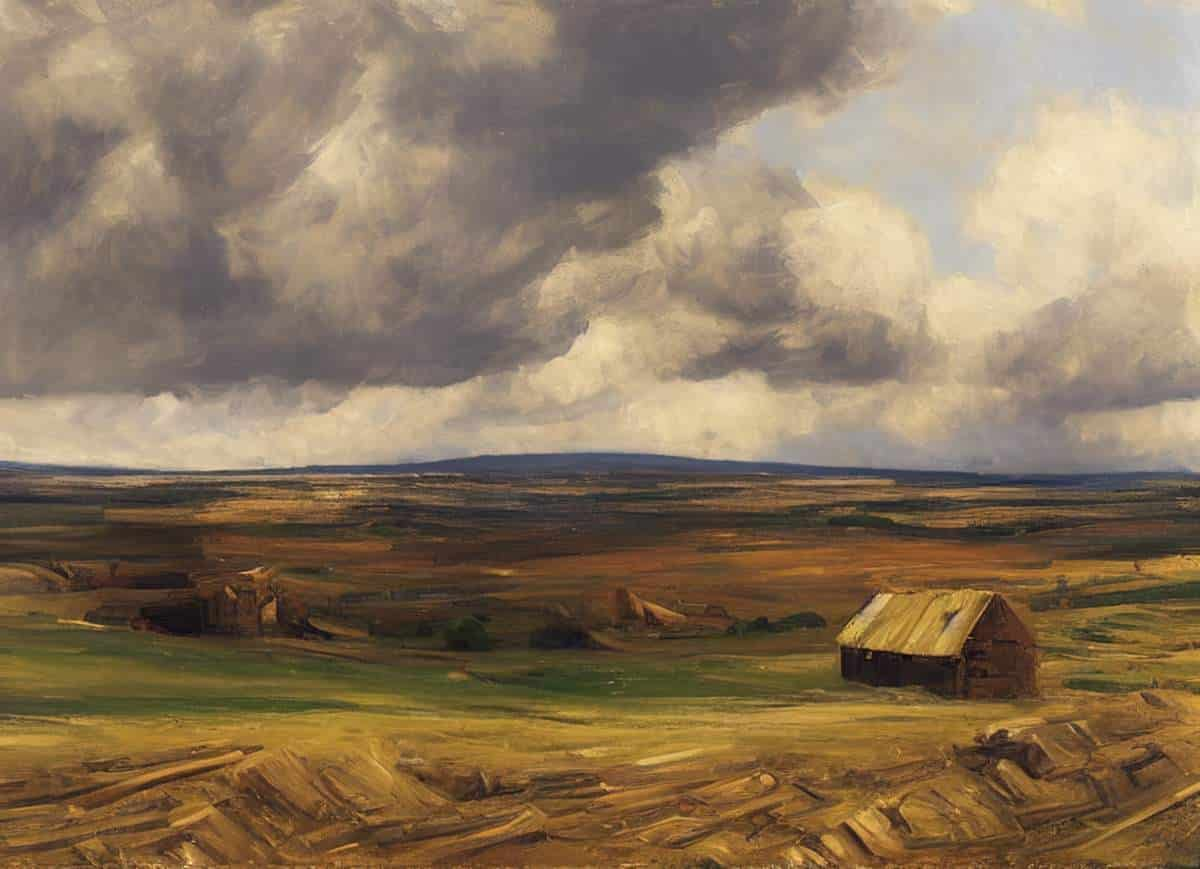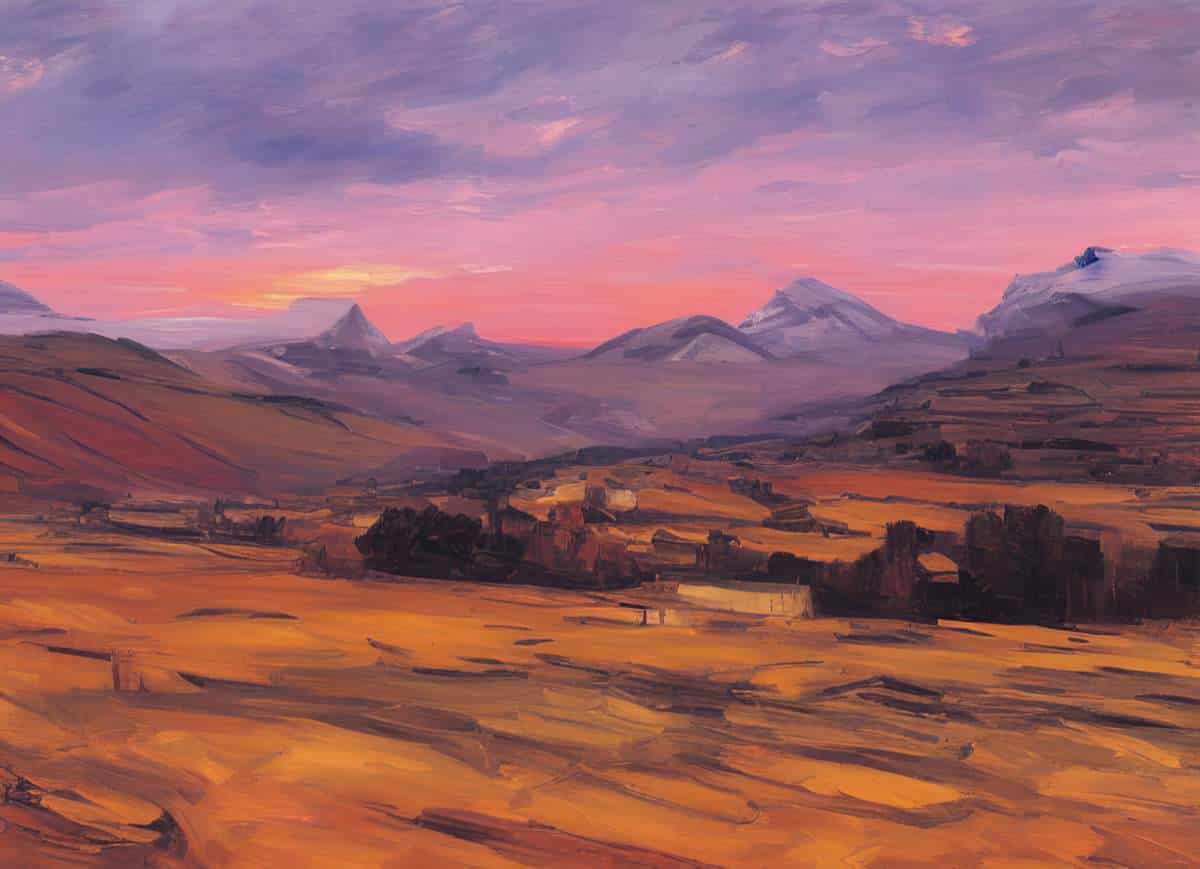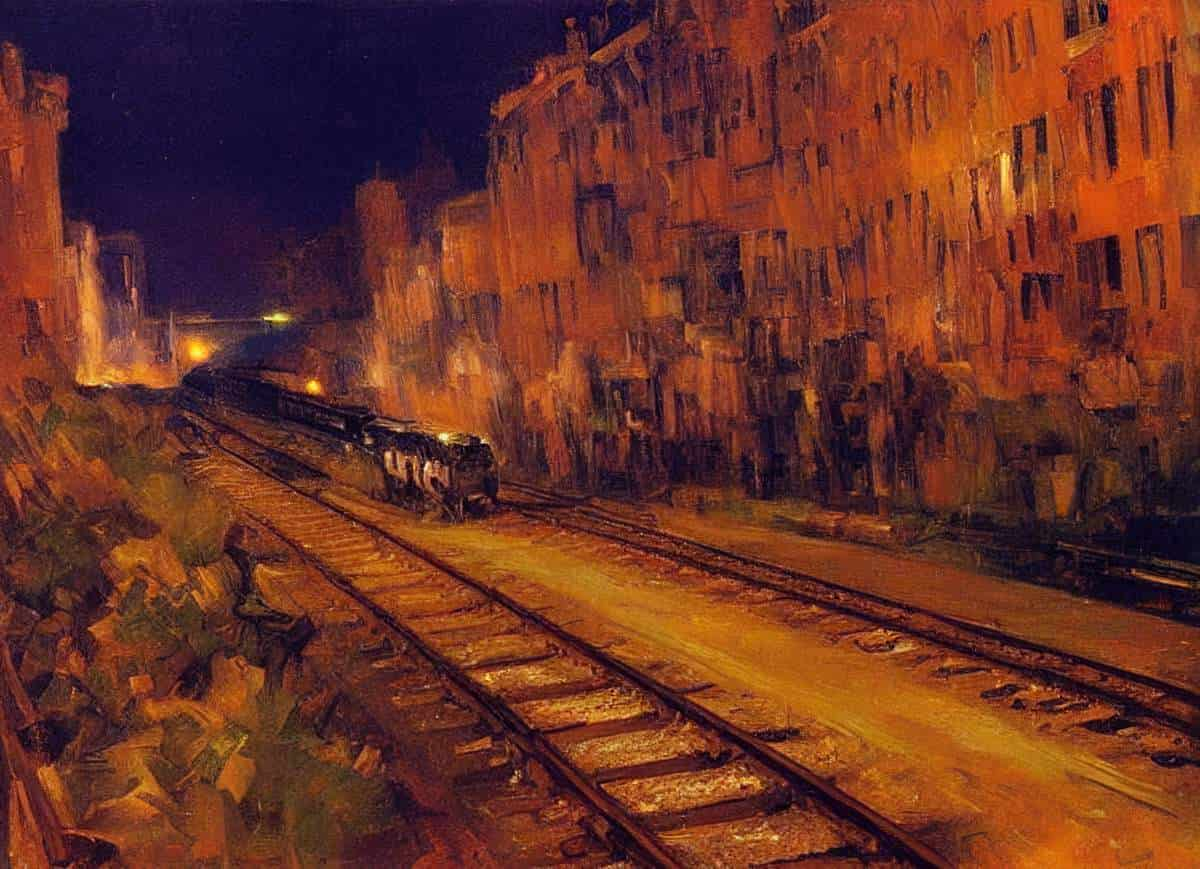 The train painting above looks good at first glance, but doesn't bear up to close inspection. The train isn't on the tracks. Sure, this could be fixed manually with a bit of cloning and handpainting. Below is another example, with not such an easy fix because the train is pulling in an entire storey below the platform.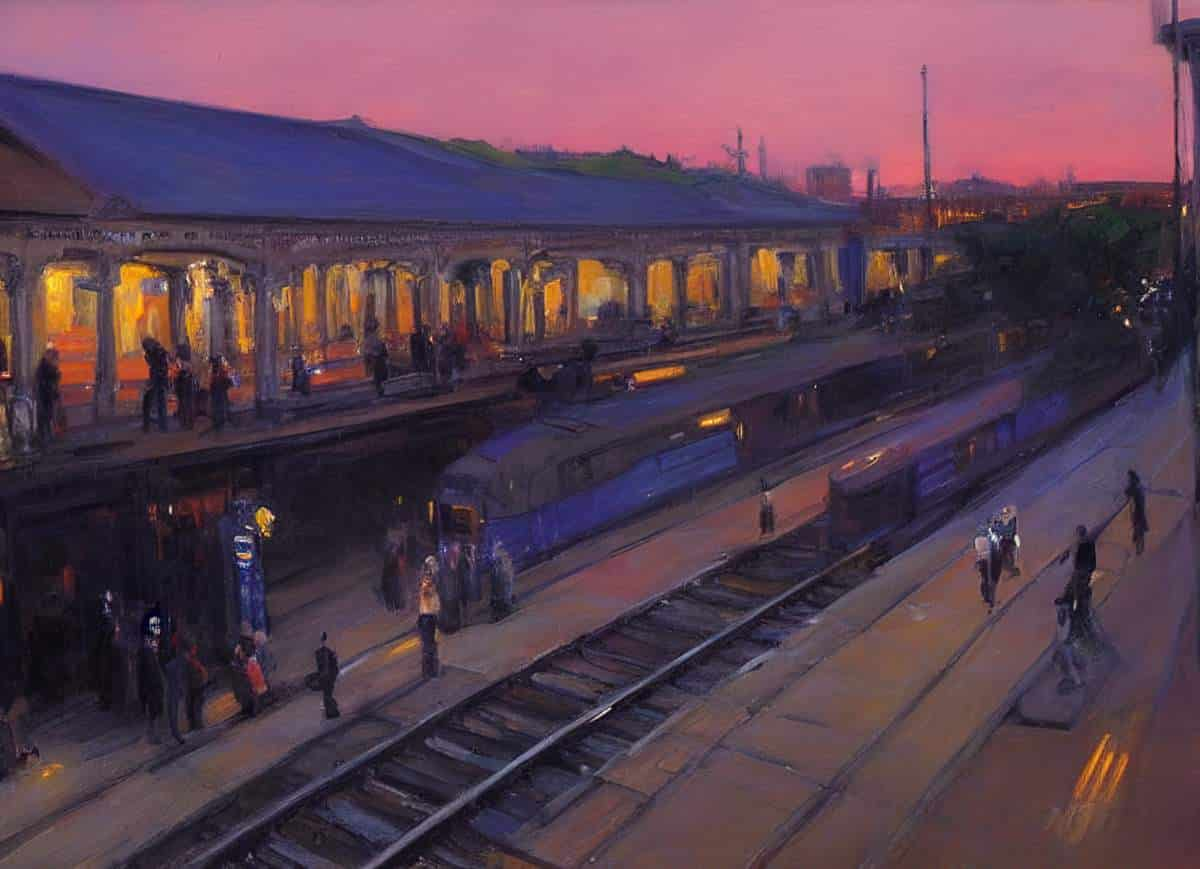 So if we want to do cityscapes, train stations, shopping malls, cinemas, classrooms, suburbia — you know, complicated paintings using AI, this will come. But for now it's not working that well.
Notwithstanding, every now and again you get a good one, like the one below, so long as you're after creepy: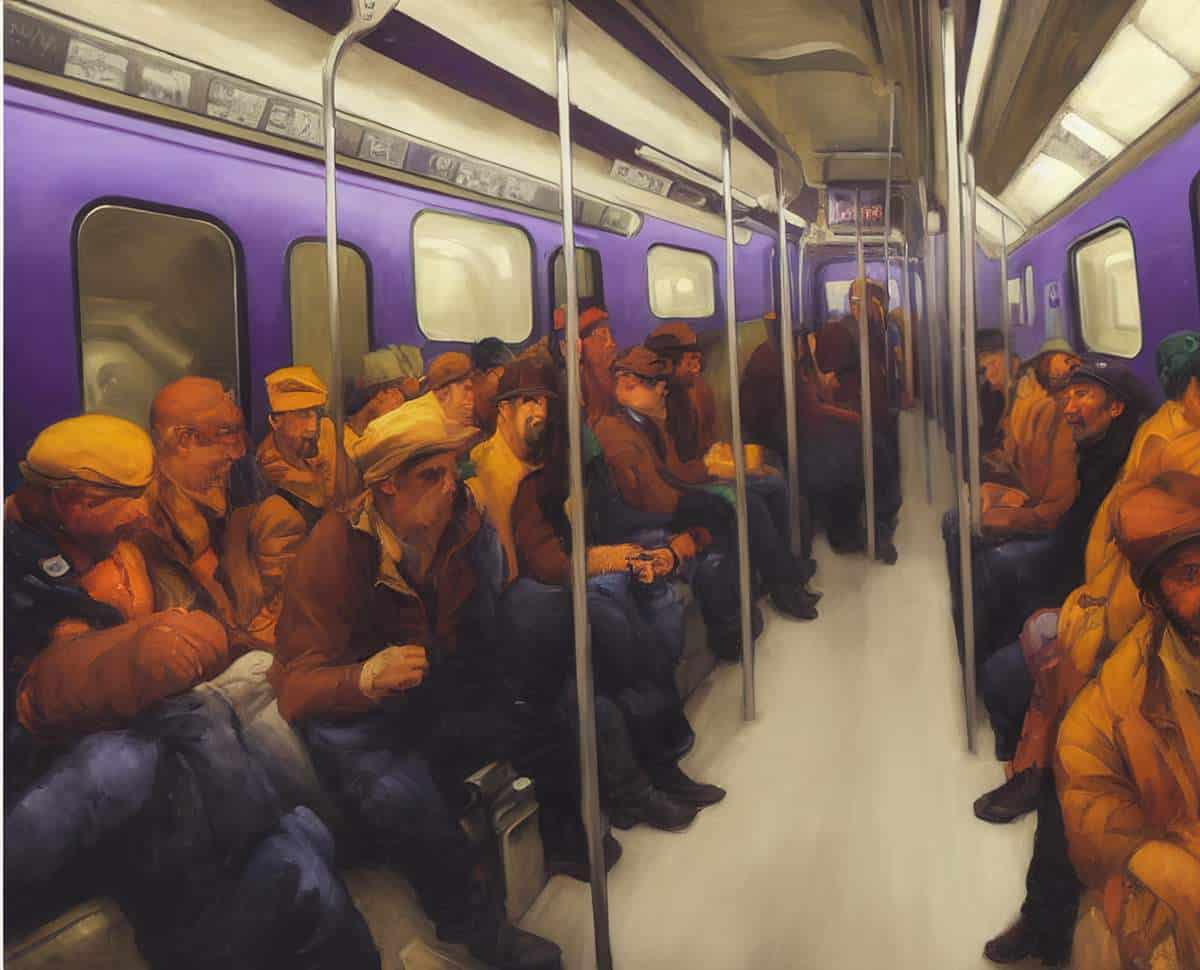 Is there a style of art which can handle things which don't line up? Like, that loosey-goosey style, partly abstract, very painterly? The sort of art which conveys a mood? I've tried using art movements as keywords: Impressionism. Abstract. But when I ask for 'abstract' I get too abstract. (I'm not a fan of abstract work.) I've been on the hunt for a combination of keywords which keeps the basic composition of a scene but is sufficiently painterly that it doesn't matter if the train pulls in at the wrong platform.
The trick is to come up with a style which can't be attributed to any one artist in particular.
Folks, I have found what I want:
(by Ludwig Bemelmans, Quentin Blake, Basquiat:1.1)
LUDWIG BEMELMANS
Bemelmans made the classic Madeline picture books and was also well-known in his day for his New Yorker covers.
QUENTIN BLAKE
Everyone knows Quentin Blake, right? Quentin Blake is the only living artist I'm invoking here. I'm wanting something of his loose linework.
BASQUIAT
Jean-Michel Basquiat was a Black artist and, just like the other two, has a highly recognisable style. The good thing about invoking Basquiat is that in a crowd scene you don't just get white people. Unfortunately Basquiat died in 1988 at the age of 27.
Okay, so what happens when I ask for a landscape with the addition of the above keywords? This happens! Now we've got that wonderful off-kilter perspective I was after.
Notice I've changed the order of phrases up. I find keywords carry more weight if they come earlier, so if you're not getting enough of keyword, shift it forward. Also change the weights with the numbers, obviously. (Shortcut: highlight the keywords you want to change the weights of and hold control key plus up or down arrow.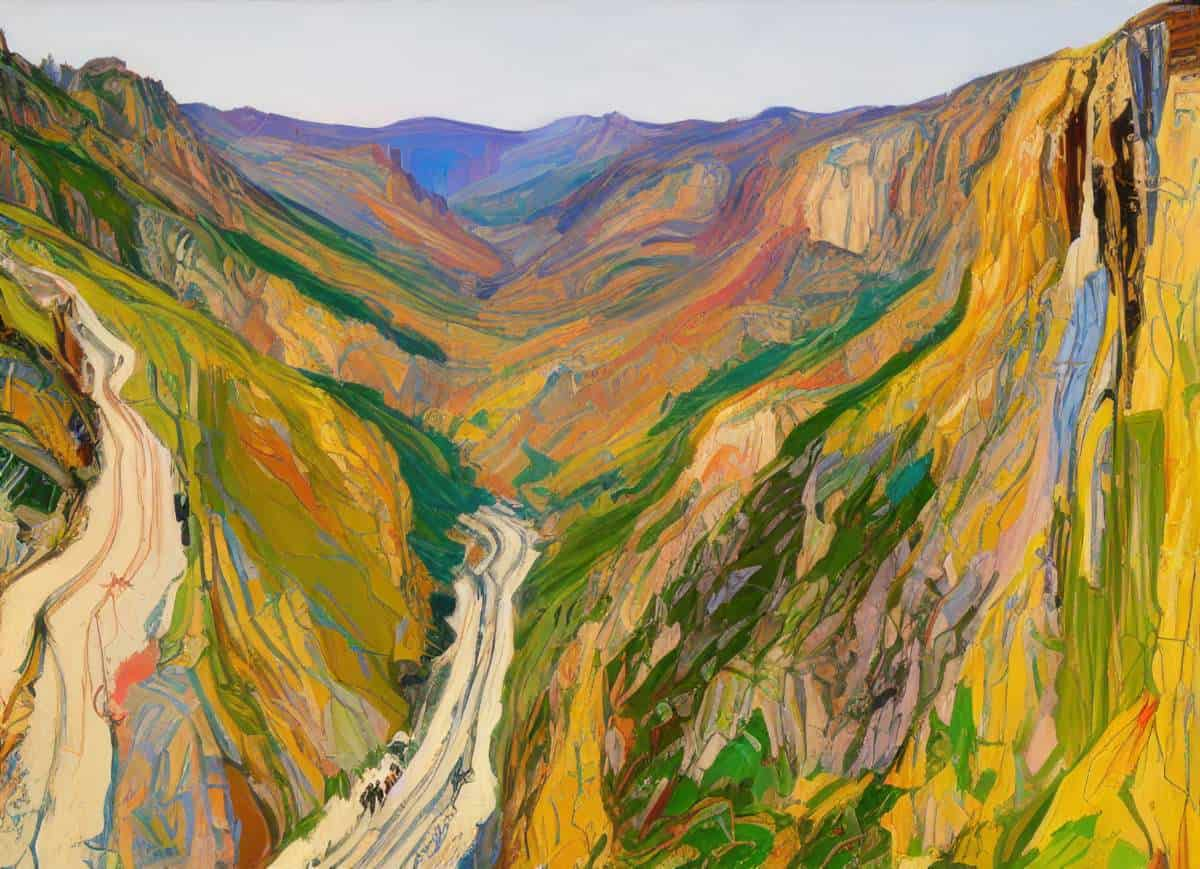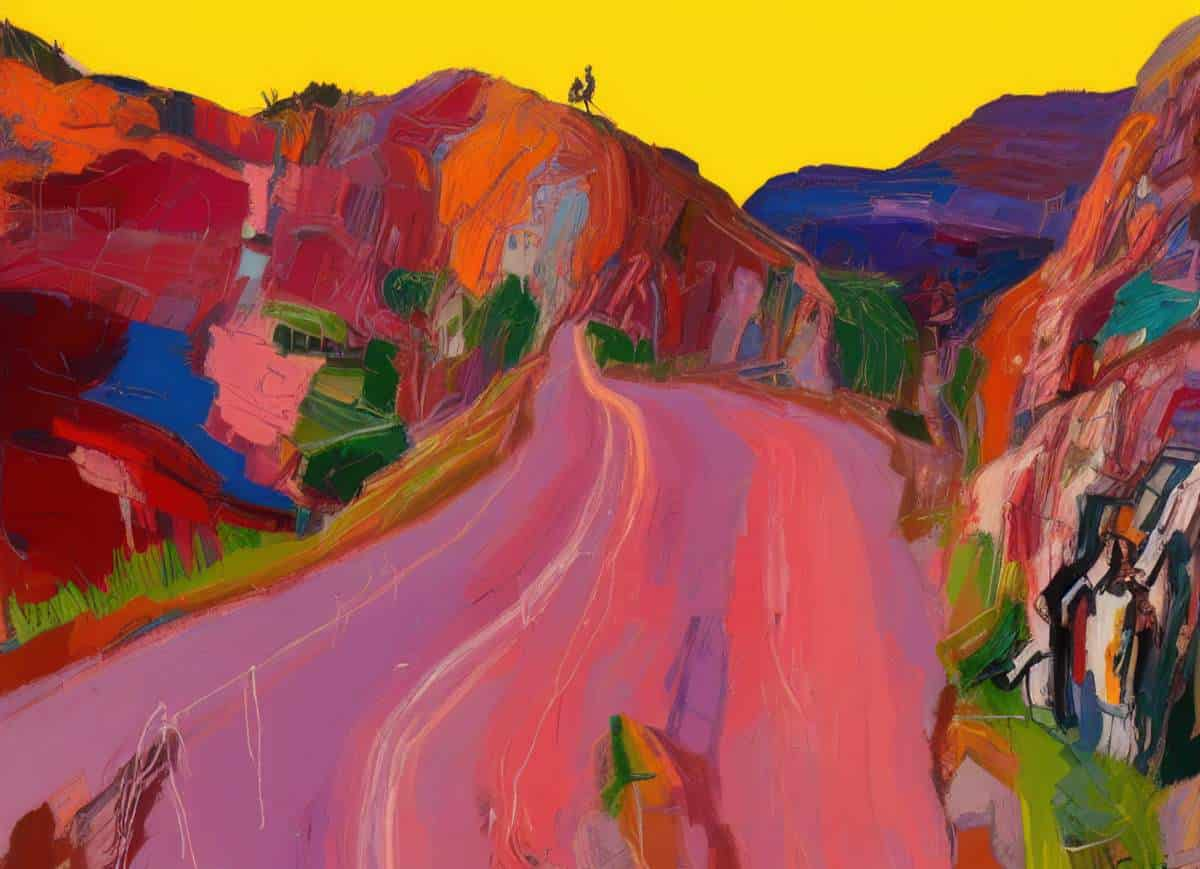 The people of the village below are missing arms and legs, but because of the style, it doesn't matter. They seem deliberately rendered that way.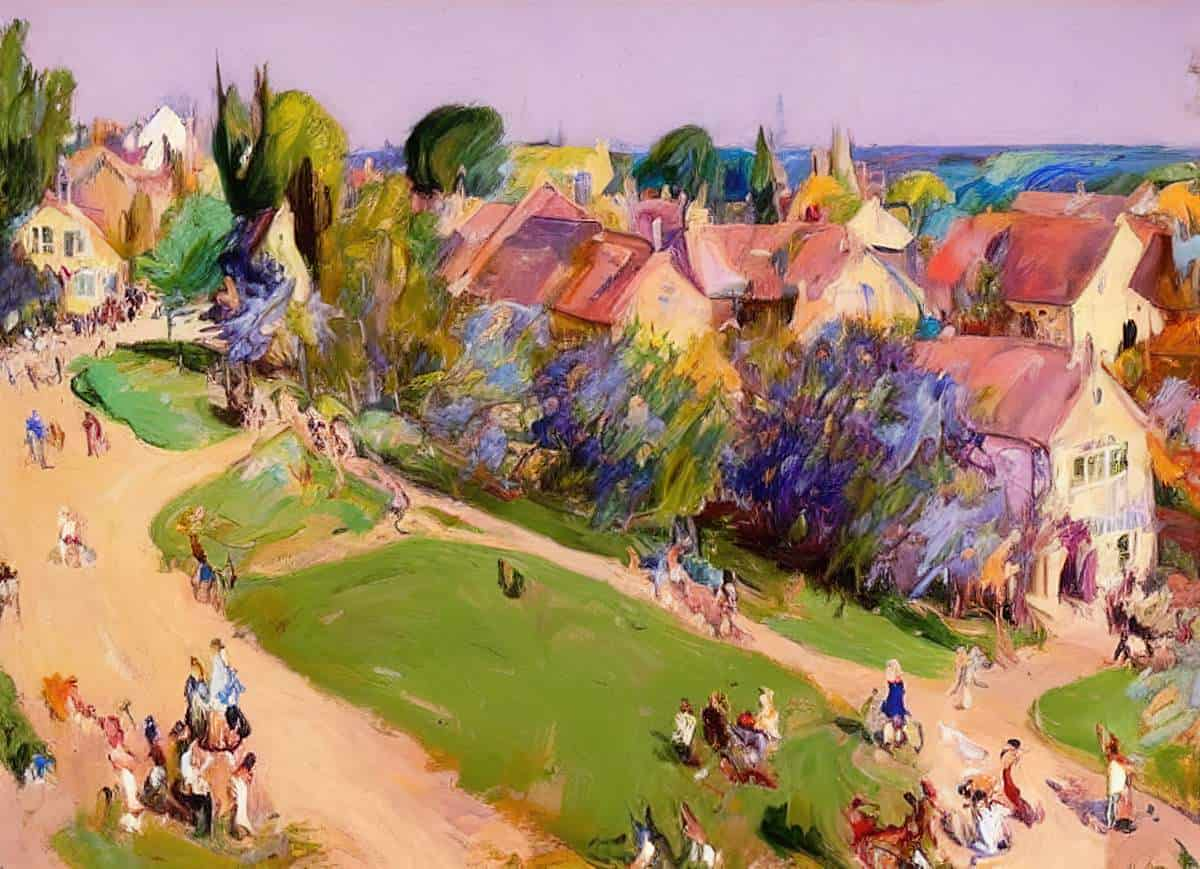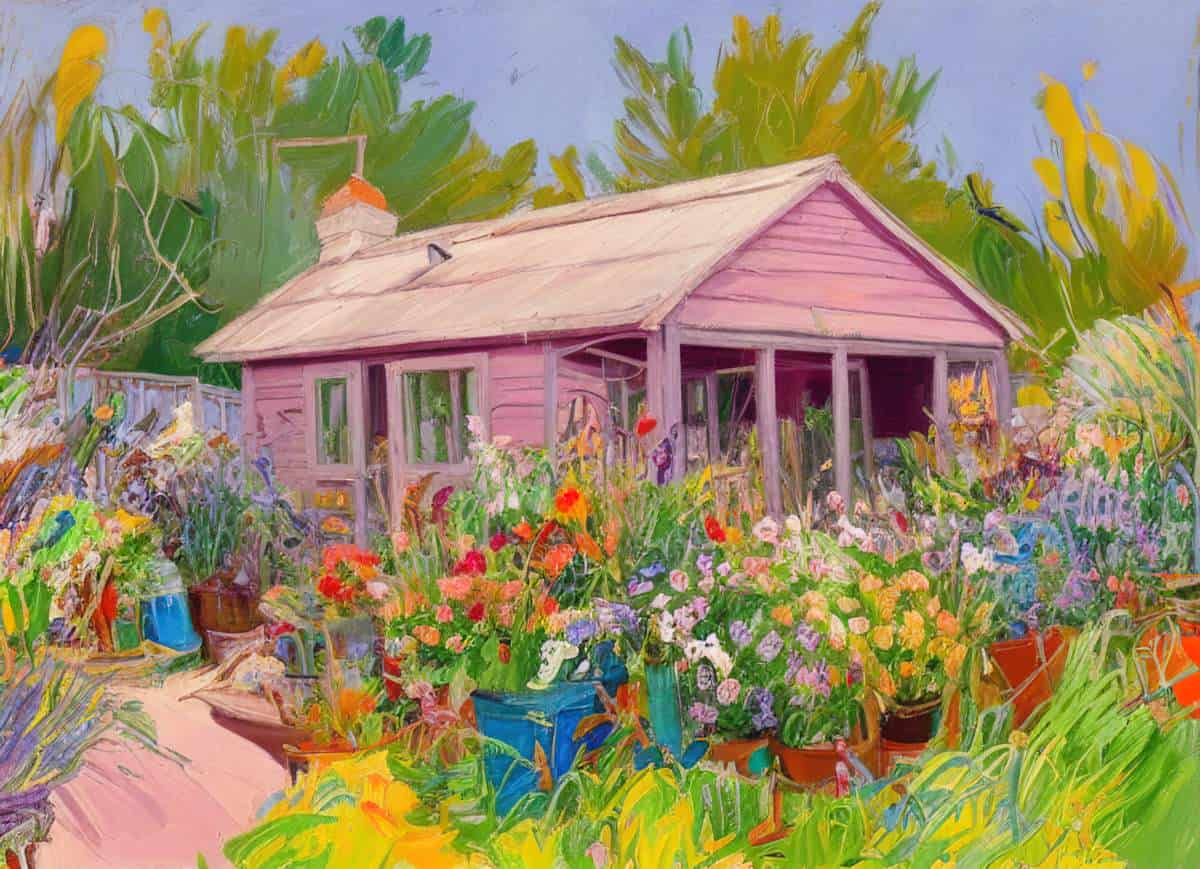 I mean, I would remove that black street lamp thing at the right hand side and a few other lines, but I love this.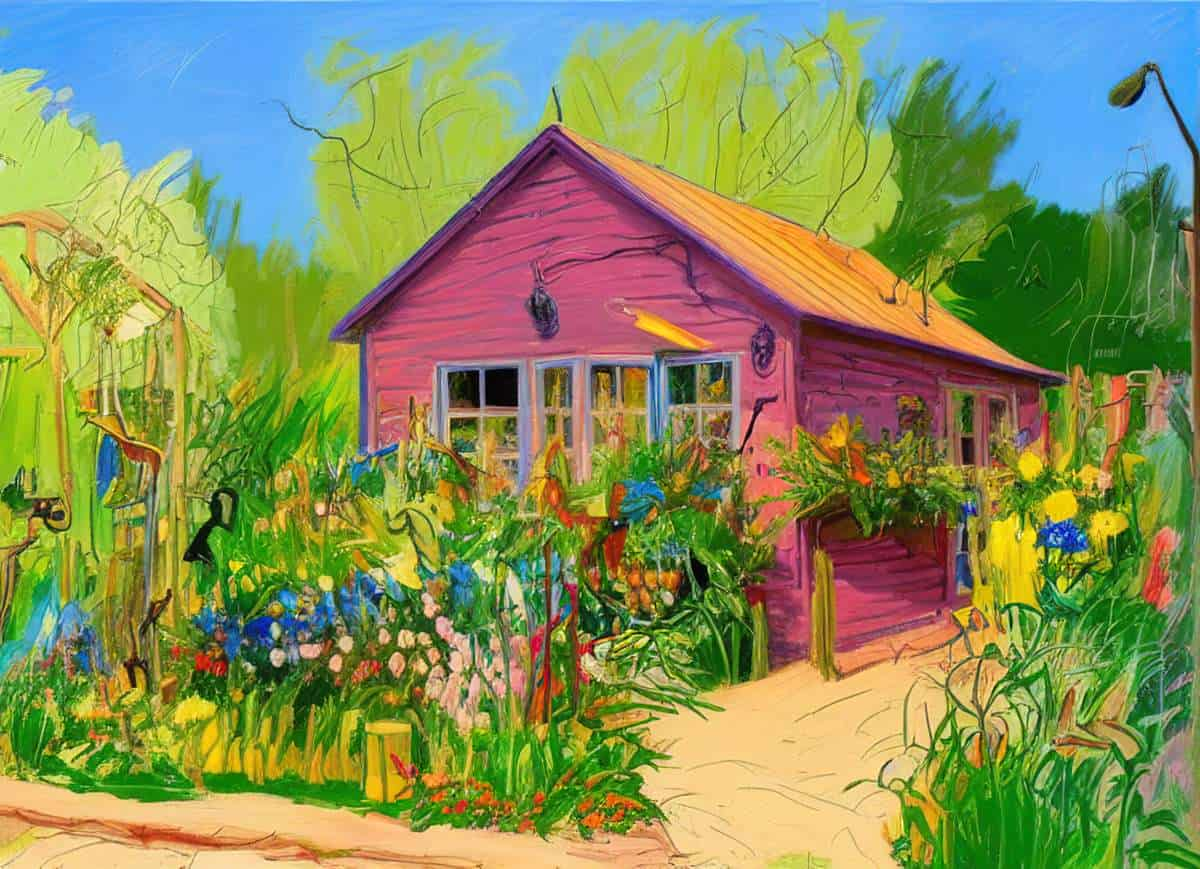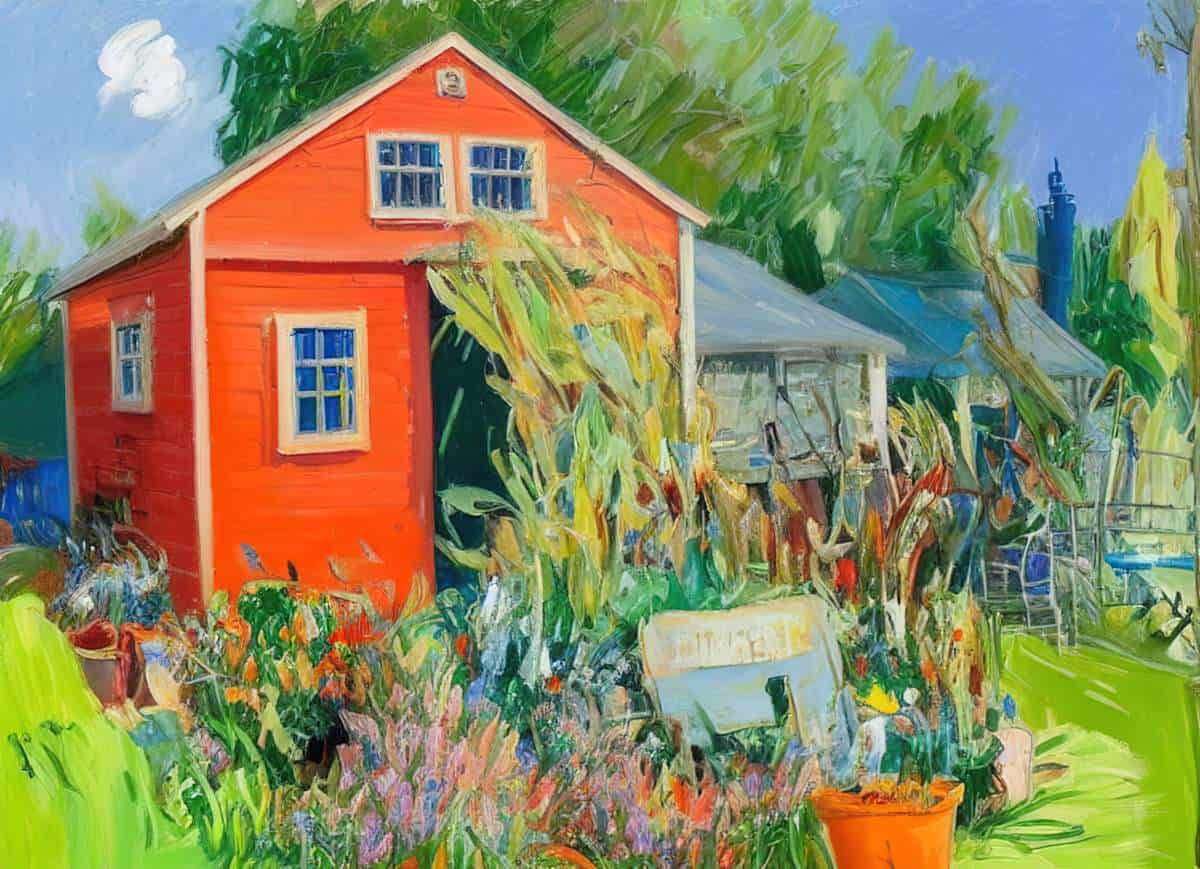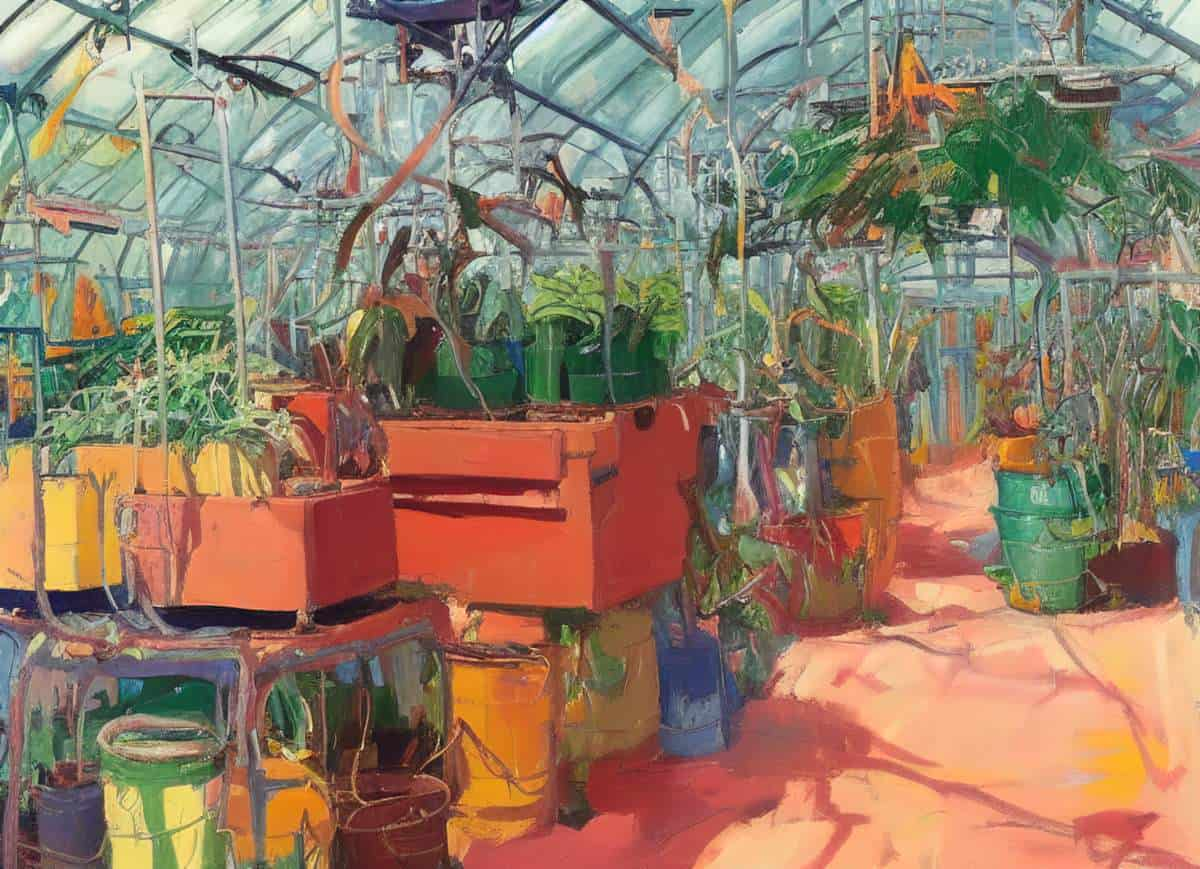 Interiors look awful if you don't use the right artists as keywords.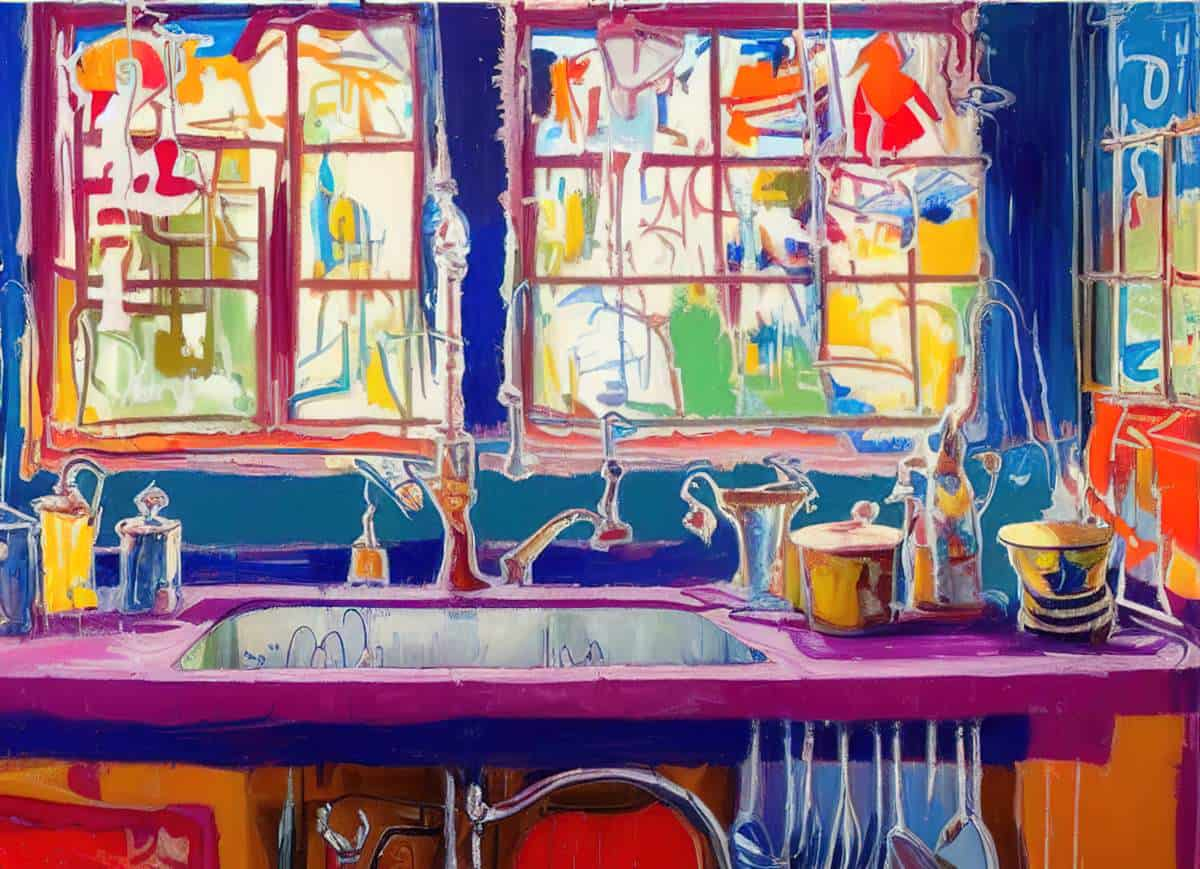 Interestingly, the foreground in the work below is less abstract than the background.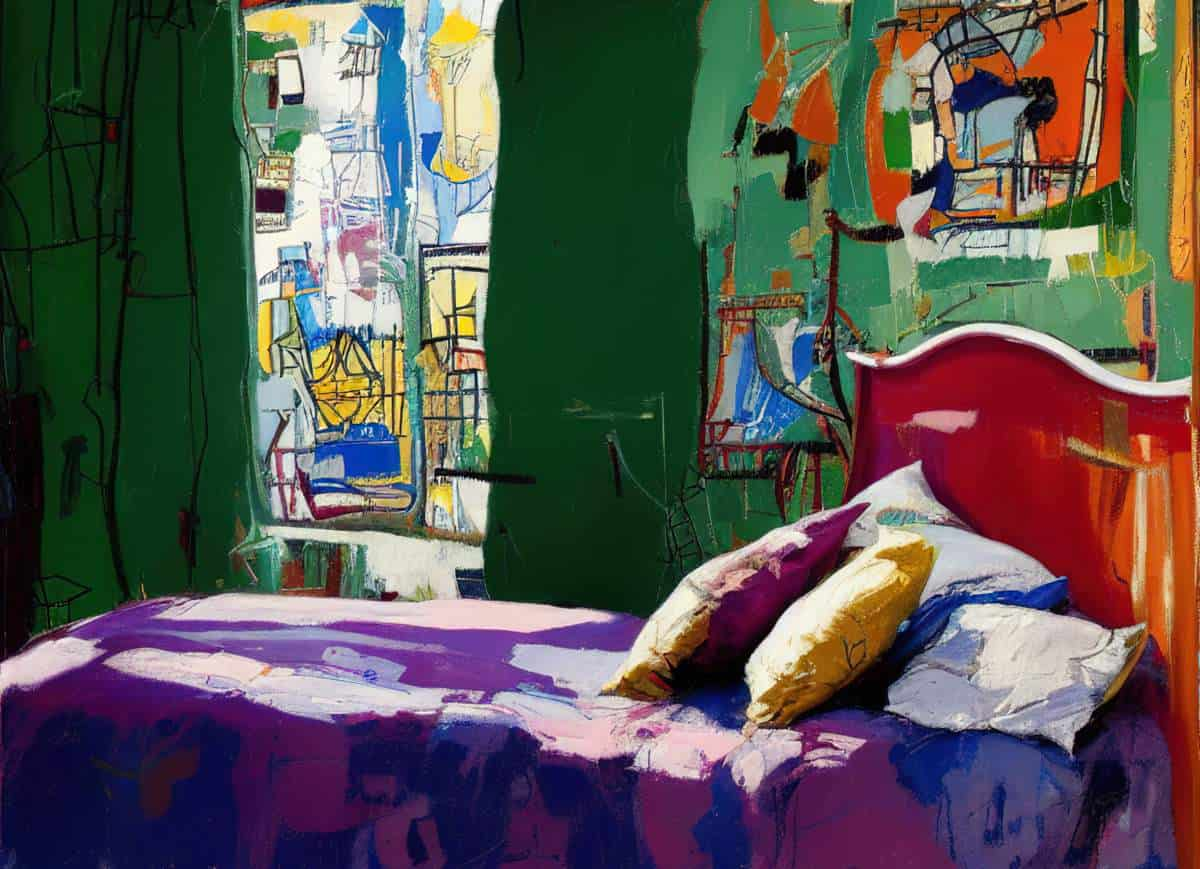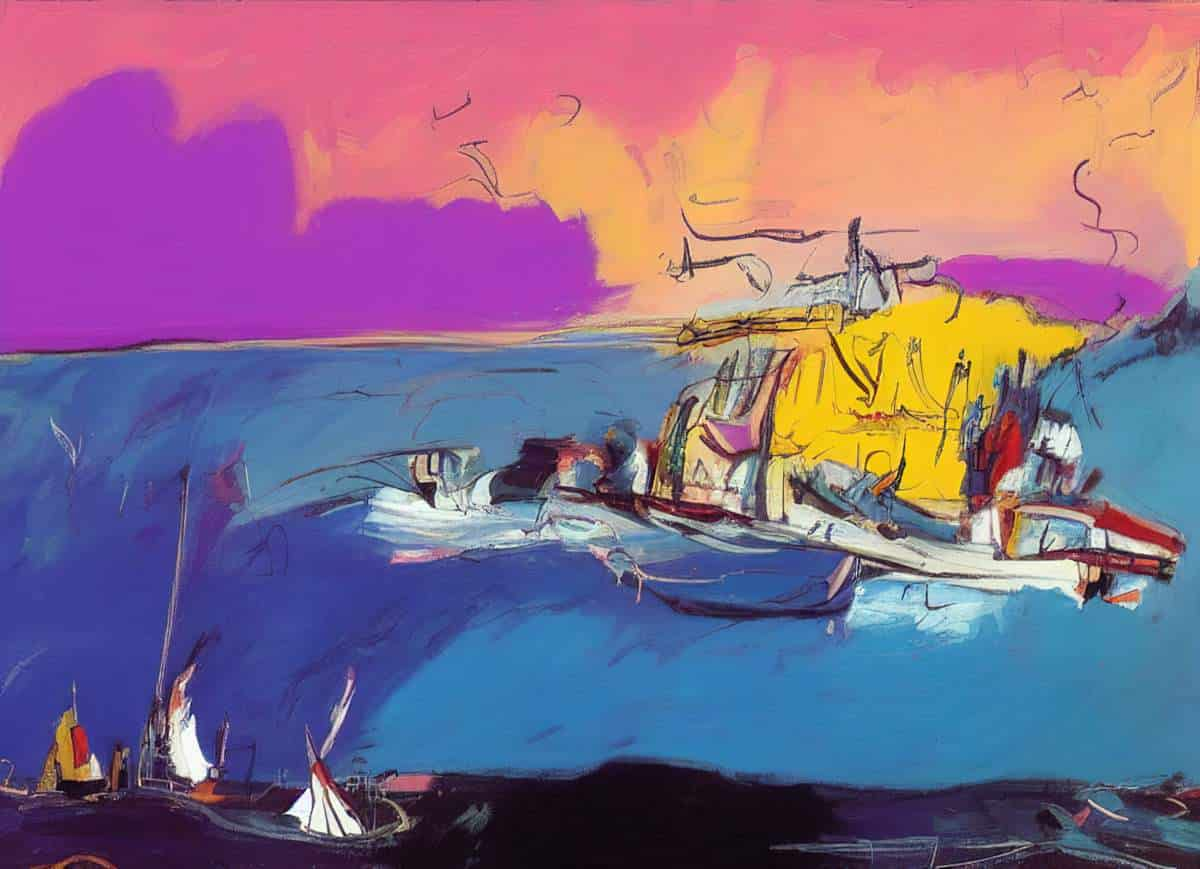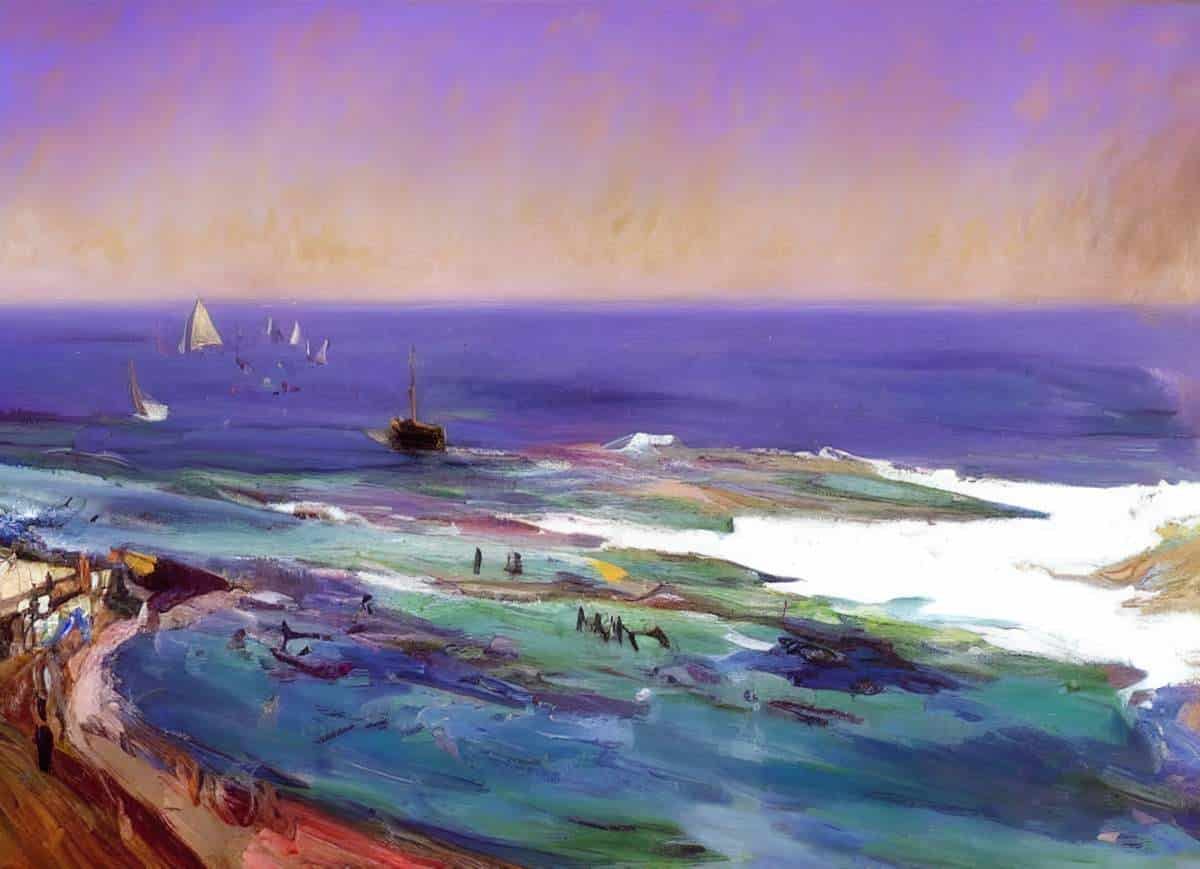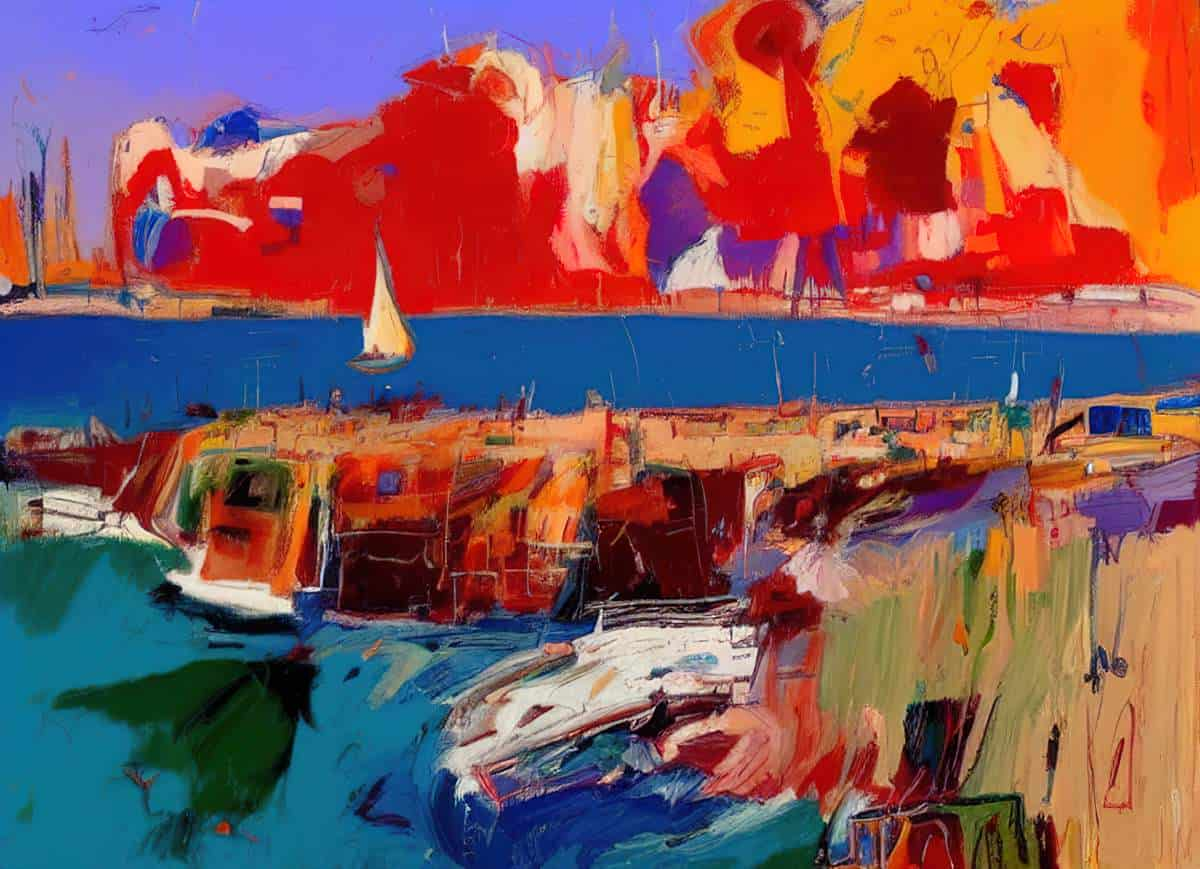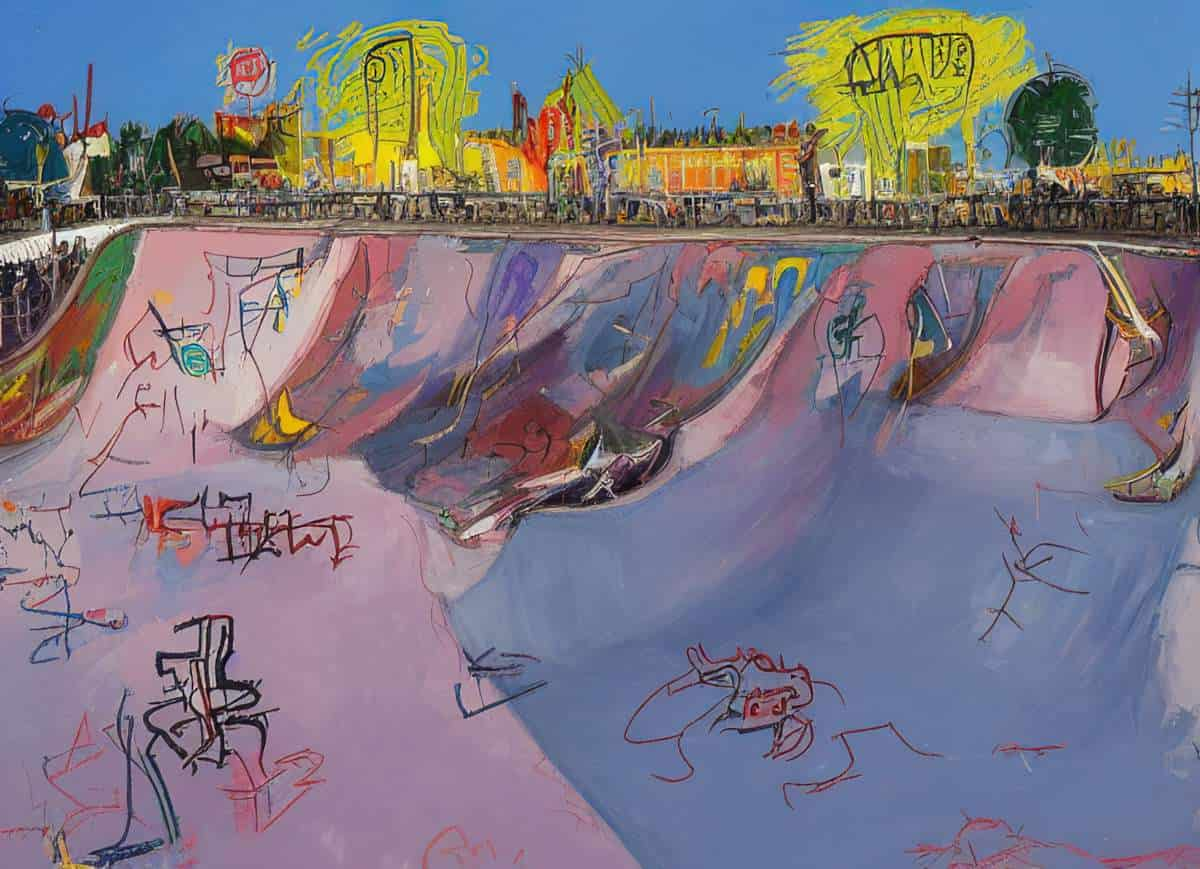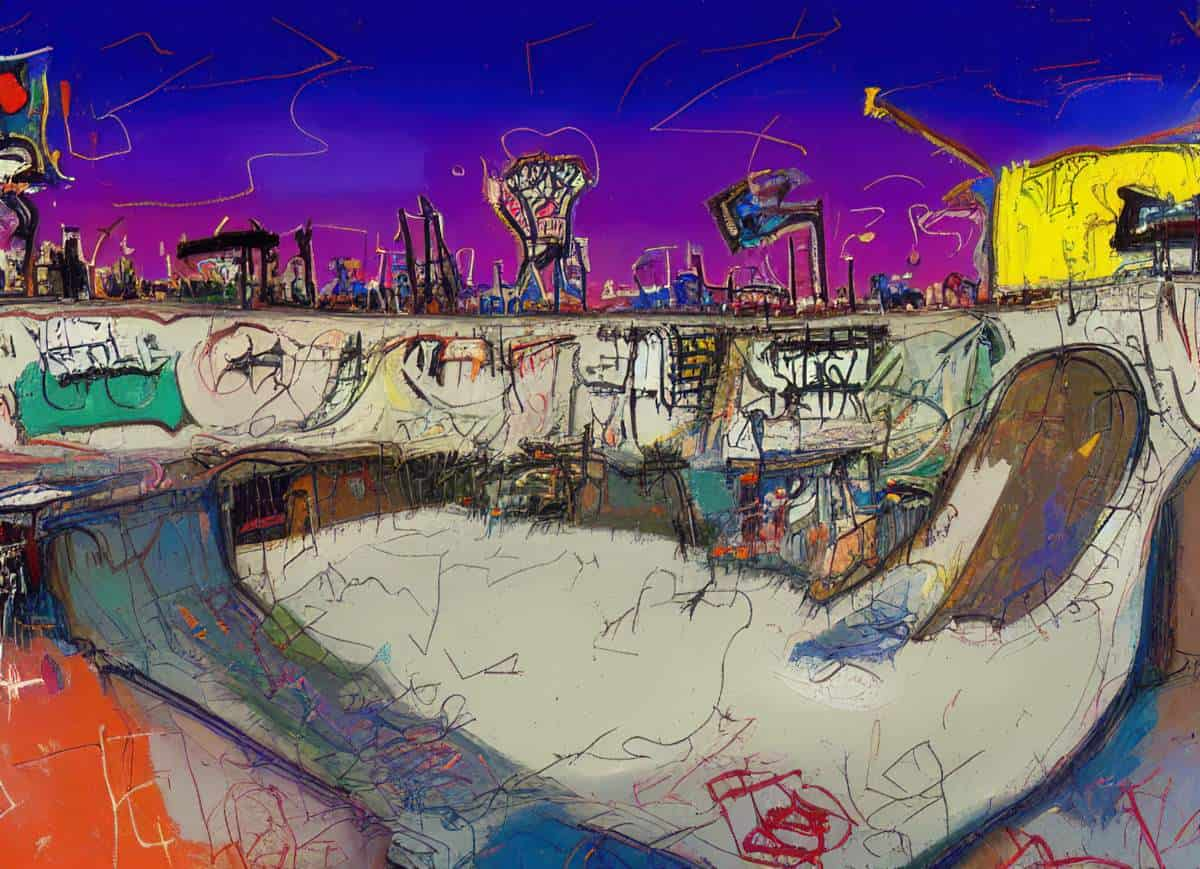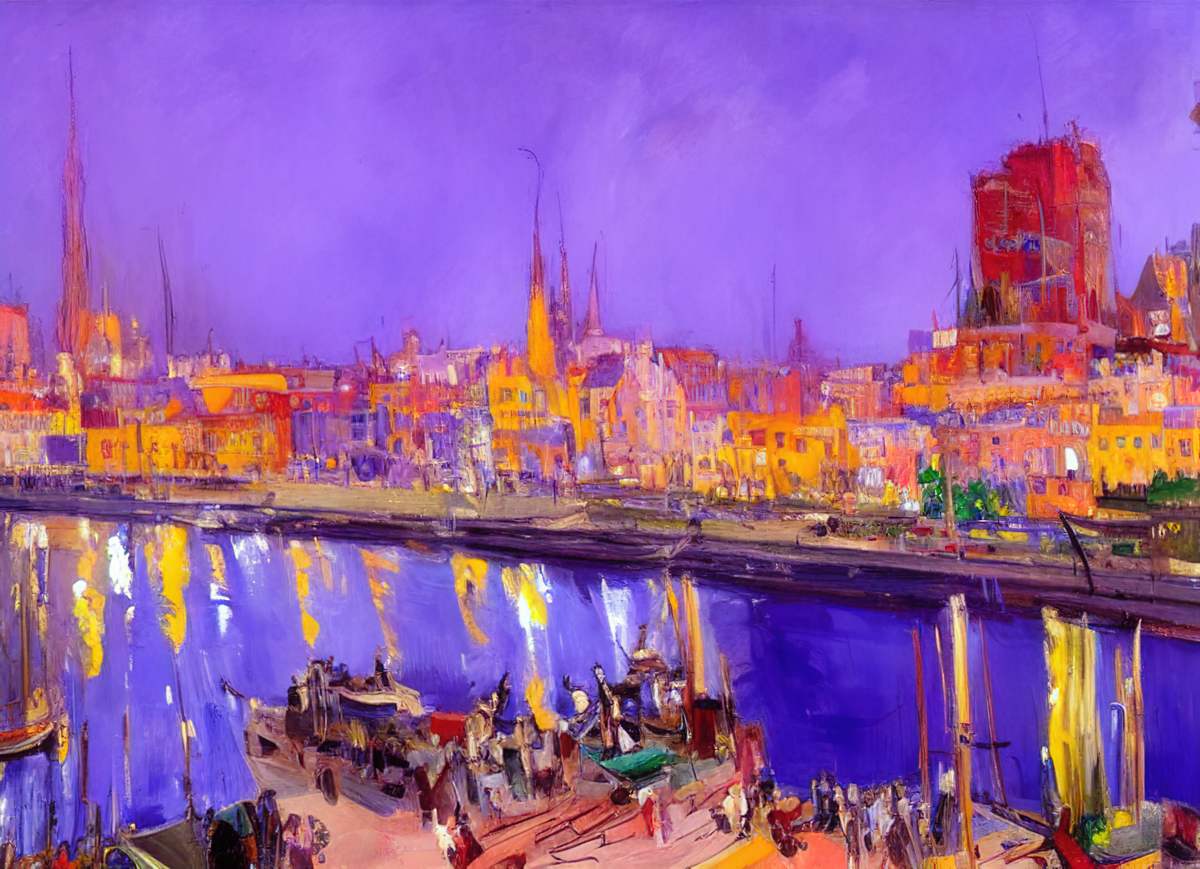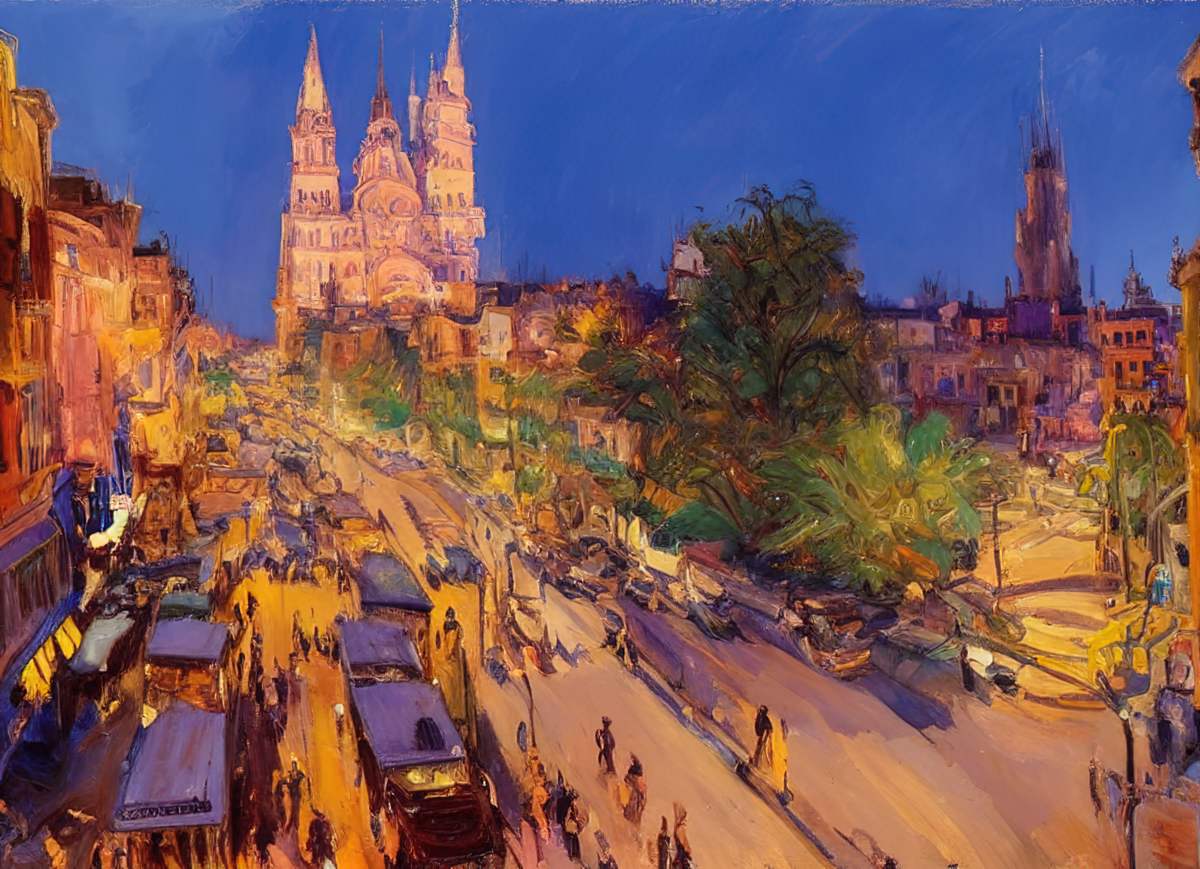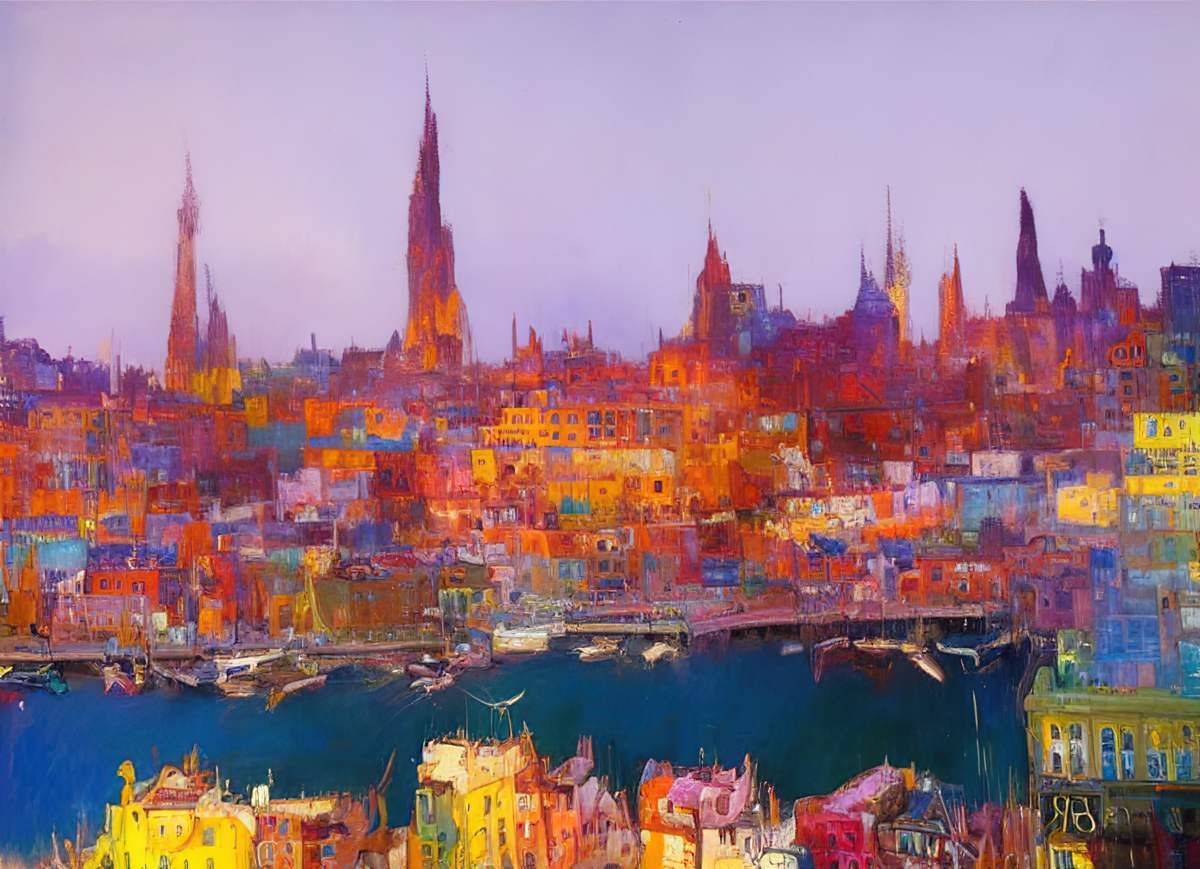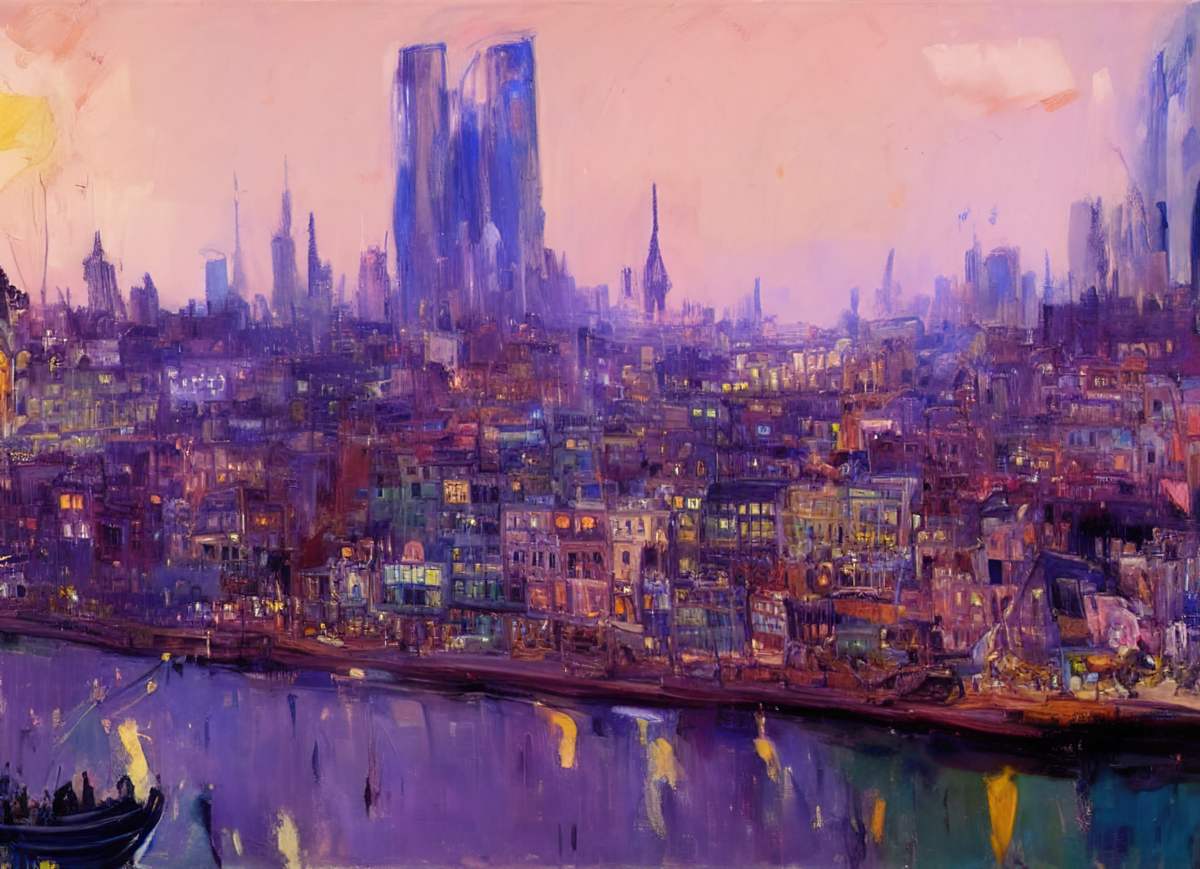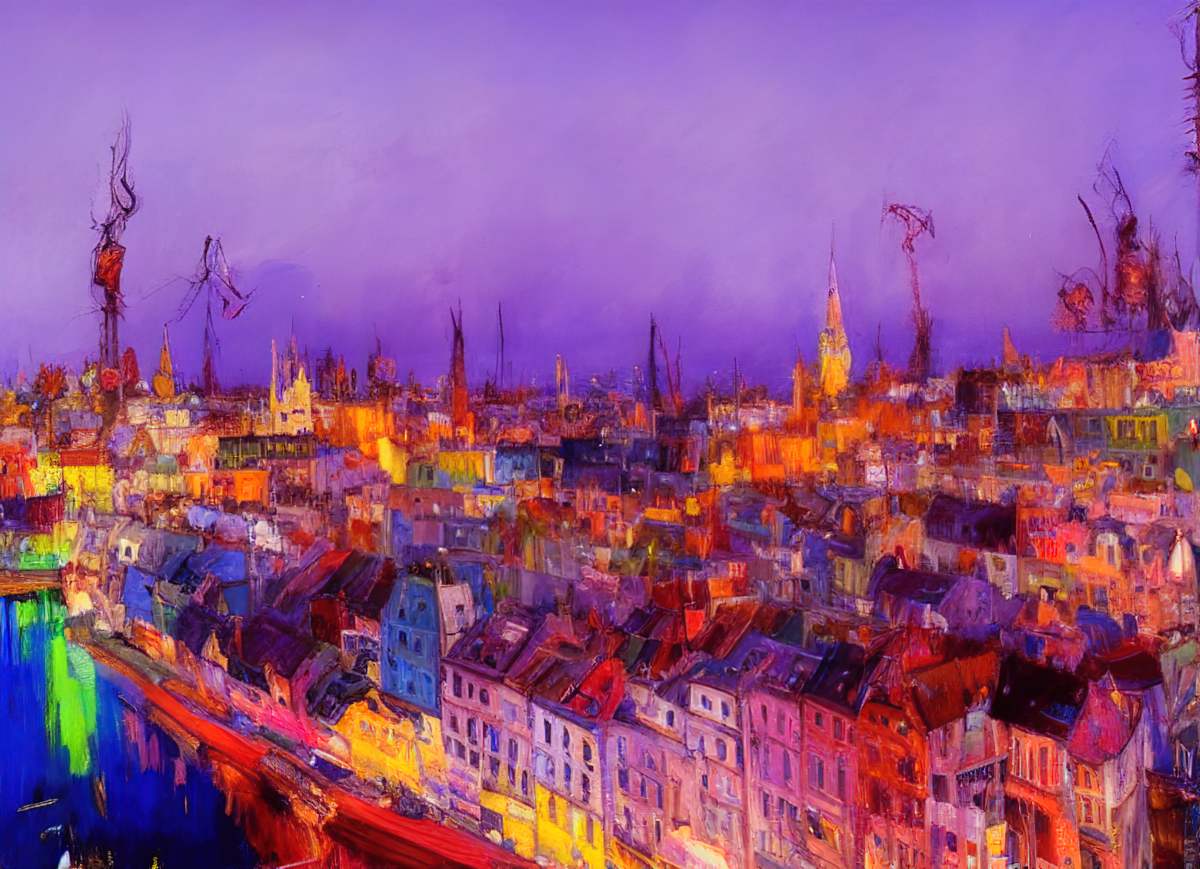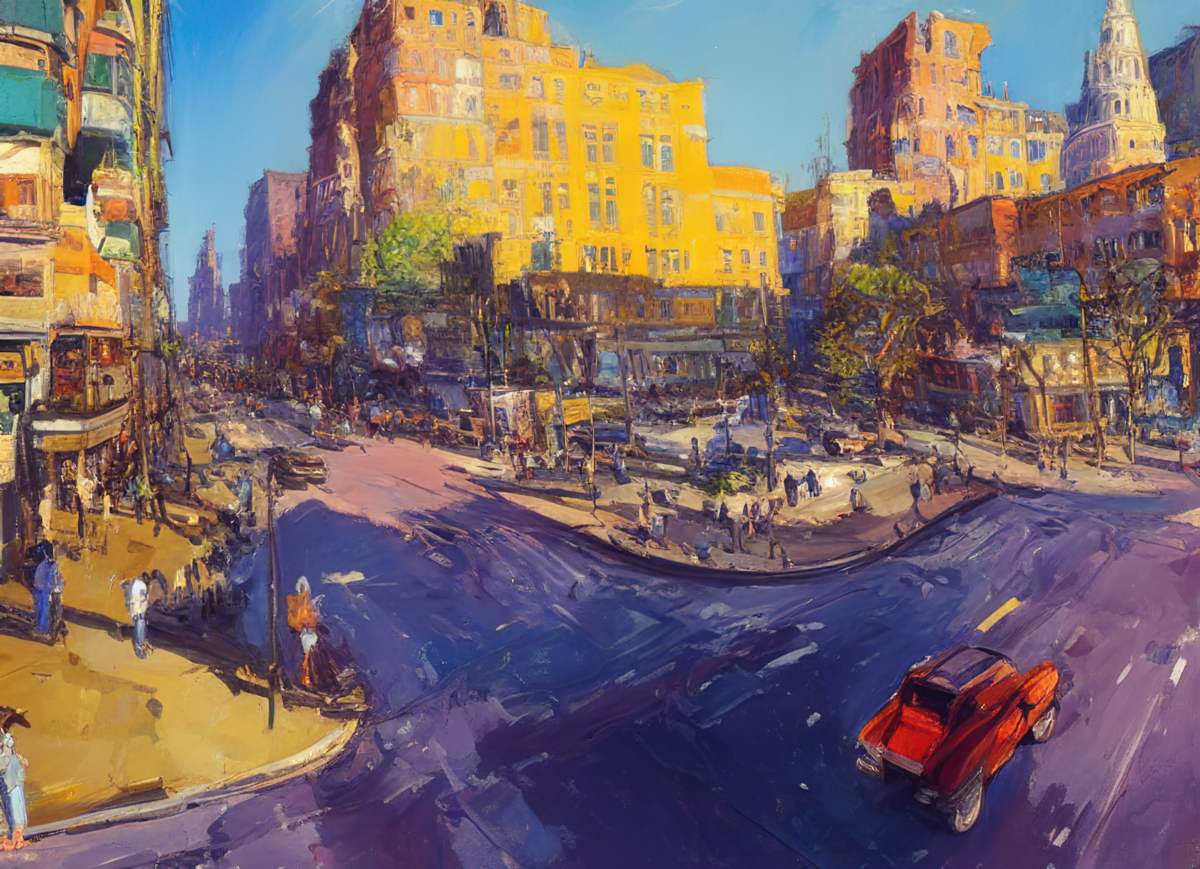 Does this style work for still life? Well, it fills the entire canvas, which is great for those cityscapes and seascapes, but you don't really need a never-ending vase of flowers.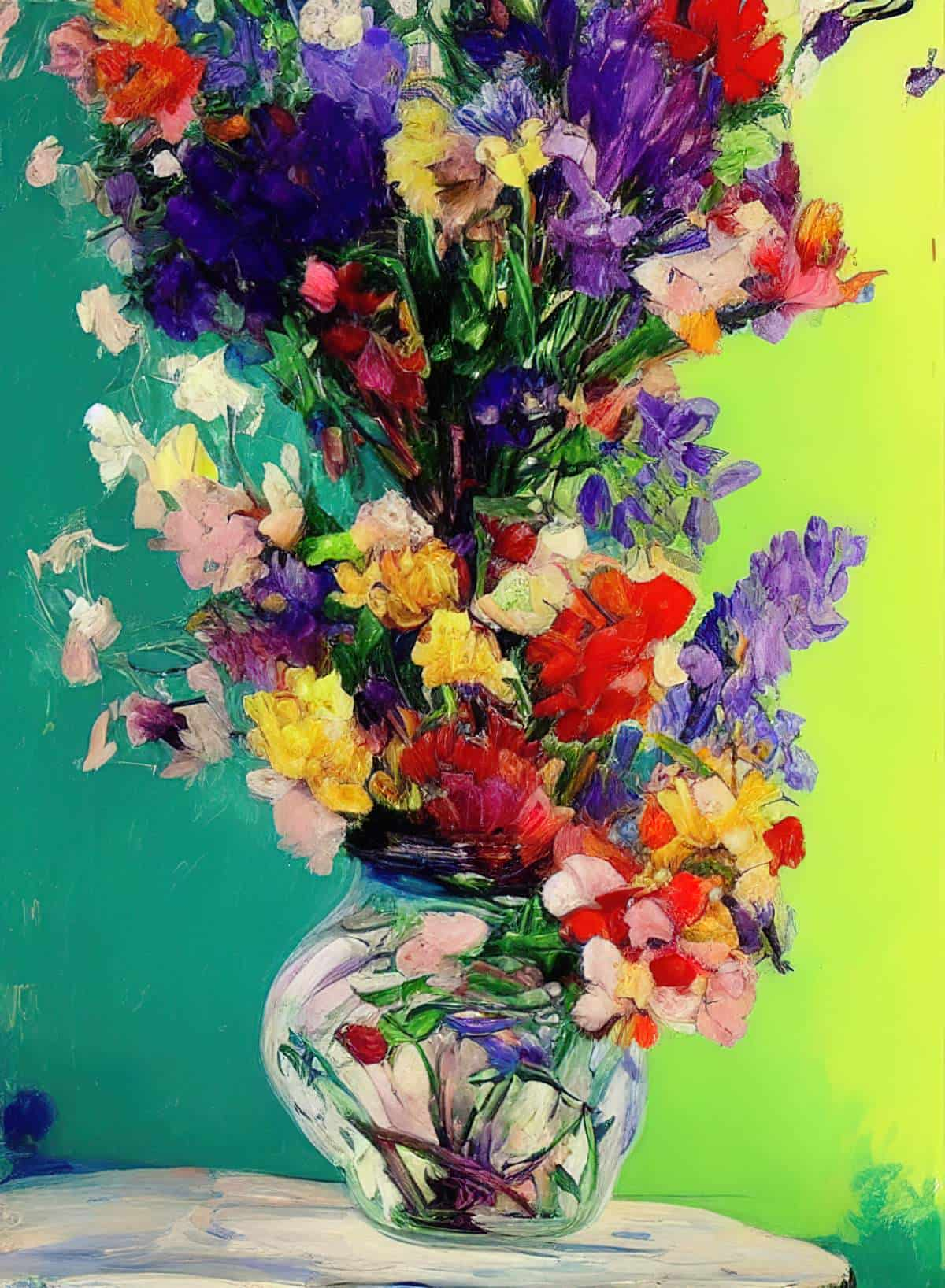 It helps if you use the keyword 'centered' and give it more weight. (It doesn't work every time but your hit rate improves.)